Mitigating the impacts of supply chain disruptions and inflation is critical in today's digital economy. There are a few tactics businesses can employ and implementing Acumatica Cloud ERP is one of them.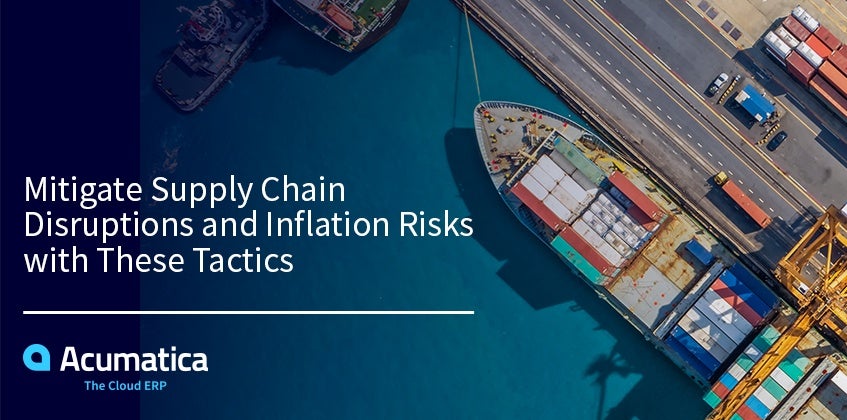 Covid-19 and trade tensions are causing disruptions with long-term impacts on global trade. Companies are already seeing their bottom line impacted with rising shipping costs (330% YoY increase according to BCG), supply chain challenges, and short-term inflation.
Few of us have had to deal with inflation and disruptions on this scale before. The old playbook doesn't apply anymore, and companies still relying on legacy technology won't have the tools to address these challenges.
This article details tactics you can execute today to mitigate the impacts.
What's happening in global supply chains and what can be done about it
COVID-19 and trade tensions have strongly shaken the foundations of global supply chains. Trade routes are changing; BCG forecasts a $114B reduction in US-China trade in 2030 compared to 2019.
The world is facing limited inventory as companies stopped production or reduced their inventory last year and have not been able to catch up. 90% of auto manufacturers stopped production in 2020!
There's more.
Labor shortage and the "Great Resignation" are reducing companies' productivity, and lower manufacturing capacity has occurred due to the shortage of semi-conductors, which is slowing down manufacturing as the assembly equipment also need semi-conductors to operate (Axios). Consumer demand suddenly changed, and with lower production capacity and inventory, companies have not been able to keep up. And if that's not enough, let's not forget the "Ever Given" which blocked the Suez Canal earlier this year.
What can be done? Here are some tactics to help mitigate supply chain disruptions and inflation risks in 2021 and beyond.
Develop predictive capabilities to react early
Companies that are able to anticipate shortages and changing demand will react faster and develop a competitive advantage in the "new normal".
Companies should develop capacities to monitor leading KPIs and act quickly. These KPIs give early signs of future disruptions or transformations of your supply chain:
Supplier delivery time is a leading indicator of potential future shortages, longer cycle times, and increase in price
Number of items scheduled for production to evaluate future stock availability
Customer demand forecast to anticipate seasonal or changing demand
Maintenance forecast to anticipate planned and unplanned maintenance activities and supplies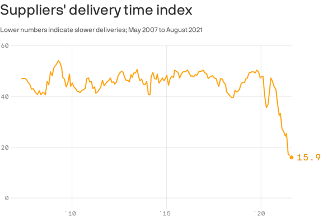 With the supplier delivery time index at an all-time high (Axios), these KPIs can help mitigate the impacts by increasing stock-levels and optimizing replenishment strategies; increasing manufacturing capacities in specific locations; diversifying suppliers; and preparing future price increases.
Developing these capacities requires more than data. You should identify specific use cases critical to your business and then implement the technology to support it. The right software offers real-time and "clean data", shared across the organization. It also provides predictive capabilities when needed (e.g., Machine Learning, Internet of Things) (Bain), as well as dashboards to easily review KPIs and share urgency within the organization.
2. Improve supply chain resilience
Industry sectors won't be impacted equally by supply chain transformations, according to BCG, but most will have to adapt.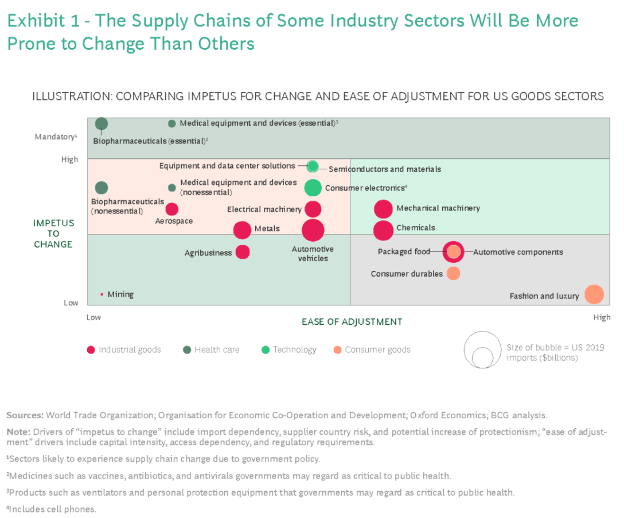 Companies should regularly assess their supply chain risks. BCG recommends measuring supply chain resilience across the value chain (Source, Make, and Deliver) and to take necessary measures.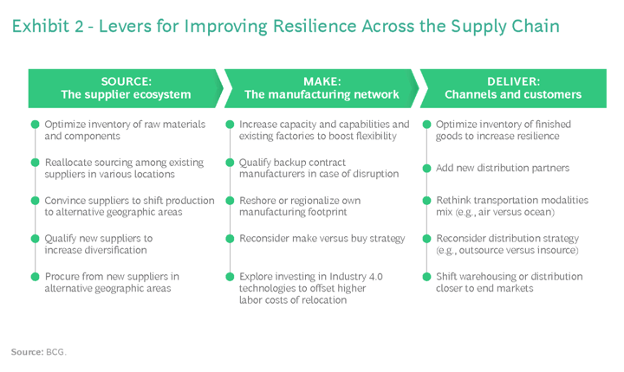 To ensure supply chain resilience, you need real-time data across the value chain, flexible reports to analyze KPIs in multiple dimensions (e.g., supplier, goods, product, customer segment), and dashboards to get a complete view on a problem (e.g., source, make and deliver per product).
With this, you should be able to quickly answer:
Which suppliers are performing badly?
How does this affect our clients?
Do we have suppliers in locations at risk (e.g., trade tariffs)?
Do we need more or different suppliers for critical goods?
Are our critical suppliers paid on time?
And take the necessary steps (e.g., supplier diversification, inventory increase).
3. Protect the bottom line
With all of the disruptions taking place, prices will increase and/or some products will become less profitable. Companies should take actions to protect their bottom line in 2021 and beyond.
According to Harvard Business Review, a detailed breakdown of costs and margins by SKU is needed to make the right decisions. Detailed analytics will help you identify and implement the best option for your business: Increase prices directly or indirectly (e.g., fuel charges, shipping costs), walk away from low-value customers or customer segments, sunset unprofitable products or prevent revenue leakage (e.g., standardize contracts, track all billable expenses).
Protecting the bottom line requires centralized and real time data across departments (e.g., Finance, Sales, Marketing). It also requires standardized processes, especially for sales and procurement, to prevent revenue leakage (ex: discounts, unbilled expenses) and margin leakage (ex: maverick spend). Finally, you'll need dashboards to quickly review margin levels and costs trends across multiple dimensions (client, customer segment, product, and more).
4. Improve working capital management
A combination of factors is putting working capital under stress, especially for SMBs:
Increased level of inventory to prevent shortage and inflation risks
Shorter vendor payment terms: Margins decrease could lead large companies to pressure their clients to accept shorter payment terms
Longer payment cycles: Clients, in need of cash flow, will pay later
Companies should implement processes to protect working capital and their investment capacity. For example:
Improve cash collection by automating dunning, encouraging credit card payments, or improving credit management
Improve visibility into cash balances and future cash needs
Prevent unfavorable payment terms with suppliers by increasing bids and spend under management
Limit early payments to suppliers by adding approvals.
Improve inventory management to reduce safety and slow-moving stocks
Improving working capital management requires a few things, such as standardized and automated processes to reduce cycle times (bill faster, order faster) and adherence to company procedures. Centralized data is necessary to improve control (credit management, supplier performance) and integrated processes and shared data across finance, sales, procurement and warehouse teams.
Mitigate supply-chain disruptions and inflation risks with Acumatica
Companies need to develop new tactics to adapt to the new normal or face tough choices in the near future. Leading organizations launched initiatives during the pandemic and are still innovating. According to Axios, large retailers have even recently begun chartering vessels to secure deliveries.
Legacy technology is not built for this world. To build a resilient supply chain and to become a resilient business, Bain recommends the following architecture: a light-core cloud ERP that is agile, data-centric, and ecosystem rich.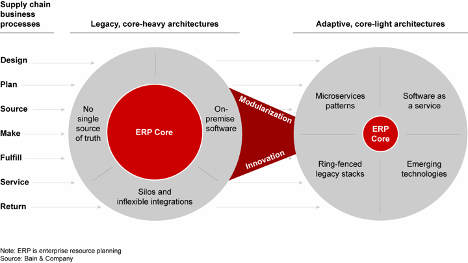 Discover how to build this new architecture with Acumatica and Acumatica's Distribution Edition software. Contact us today.
If you want to dig deeper, check these articles out: