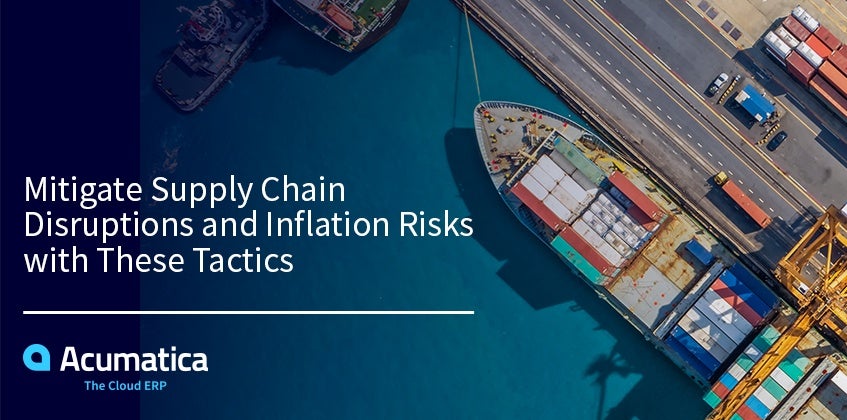 COVID-19 and trade tensions are causing disruptions, which will have long-term effects on global trade. Companies are already seeing their bottom lines impacted with rising shipping costs (330% YoY increases according to BCG), supply chain challenges, and short-term inflation.
Few of us have had to deal with inflation and supply chain disruptions on this scale before. The old playbook doesn't apply anymore, and companies still relying on legacy technology won't have the tools to address these new challenges.
This article will describe some tactics you can use today to mitigate the impacts of supply chain disruptions and inflation in the new digital economy.
What's happening in global supply chains, and what can be done about it?
COVID-19 and trade tensions have strongly shaken the foundations of global supply chains. Trade routes are changing; BCG forecasts a $114B reduction in US–China trade in 2030 compared to 2019.
The world is facing limited inventory as companies stopped production or severely reduced their inventories in 2020 and have not been able to catch up. 90% of auto manufacturers stopped production entirely in 2020!
But there's more.
Labor shortages and the "Great Resignation" are reducing companies' productivity. The semiconductor chip shortage, which has so negatively impacted the auto and consumer electronics industries, has also decreased manufacturing capacities across many other industries because, according to Axios, the assembly equipment itself needs semiconductor chips to operate. Consumer demand has changed dramatically, almost overnight, with rapid increases in online shopping and consumption spurred by COVID-19 lockdowns and equally rapid decreases in spending due to skyrocketing unemployment. With lower production capacity and inventories, companies have not been able to keep up with these changes. And, as if that weren't enough, let's not forget the Ever Given container ship, which blocked the Suez Canal earlier this year.
What can be done? Here are some tactics to help you mitigate supply chain disruptions and inflation risks in 2021 and beyond.
1. Develop Predictive Capabilities to React Early
Companies that can anticipate shortages and changing customer demand will react faster and gain a competitive advantage in the "new normal." Businesses should develop ways to monitor leading key performance indicators (KPIs) and act quickly according to that data. The following KPIs give early signs of future supply chain disruptions or transformations.
Suppliers' delivery time: A leading indicator of potential future shortages, longer cycle times, and price increases
Number of items scheduled for production: An indicator of future stock availability
Customer demand forecast: Anticipates seasonal or changing demand
Maintenance forecast: Anticipates planned and unplanned maintenance activities and the attendant supplies needed
For an example of these, let's look at the suppliers' delivery time index, which, according to Axios, is at an all-time high.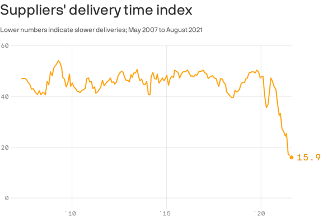 Gathering data from the above KPIs can help you mitigate the impacts of supply chain disruptions and inflation risks by showing you when and how to increase stock levels and optimize replenishment strategies; increase manufacturing capacities in specific locations; diversify suppliers; and prepare for future price increases.
But developing the capacity to monitor such KPIs requires more than just data. You should identify specific use cases critical to your business and then implement supportive technology. The right software will offer real-time, "clean" data, which is readily accessible across the entire organization. It will also provide predictive capabilities when needed (e.g., machine learning, Internet of Things [IoT]) (Bain) and dashboards through which you can easily review KPIs and instantly share urgent information company-wide.
2. Improve Supply Chain Resilience
Supply chain disruptions and transformations won't impact all industries equally (BCG), but most will have to adapt in some way—to varying degrees.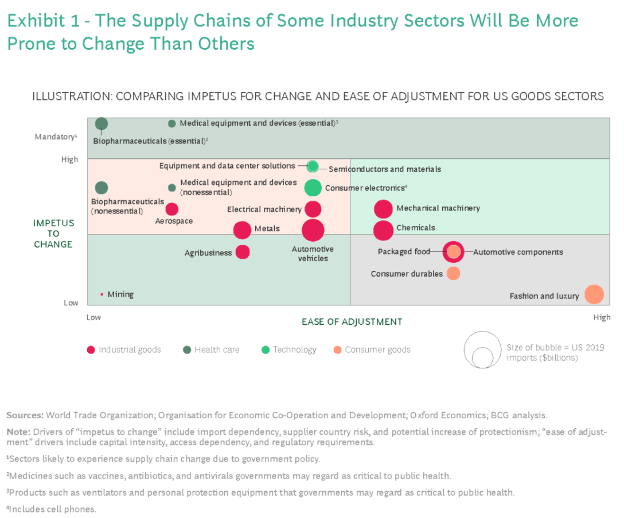 Companies should regularly assess their supply chain risks. BCG recommends measuring supply chain resilience across all three parts of the value chain (Source, Make, and Deliver) and take steps to remedy any weaknesses found in this analysis.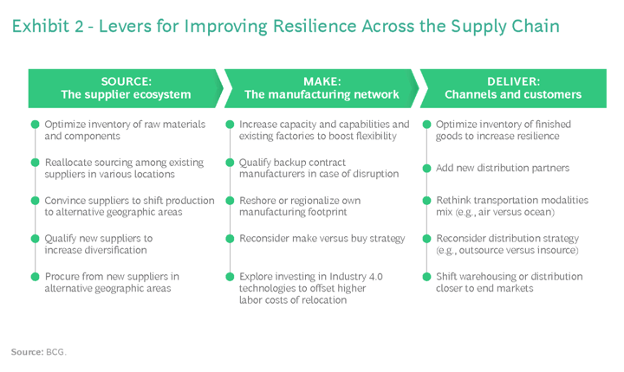 Ensuring supply chain resilience requires real-time data for the entire value chain, flexible reports for analyzing KPIs in multiple dimensions (e.g., supplier, goods, products, customer segments), and dashboards that provide complete, detailed views of individual issues (e.g., the Source, Make, and Deliver data for a single product).
With this information at your fingertips, you should be able to quickly answer questions like:
Which suppliers are performing poorly?
How does this affect our clients?
Do we have suppliers in locations at risk of complications (e.g., trade tariffs)?
Do we need more or different suppliers for critical goods?
Are our critical suppliers being paid on time?
And, armed with answers to these questions, you will be prepared to take the steps necessary to increase your supply chain resilience (e.g., supplier diversification, inventory increases, etc.).
3. Protect the Bottom Line
COVID-19-related supply chain disruptions and inflation risks will cause prices to increase and/or make some products less profitable. Therefore, companies must protect their bottom lines in 2021 and beyond.
According to Harvard Business Review, to identify and implement the best decisions for their individual cases, businesses should create detailed breakdowns of costs and margins by SKU. These analytics may reveal that you need to increase prices directly or indirectly (e.g., fuel charges, shipping costs), walk away from low-value customers or customer segments, sunset unprofitable products, or prevent revenue leakage (e.g., standardize contracts, track all billable expenses).
Protecting the bottom line from supply chain disruptions and inflation requires centralized, real-time data for every department (e.g., Finance, Sales, Marketing), and this data must be available company-wide. It also requires standardized processes, especially for sales and procurement, to prevent revenue leakage (e.g., discounts, unbilled expenses) and margin leakage (e.g., maverick spend). Finally, companies need dashboards that allow them to quickly review margin levels and cost trends across multiple dimensions (clients, customer segments, products, and more).
4. Improve Working Capital Management
Several combined factors are putting working capital under stress, especially for SMBs. These factors include:
Increased inventory levels. Companies are attempting to prevent shortages and inflation risks.
Shorter vendor payment terms. Margin decreases could lead large companies to pressure their clients into accepting shorter payment terms.
Longer payment cycles. Clients, in need of cash flow, will pay later.
Companies should implement processes to protect working capital and their investment capacities. For example, they can:
Increase cash collection by automating dunning, encouraging credit card payments, or improving credit management.
Improve visibility of cash balances and future cash needs.
Prevent unfavorable payment terms with suppliers by increasing bids and spend under management (SUM).
Limit early payments to suppliers by adding approvals.
Enhance inventory management to reduce safety stock and slow-moving stock.
Improving working capital management requires adherence to company procedures and standardized, automated processes to reduce cycle times—allowing for faster billing and ordering. Centralized data is necessary to improve control (such as control over credit management and supplier performance), to streamline integrated processes, and to make sure data is shared across finance, sales, procurement, and warehouse teams.
Mitigate Supply Chain Disruptions and Inflation Risks with Acumatica
Companies must adapt to the new normal and to the digital economy or face tough choices in the near future. Leading organizations launched adaptation initiatives early in the pandemic and are still innovating as the situation morphs around them. According to Axios, large retailers have even recently begun chartering vessels to secure deliveries and skirt the global supply chain disruptions.
Legacy technology is not built for the COVID-19 world. For a company to create a strong supply chain and become a resilient business, Bain recommends implementing a light-core cloud ERP system that is agile, data-centric, and ecosystem rich.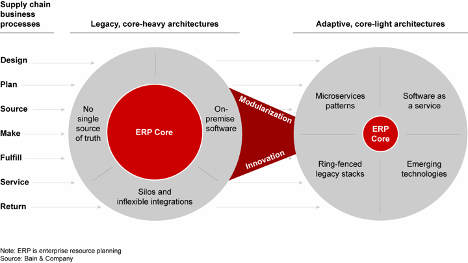 Discover how to harness this architecture with Acumatica and Acumatica's Distribution Edition software. Contact us today.
If you want to dig deeper, check these articles out: