It's easy to view cloud ERP conferences, such as Acumatica Summit 2018, as a beneficial obligation. However, we view them as an exciting way to ensure your business' success while at the same time enjoying the amazing attractions our Summit venues have to offer.
This may be an odd question in the cloud ERP world, but do you have a bucket list?
If you don't, you should consider putting one together before you join us January 28 through February 2 at Acumatica Summit 2018 in Nashville, Tennessee. There's a lot of things to see and do – including right outside your room at our Summit venue, the Omni Nashville Hotel. (PS – have you registered? Reserve your spot now!) While we anticipate our cloud software event to be an exciting time focused on how Acumatica innovation and business applications can accelerate your business now and in the future, we also envision our customers and partners taking advantage of all that the Music City has to offer in way of entertainment.
To help you create a personalized Nashville bucket list, we've assembled some of the top attractions you won't want to miss during your stay discussing everything ERP-cloud related.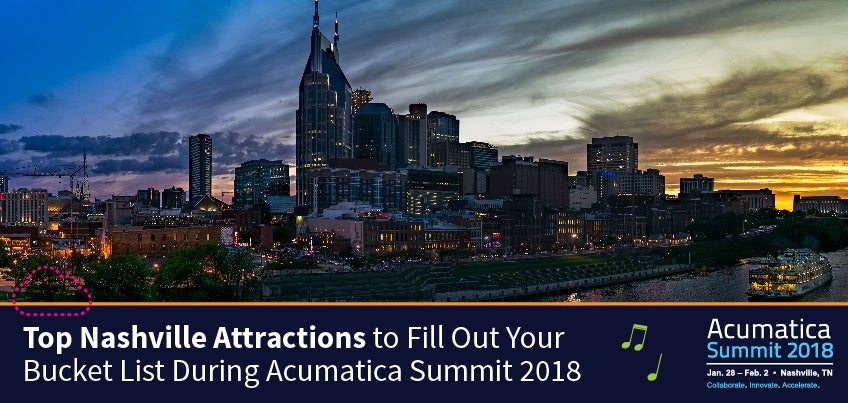 Music City's top music attractions
In a previous post, we focused our attention on Nashville's music scene, otherwise known as Music City. We pointed out that the Country Music Hall of Fame and Museum (located in the Omni Nashville Hotel), the Grand Ole Opry, and the Johnny Cash Museum are all important landmarks for you to visit.
Here are a few more music hot spots that should go on your list while attending the Summit:
The Ryman Auditorium – Country music history really starts here. In 1885, Thomas G. Ryman attended a tent revival that affected him so deeply, he felt compelled to construct the Union Gospel Tabernacle with his own money. This place of worship was renamed Ryman after his passing. In the 1920s, a show promoter leased the building and it became "the anchor of Nashville's cultural offerings." Though it is the original location of the Grand Ole Opry, the Ryman became obsolete when the Grand Ole Opry changed venues in the '70s. The residents of Nashville renovated the once-grand auditorium in the 1990s and preserved its legacy. If you want to see where great entertainers – such as Roy Rogers, Bob Hope, Charlie Chaplin, and Mae West, to name a few – became great, you should visit the Ryman.
The General Jackson Showboat – Riding the General Jackson is definitely a bucket list must! The showboat, launched in 1985, is one of the largest ever built. If you choose to reserve a spot for either one of their two daily cruises, a variety of entertainment options are available including a two-story Victorian Theater with live musical performances. This may be your only opportunity to relive the American Victorian era showboat experience.
Music City's top non-music attractions
For those of you who love the idea of the Music City but not music-related entertainment, here are a few things you might find interesting:
The Parthenon – This full-scale re-creation of the Athenian original sits in Nashville's Centennial Park. A 42-foot statue of Athena is the focus of the architectural wonder, which was built in 1897 for Tennessee's Centennial Exposition. The Parthenon doubles as Nashville's art museum and houses a collection of 63 paintings. Missing this attraction may be equivalent to missing our keynote sessions with CEO Jon Roskill – a terrible idea!
The Frist Center for the Visual Arts – Located only minutes from the Omni Nashville Hotel, the Frist Center's 24,000 square feet of gallery space features regional and global exhibitions that change every six to eight weeks. While its focus is on visual arts, the museum also provides interactive activities such as sculpting and watercolor painting for guests of any age. Keep in mind that the museum offers free live music every Thursday and Friday from 6:00 – 8:00 p.m. along with free architecture tours every Saturday at 4:30 p.m.
Lane Motor Museum – If you like one-of-a-kind cars, then put Lane Motor Museum on your list. It boasts "unique cars from A to Z" from microcars to amphibious vehicles to prototypes and more. The museum specializes in European cars and has the largest collection in the U.S. The 150 cars exhibited range from show-worthy to original and aged but the museum's goal is to get them all in running order.
Acumatica Summit: Cloud ERP and Nashville
Our invitation-only event is the perfect opportunity to take care of your cloud software needs while enjoying some down time. Product certifications, live demonstrations, networking, and hands-on technical training tracks work together to enhance your business' future. And Nashville's fabulous array of activities allows you to fill out your existing – or newly written – bucket list.
Take full advantage of Acumatica's comprehensive ERP cloud solution by attending our Acumatica Summit 2018. You can register here and once you do, prepare yourself to enjoy a week of collaboration and entertainment!
Register for Acumatica Summit 2018