Acumatica Summit 2017's theme of collaborate, innovate, and accelerate was more than just words – it was the active foundation of this year's Summit. The end goal was for attendees to leave the conference with new and deeper insights into how they could grow their businesses and services while fully utilizing the Acumatica platform both in the present and for the future. The keynote lectures provided a comprehensive picture of Acumatica's primary focus on quality, stability, and performance for our platform and for our customers.
Whether you were able to attend, or hope to attend in the future, I'd like to give you an overview of the amazing products and partnerships along with new editions revealed during the keynotes. If you would like to watch the full video recap of the keynotes, please go here.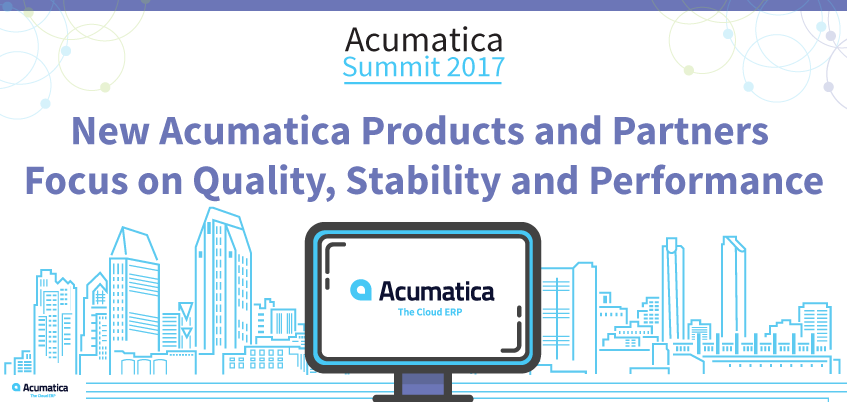 The Acumatica Platform
Throughout the Summit, we emphasized customer experience. As CEO Jon Roskill noted in the first keynote, "It's all about accelerating the end customer's solution. That's what we're all here to do – to serve those end customers and deliver great business solutions that accelerate their business."
This means listening to the customers' feedback and implementing solutions. One concern noted during customer interviews was the complexity of the dashboard. Customers wanted it to be more functional, organized, and easier to navigate. The answer to this was a demonstration on user interface (UI) improvements including a choice of a simplified interface for those who want it with better drill down from dashboard widgets. Users can change parameters easily; it's customizable and optimizable.
To enhance the customer experience further, Acumatica encourages community collaboration and the sharing of ideas and innovations that come with those relationships. This is also the definition of a multi-cloud world: multiple business applications and services in the cloud effortlessly interacting in a way that best serves our customers. One such interaction discussed during the Summit was the code for Acumatica integrations with Box.com, Survey Monkey and DocuSign (download DocuSign for Acumatica now) which are available to the public for free on GitHub.com. GitHub.com, the largest open source community in the world, is a powerful example of community in a multi-cloud world. 
At Acumatica, a customer-centric promise is a personalized service and top-notch support through our network of business partners to implement Acumatica ERP. However, at times, customers need direct access to Acumatica Technical resources, previously provided by our Customer Premier support. At the Summit, we were excited to announce that there is now a new level of customer support called Standard Support, which offers chat support, online incident management, and 8-to-5 coverage with next day Service Level Agreement (SLA). Standard Support is free for the first year of the customer's implementation.
Furthermore, as a value-driven company, Acumatica places high importance on its adaptable mobile technology.  At the Summit, we showed how users on the go can now use parameters to create custom reports and download a pdf to their mobile device.
New Acumatica Editions
The Summit keynotes also highlighted some new and exciting editions coming to the Acumatica suite of products.
The Acumatica Field Service Edition, designed for companies that repair products or equipment at their customer's locations, is now available. It includes Financial Management, Distribution Management, and Field Services Management. With this new edition, customers can manage the call center, their dispatch service, and plan their routes for the repair vehicles online and with their mobile devices. Additionally, equipment history and warranties are accessible in the field providing accuracy and customer satisfaction. Since the workforce is mobile, it leverages Acumatica's investment in mobile functionality with remote inventory management, mobile updates, and updated routing based on traffic using Google Maps. Read more about this exciting edition here!
Also discussed was the Acumatica Commerce Edition. It uses the very popular Magento website platform. Kensium supplies the real-time connector between Acumatica and Magento. They also provide the product configurator included in the edition. Financial Management and Distribution Management complete the standard products. However, for those that do their own fulfillment, Acumatica announced Advanced Fulfillment to help in the pic-pack-ship process. Optional integrations include shopping cart, EDI, automated sales tax and payment gateway.
New Partners
InfinityHR was spotlighted at the Summit for their HCM (Human Capital Management) Solution. They provide a secure web-based HR Management System that provides comprehensive HR and payroll functionality to a diverse client base. This integration with InfinityHR will allow Acumatica users access to their core HR functions and modules, which include Applicant Tracking, Benefit Management, Employee Self-Service Portal, Payroll, and Performance Management.
Also announced was the integration with DocuSign. DocuSign for Acumatica Cloud ERP makes it easy for Acumatica users to prepare, manage and send documents for signing. With this integration, users can now take advantage of the DocuSign capability from within Acumatica Cloud ERP whether working on a sales order, a bill, or a contract. This integration is available now on Github.com. DocuSign has more info located here.
New Release – Acumatica 6.1
As mentioned earlier, Acumatica's continuing growth drives us to prioritize quality, stability and performance. Here are some of the enhancements we released on January 31st in Acumatica 6.1:
Approvals of Expense Receipts
Recognition of Pending VAT
Templates in Sales Orders
Warehouse Shipping
Partial Receipt of Two-Step Transfers
Enhanced User Access Rights Management
EULA Acceptance
Integration with Power BI
As our CEO, Jon Roskill, said from the Summit stage:, "We are a tech company at our core. We love technology – love to push boundaries with it." And we always base our boundary-pushing on what our customers need to accelerate their businesses in a multicloud world.
We hope this summary of all that Acumatica has planned will encourage you to join us for Acumatica Summit 2018 in Nashville, Tennessee. Until then, please let us know if you would like to chat with us about any of our new products, partners or editions. We are always at your service.