Every business has competition.  In the past you rose above your competition with better price, location, product or marketing. But today, the traditional competitive advantages are beginning to be overshadowed by the creative use of technology. How does your business technology stack up to your competitor's? Are their systems integrated? Do they use systems with modern order entry techniques (online)? Can they promise and meet delivery dates? Do you know how much you should be spending on technology compared to your competition?
Turns out, technology strategy can be a differentiating competitive factor
A recent study of 700 small to midsize businesses by SMB Group uncovered some progressive strategies shared by almost 30% of those companies who are using technology to drive their business growth.
For example, these progressive companies are:
86% more likely to use business intelligence and analytics
Investing 29% more in technology than their peers
More likely to use cloud computing and 55% more likely to have fully integrated business applications
And they make more money because progressive companies are 18% more likely to forecast revenue increases than their competitors.
The report defines "Progressive SMBs" as companies who view technology systems as part of their strategy to significantly improve their business outcomes, compared to companies who view technology just as tools to help run the business or to support basic business needs.
Core Business Goals Don't Change, but the Means to Achieve Them Do
This new report, "The Business-Technology Performance Connection for SMBs", from the SMB Group uncovers the major areas in which these companies are leveraging technology to streamline business processes, control costs, and get better decision-making insights.
Using the Cloud to help achieve business goals
Progressive SMBs are using cloud computing more than their competition. Cloud computing makes it possible for these SMBs to quickly deploy flexible and cost-effective IT solutions that scale as the company grows.
Making integration a priority
Integrated systems enable companies to streamline operations and get a more consistent view of information, which leads to better decision-making. Progressive SMBs are 55% more likely to have fully integrated business systems.
Working smarter with analytics
Progressive SMBs are much more likely to use analytics and business intelligence solutions in key business areas like financial forecasting, risk analysis, marketing, operations, and customer service. This allows for business decisions to be made based on facts, due to real-time visibility into the operations.
Moving ahead with mobile solutions
While most SMBs are embracing mobile (54%), progressive SMBs view mobile technologies as integral to improving and transforming their business. These SMBs are using mobile solutions for business-critical functions (like checking inventory or managing payroll) as well as the standard email, calendars, contacts and messaging.
Attitudes About Technology Affect the Bottom Line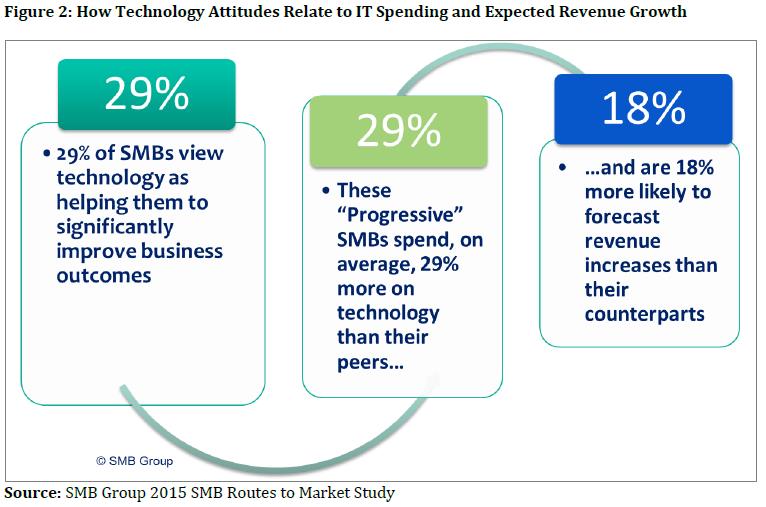 Companies that have been holding off from a more progressive technology strategy, or are currently juggling disparate systems and spreadsheets, should consider how this could be damaging to their bottom line and business growth.
Download the full eBook now to learn how your business stacks up against other small and midsized businesses.