Acumatica customers Superprem, Specified Technologies Inc., and Ray Allen Manufacturing have all shared their Acumatica cloud ERP journeys in our customer-focused series. Berthold Technologies joins them to discuss why they chose Acumatica Distribution Edition.
Berthold Technologies is about the finish their third year as an Acumatica cloud ERP and Acumatica Distribution Edition user. Today, Controller Chip Hooks shares how using our integrated, mobile, and flexible solution has changed the way they do business.
"We're constantly striving to improve our processes, and we use Acumatica to improve those processes," Chip says in their Customer Success Audio Board.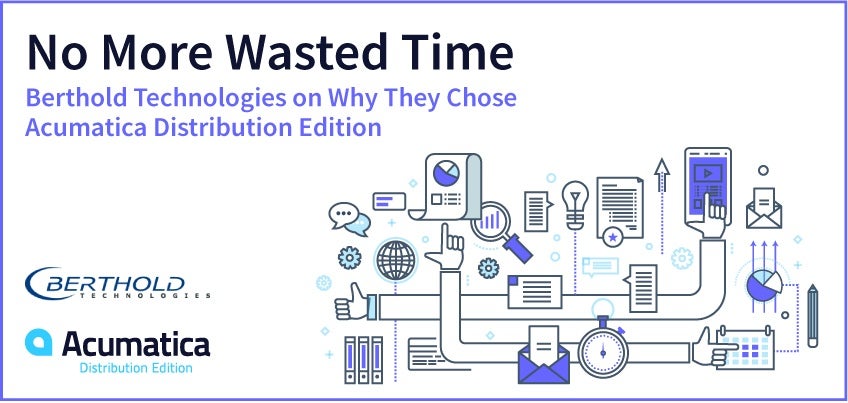 Why Berthold Technologies chose Acumatica Distribution Edition
Before getting into the why, let's first look at the who.
The Berthold Technologies team describes the company as a global leader in high-performance measurement technology and detection systems in the fields of Process Control, Life Sciences, and Radiation Protection. They solve customers' measurement tasks with cutting-edge technology and tailored measurement solutions.
Though the company employs modern electronics and software (along with expertise in physics and in the techniques of highly sensitive detection of light, nuclear radiation, and microwave frequencies) to produce top-notch instruments and service, their back-office system supporting their business was not up to par.
"They were literally using file folders and a lot of print out paperwork to keep track of orders and projects," Chip says. "And then, from there, they had multiple platforms for the database storage."
Their serialized part number database was separate from their inventory system, which was separate from the financial system. And they were all separate from their CRM system. Chip notes that Excel spreadsheets with their different business activity information were "floating around." Their disparate systems and resulting inefficiencies lead them to research their distribution management and cloud ERP options.
"When they performed their investigation and due diligence on different software systems, the decision was to go forward with Acumatica," Chips says.
He explains why they chose Acumatica cloud ERP, "It's the mobility, the streamlining, putting everything into one system, the flexibility of Acumatica to update, customize, change. We can change little things within Acumatica to match our current processes."
Acumatica's scalability also played a role in Berthold Technologies' decision. Chip sees it as something that will help them grow along with the improvements Acumatica continues to make, such in our latest release, Acumatica 2018 R2.
"Acumatica continues to add different functionalities and those are things I constantly review year in and year out," Chip says.
A feature Chip added this year is Acumatica's Intercompany Accounting module. Berthold Technologies is comprised of three branches, all of which reside in the same facility. The module allows them to consolidate and centralize their invoicing, collections, purchasing, and payments. Acumatica automatically handles all the inter-company (branch) accounting functionality by posting the due-to/due-from entries — and, Chip says, "that piece has been wonderful."
In addition to the Intercompany Accounting module, the company implemented American Payment Solutions (APS) for their credit card processing needs and is looking to add an accounts receivable integration with APS to allow their customers to review their account and pay invoices online. They're also planning to implement Avalara, an Acumatica third-party application that provides sales tax automation.
Advantages of cloud-based distribution management software
For Chip, the benefits of using cloud-based distribution and inventory management software are clear:
Integrated and streamlined databases
Single version of the truth
Ability to customize
Mobility and remote access
Increased efficiency
"One sales guy could be working on it, I could be working in there, somebody in shipping could be working there," says Chip. "Before, there was just one file folder that they had to share. It has cut down on wasted time."
Another function Acumatica cloud ERP has provided Berthold Technologies is the ability to tie every aspect of the system back to an opportunity. "Anybody anywhere can go into a particular opportunity. We can see all the documents associated with that opportunity, from the quotes, the sales orders, to the purchase orders—we see the invoices, we see credit memos, we see everything that is tied to that particular opportunity."
He points out that each new opportunity has a sequential number, and they can continue to build on them. He can also review the documents and notes and pinpoint any questions to the right person. "It's as if we picked up one big file, but now it's no longer paper. It's all electronic."
Integrated, mobile distribution management software works for multiple industries
Berthold Technologies Process Control products serve industries such as Chemical & Petrochemical, Metals & Steel, Oil & Gas Production, Oil & Gas Downstream, Mining & Processing, Building Materials & Construction, Food & Beverages, Sugar, and more. Just as they serve multiple industries, so too does Acumatica and Acumatica Distribution Edition.
Regardless of the industry, if your organization is looking for an integrated, mobile solution, then we invite you to take an up close and personal look at the features and benefits of Acumatica cloud ERP at Acumatica Summit 2019, coming January 27-February 1, 2019 in Houston, Texas. Hear what Chip is looking forward to the most in attending Acumatica Summit:
Mingle with other customers and partners during the many breakout and training tracks—all focused on accelerating your business in the cloud—and learn why Acumatica placed highest in Usability in Nucleus Research's ERP Technology Value Matrix 2018 report among 22 leading ERP vendors and highest in User Satisfaction out of the 12 cloud financial solutions that were surveyed in Gartner's recent Magic Quadrant report.
You can also contact our team with any questions or to request a demonstration. As Chip has found, we're here to give you a complete solution that can help transform your business.