Acumatica MVPs are MVPs because they want to help Acumatica community members succeed with Acumatica Cloud ERP. Know anyone like that? Nominate them today!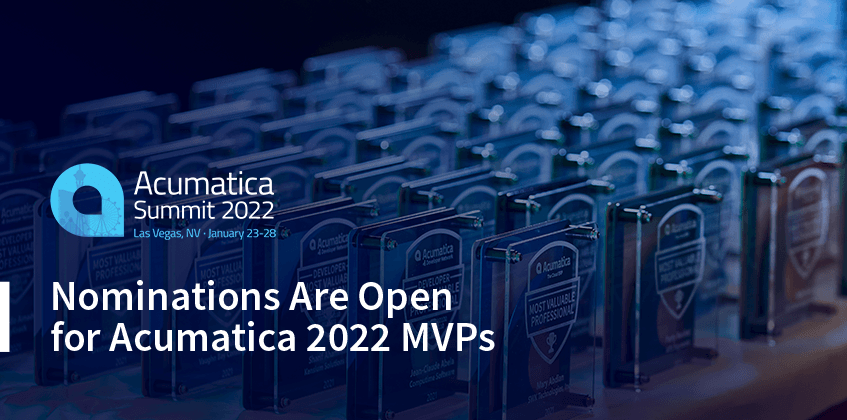 Acumatica MVPs are passionate advocates of Acumatica's product and platform. Every year, we honor their efforts to help other community members garner value from their cloud ERP investment. MVPs answer questions, engage in our dedicated forums, and attend our annual Summits. They also shape our future, offering expert feedback and advice derived from their own experiences.
If you know someone (or "someones") who fit this description, you can nominate them as an Acumatica 2022 MVP. The sooner the better for two reasons: the nomination cutoff date is December 31st, 2021 and Acumatica Summit 2022 is coming up January 23-28, 2022, at the Wynn Las Vegas (registration is opening soon). It's the time and place where we honor our MVPs.
Acumatica MVPs help the community grow better and stronger
The Acumatica MVP Program further distinguishes Developer MVPs with their own distinct badge. The recipients of the MVP awards do a lot of things that make them stand out.
As mentioned, they are active participants in our online communities, including the Acumatica Community Forums and in Stackoverflow, LinkedIn, and GitHub. When our annual Launch Day/Roadshow events and Acumatica Summit roll around, they are there. And when they see something that is a concern with (or something that is a benefit of) our cloud ERP software, they're not shy about sharing.
Gregg Mercede, President of Cloud 9 ERP Solutions LLC, is a perfect example. He has been an Acumatica MVP for five years, and he's been offering his thoughts about Acumatica's cloud ERP software just as long. I interviewed him a few years ago about what the Acumatica MVP's life is like, and this is what he said about Acumatica and feedback:
"I think our relationship with Acumatica will continue to grow year over year. I think we're all stronger together…mostly because of the attention that Acumatica gives to people such as myself. There are many companies who turn a blind eye to feedback. They don't value it. You won't get MVPs if you have that kind of attitude. Acumatica is the reverse. They love and enjoy the feedback."
He's not wrong. In fact, he's very right. Our MVPs' insights aid us in getting better and stronger.
Developer MVP Brian Stevens attended Acumatica Summit Hackathon 2021 and had this to say about Acumatica's love of feedback, "At the end of the day, it's about building a stronger developer community. Not for Acumatica, not for our own companies, but for all the people in this room because if we're helping each other, we're all getting stronger together. And if we're stronger together, we know this is going to be amazing later…not that it isn't already."
What do the Acumatica MVPs get out of it?
One of the reasons an Acumatica MVP is an MVP is because they enjoy doing everything they can to help others succeed with Acumatica Cloud ERP—not to earn awards or accolades. They get them anyway.
Acumatica MVPs:
Get an Acumatica MVP Badge or Acumatica MVP Developer Badge, which can be displayed on profile pages, social media, resumes, and third-party forums
Receive a plaque as a token of our appreciation in a recognition ceremony during Acumatica Summit 2022's Welcome Reception
Developers write guest blogs for Acumatica and attend quarterly synchronization meetings
Participate in our forums by answering questions and submitting sample code (recognizing Developer MVP contributions in a leader board format with the leaders acknowledged quarterly)
Now is the time to nominate Acumatica developers and partners who generously share their time and knowledge to the betterment of the Acumatica community. I also encourage you to nominate yourself. Just make sure you get your nominations in by December 22nd, 2022. If you have any questions about the nomination process, or about our cloud-based ERP solution, please contact our team today.
And don't forget to register for Acumatica Summit 2022. It promises to be an innovative, educational, and enjoyable event. Plus, you'll get to see the MVP you nominated be acknowledged for their efforts. Any questions about the Summit can be directed to support@acumaticaevents.com.