Nominations for Acumatica MVP and Developer MVP are now being accepted, and the winners will be revealed at Acumatica Summit 2019. If someone you know (including yourself) deserves the title of Most Valuable Professional due to his or her passion and commitment to Acumatica cloud ERP, then fill out a nomination form right away.
When you consider we rely on our VARs to sell our true cloud ERP solution and on our ISVs and developers for their powerful coding and applications for our modern ERP platform, the need to foster community involvement is paramount. Every year, through our Acumatica MVP and Developer MVP programs, we honor those VARs, ISVs, and developers who spend a lot of time and energy supporting the community, and we're excited to let you know that MVP nominations are now open. The countdown is on to unveil the winners at Acumatica Summit 2019 (January 27-February 1, 2019 in Houston, Texas).
For those who haven't yet registered for our superlative cloud ERP event, I encourage you to do so soon.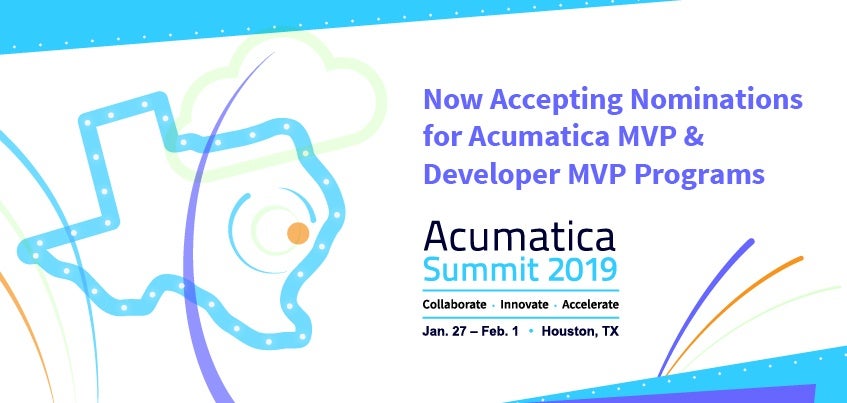 Who can be an MVP?
MVPs are individuals who take it upon themselves to freely share their expertise and knowledge of our product and ERP platform with fellow customers, partners, and developers with the intent of helping others succeed. They engage with our team, participate in our dedicated forums, and attend our cloud ERP events.
Last year, we were excited to add to these qualifications by creating a badge just for our developers. Their specific strength in our ERP platform and applications makes them stand out amongst their peers, and they deserve recognition for their efforts. Including the developer community within the greater Acumatica ecosystem is imperative, and we encourage developers to be a part of the Acumatica Developer Network (ADN) and to attend Acumatica Summit 2019, which offers developer-specific events, such as the Acumatica Hackathon and a dedicated developer track.
Acumatica MVPs for 2019 will receive the following benefits:
Discounted Registrations to Acumatica Summit
A recognition ceremony and token of appreciation given by Acumatica CEO, Jon Roskill, and me during the Summit's Welcome Reception
An Acumatica MVP Badge or Acumatica MVP Developer Badge, which can be displayed on profile pages, social media, resumes, and third-party forums
The opportunity for Developer MVPs to write guest blogs for the ADN and attend quarterly synchronization meetings
Participation in our Stack Overflow, LinkedIn, and GitHub forums by answering questions and submitting sample codes (recognizing Developer MVP contributions in a leader board format with the leaders acknowledged quarterly)
We consider these MVPs to be champions of Acumatica's cloud ERP software and xRP platform and appreciate the contributions from 35 MVPs in 2018.
Submit your MVP nominations, see the winners at Acumatica Summit 2019
Community involvement is the cornerstone of Acumatica's success. Those individuals who take this involvement seriously by contributing to our growth, encouraging and educating their peers, participating in our forums, and attending our annual Summits deserve our appreciation. The Acumatica MVP Program, which now includes the Developer MVP, is one way we can thank them tangibly.
Submit your MVP nomination and register for Acumatica Summit 2019 today. There's no reason to delay. You'll also secure a spot in our exciting Acumatica Hackathon 2019, where you can meet the MVPs, many of whom I anticipate should be participating.
Contact our team if you have any questions about the Acumatica MVP and Developer MVP programs, Acumatica Summit 2019, or about our cloud software and ERP platform.