OFS International's inventory, manufacturing, and accounting needs were not being met by their legacy ERP system. The only course of action was to seek out and find a modern, cloud ERP solution, and they found it with Acumatica.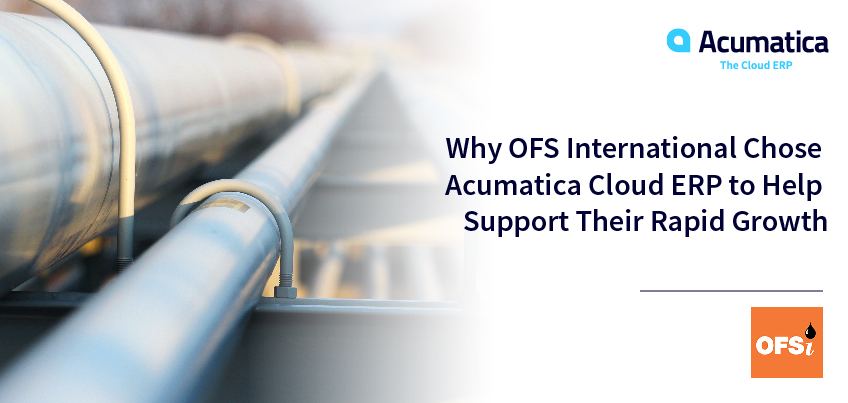 With so many cloud ERP solutions on the market, how does a business choose the right one? Yuri Dorovskikh, IT Manager at OFS International (OFSi), explains how he and his team did it.
"We considered about 11 different systems. We did a very detailed analysis of about four and most of them were disqualified because of the cost," he says. "Acumatica was the most affordable solution with great value. It came out as a winner because of the unlimited user licensing and easy customization. We can actually change the software instead of changing our business processes."
OFSi with Acumatica cloud ERP
OFSi provides inspection services, couplings manufacturing, threading, storage, accessories, field services, and rig returns for the Oil and Gas industry. It also owns three subsidiaries (Independent Inspection LLC, Threading and Precision Manufacturing LLC, and Oil Field Services and Technologies LLC).
"We manufacture couplings. We can thread the premium connections. We can supply the pipe or thread these on other customer-owned material. We also provide the accessories and the field service," says David Green, Chief Commercial Officer. "We can combine all that in basically one purchase order to the customer, providing all those services and simplifying the whole process."
Their streamlined customer service was not reflected in the ERP system they had been using since the company's inception. The system was reaching its end of life and unable to manage their inventory, manufacturing, and accounting needs. The search for field service management software and manufacturing ERP software ended when they found Acumatica's cloud-based ERP.
"Acumatica gives us the capability to provide PO's, available raw material, and manufacturing modules to provide accurate, available for-sale inventories, including all pertinent costs," Yuri says in the company's success story. "Acumatica allows us to concentrate on the business itself while not worrying about the software."
It wasn't all smooth sailing. Yuri expressed to Jon Reed in a 2018 diginomica article that the industry is pretty set in its ways, so it wasn't surprising that many at OFSi were initially resistant to cloud manufacturing, particularly due to security concerns. However, they eventually adopted new business practices and technology. "It was about changing how we do business."
The company implemented Acumatica Manufacturing Edition, Acumatica Financial Management, Acumatica Field Service Edition, and, as Yuri says, "We are planning to build on it as our foundation."
And the change was incredibly beneficial.
Acumatica cloud ERP supports OFSi's growth
The benefits of implementing Acumatica's cloud ERP software have included:
Unlimited user licensing, avoiding $175,000 in user-fee costs
Obtaining one version of the truth and full visibility into the company's financial operations across all four entities, providing customer, finance, and inventory data they didn't have before
Reducing invoicing time from 21 days to one day
Increasing sales 100 percent year-over-year
Saving approximately $250,000 in consulting fees for modifying OFSi's practices due to Acumatica's flexible and full-featured software
Fulfilling customer orders from request to fulfillment within 2 weeks
Tracking specific pipe parameters to ensure quality of service
Improving transparency and streamlined audits
Seamless integration with third party solutions, such as Office 365 and Microsoft PowerBI
David also praises Acumatica for its mobility capabilities, which allows them to access company information wherever they are, Acumatica's willingness to make changes and improvements on request, and more. "I strongly believe Acumatica is a great software, ERP system because it provides the cloud-based remote access. It's very simple to use. It's intuitive. The reporting functions are great. The flexibility of working with Acumatica to make changes to fit your business is a very, very, very good business model."
And he would know. OFSi prides itself on providing exceptional products and services, and their continued growth underscores their efforts.
OFSi "strongly" recommends Acumatica
As the company continues to grow and automate their processes, the team plans on relying on Acumatica as their integrated, flexible, scalable, and affordable solution. "Anything Acumatica can provide, we want it," Yuri says.
And David adds, "I would strongly recommend Acumatica to anybody that's looking for a new ERP system. From a manufacturing point of view, Acumatica has a lot to offer."
More details about their Acumatica implementation and experience are available in their customer success story. You can also watch their Video Testimonial below.
Contact our experts to find out how your business can experience the same growth with Acumatica's cloud-based ERP. We would be happy to answer your questions or to schedule a demonstration. You're also invited to join us at Acumatica Summit 2020 (registration is live) for in-depth and in-person Acumatica cloud ERP learning.