Inventory planning for manufacturers, distributors, and retail businesses is a space dominated by outdated tools. I could go on and on about some of the terrible tools I've seen in my day, but I'll spare you the painful stories. The bottom line is that these tools won't help you get the most value out of your inventory, and that directly hurts your bottom line. With the latest release of Acumatica, there are more effective add-on apps than ever before, allowing you to customize your ERP solution to fit with your business' unique demands.
Getting the most out of Acumatica starts with learning its core functionality. As you dive deeper into its user-friendly interface and helpful features, you'll find areas where your business, based on your needs, might benefit from some additional added functionality.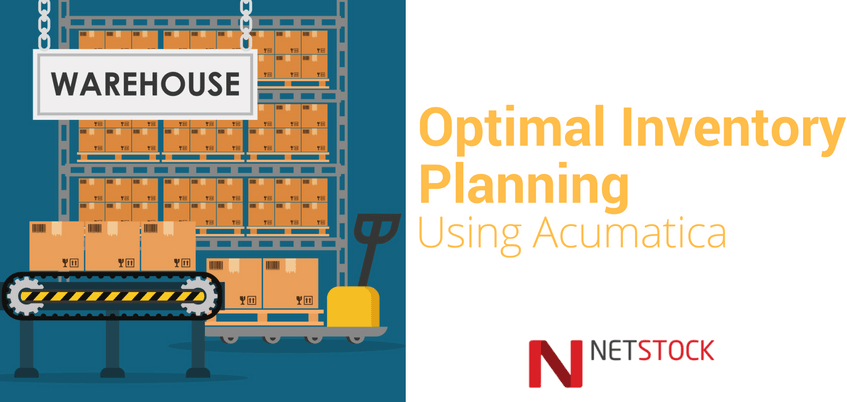 Let's take a quick look at inventory planning and how Acumatica can help you ditch those old and clunky inventory planning tools, such as spreadsheets, so you can optimize your inventory and improve your profitability right away.
The base inventory targets of most companies evolve due to a pair of faulty metrics: 1) having enough filled orders so the sales team isn't constantly mad at the warehouse, and 2) achieving high enough profits so the finance team stops sweating bullets. In other words, most companies have an inventory policy that's just barely good enough, and that's not exactly the definition of "best practice." With Acumatica, you can finally raise the bar on what you expect out of your warehouse.
Take your "target stock," for example, which is basically the amount of an item you've got on hand, minus that extra bit of excess stock that always seems to stick around. This is a target that's hard to hit, because often businesses are using unscientific metrics. Most companies are never able to achieve their target stock goal. On the one hand you don't want to run out of stock, of course, but carrying that extra inventory also comes with serious costs.
Like most companies, you've probably been frustrated with the technology available to you to calculate dynamic min and max levels per item. Those levels should be based on the variability of demand and supplier delivery performance. Furthermore, they should direct you to a model that everyone on your team agrees to and is working toward.
To do all this math, your technology and data need to be on your side. The data you need is most likely in your old systems already, or has been migrated to Acumatica during your installation process. If you take that data and funnel it into an inventory planning app like NETSTOCK, you can implement better inventory planning policies immediately.
Your data will give you the guidance you need to reduce your inventory holding and improve your fill rates to customers. We do that through calculating optimal inventory levels and aligning the management targets and objectives to the levels we use. This process also involves creating ideal levels that are not like your old "one size fits all" approach.
The savings start immediately. At the same time, you can start looking for how to further refine things as you get more comfortable with your new inventory dashboards and the various concepts that inform your decisions. The very best apps will direct you to what needs attention first, so you can fix the biggest problems before you start tackling smaller issues.
One more key going forward is synchronization. You want to make sure the third-party apps you use work in concert with Acumatica, so you know there won't be any unexpected surprises or mistakes.
With each replenishment order you place using Acumatica and NETSTOCK, you'll see the ROI stack up. You'll be able to watch your fill rate improve, your excess stock shrink, and your working capital increase, all thanks to a simple add-on to your ERP. Visit our website to learn more about this user-friendly and affordable inventory planning application. We'll also be able to give you a hands-on demo at Acumatica Summit 2017 so you can have an in-person look at what NETSTOCK can do for your business. We hope to see you there!