As a general contractor, home builder, land developer, subcontractor, or specialty contractor, you may be considering adopting modern ERP software as a way to meet your business management needs but may have questions. One big question is how do you choose the right ERP software for your construction firm? To help you find the answer, we're providing a free checklist you can use to compare your options, which includes our new Acumatica Construction Edition.
With the release of our latest integrated cloud solution, Acumatica Construction Edition, you may be wondering how it compares – and if it is on par – with other cloud business management systems on the market. I could tell you that we believe it exceeds the other available options but sometimes it's easier to offer proof in black and white. And, the fact is, we want you to implement the best ERP software for you. That's why Acumatica is offering a free Construction Management ERP Evaluation Checklist.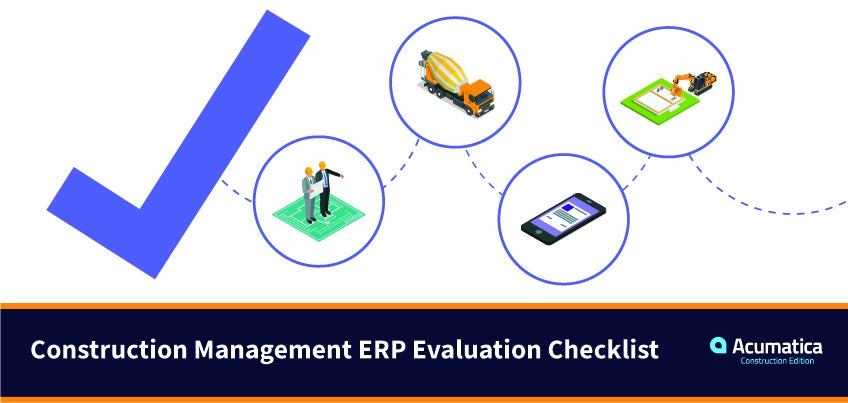 Compare Acumatica Construction Edition with other ERP software options
Comparing features and benefits of cloud ERP vendors will help you evaluate which system makes the most sense for your construction firm. To help you differentiate between Acumatica Construction Edition and other ERP software options, the checklist uses five categories:
Productivity: How does the product help you increase productivity?
Functionality: Do the product's features provide you with the comprehensive project management, cost accounting and business management functions you need?
Technology: Is the product built on a modern cloud platform offering ease-of-use, customization, and scalability?
Value: Does the product offer a clear picture of the total cost of ownership (TCO) as well as offer a generous return on investment (ROI) over the product's usable lifetime?
Risk: Will the product safeguard your financial and network security?
While the Construction Management ERP Evaluation Checklist provides an in-depth look at these categories along with the features and benefits of various cloud ERP software vendors, I want to share a bit more about Acumatica Construction Edition with you right now. You can also read my previous posts, specifically geared to Homebuilders and General Contractors, for even more information.
Acumatica Construction Edition is construction ERP software that will give you a "single source of truth" as you manage your multiple projects from beginning to end. You can find information on all of your contracts, subcontracts, schedules, budgets, changes, compliance needs, and more in one location. The solution is not only fully mobile (you can access your business documents anytime, anywhere), but it's also fully integrated with Acumatica's core application suites, offering project accounting, compliance management, retainage, change orders, and document management. With embedded Microsoft Excel and Power BI, you can analyze your data.
We also have multiple application partners to offer even more value: Smartsheet, Procore, Hyphen Solutions, Microsoft Office 365, and Adobe Sign. In addition, the cost is based on consumption, not by user.
As Acumatica CEO Jon Roskill says in our press release introducing Acumatica Construction Edition, "Just as we've done with our other industry solutions, we listened to the underserved customers of decades-old legacy software vendors and leveraged the power of the Acumatica Cloud xRP Platform to design a modern, fully-featured Cloud solution for the construction industry."
Download the checklist today
Not to sound like a commercial, but you have nothing to lose and everything to gain if you download the free Construction Management ERP Evaluation Checklist today. Implementing a modern construction management system (and doing so based on facts rather than opinions) means you'll be eons ahead of your competitors, many of whom may still be working with paper-based systems.
Technology for the construction industry is surging ahead and it behooves firms that want to succeed to keep up. The ability to clearly define your ERP software needs and evaluate your options is necessary for your business to have a future.
Download the checklist, review your options, and contact us with any questions you may have. It's time to build your business in the cloud with construction ERP software created specifically for you.