If you've already started to research your enterprise accounting software options, include PCMag's latest review about Acumatica before you make your decision. Our general ledger software excels and earns an Editors' Choice Award. Acumatica may just be the perfect financial management software for your organization.
The team at Acumatica is both proud and humbled that PCMag has recognized three of our cloud ERP suites as "excellent" this year as well as placed us in their 19 Best Business Mobile Apps of 2017. We'll be focusing on the mobile app award in an upcoming post but today, we'll dive into why PCMag gave us the Editors' Choice Award for Best Enterprise Accounting Software for 2017.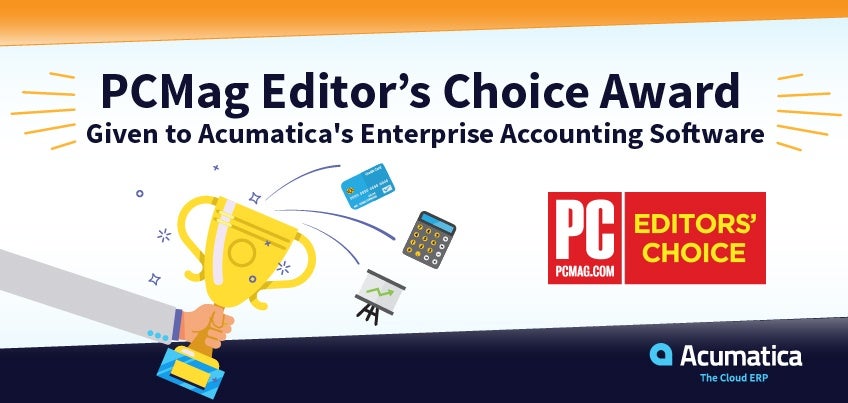 If you missed our previous posts about PCMag's awards, read about the three PCMag Editors' Choice Awards and Best App Award we won. We dug into the Editors' Choice Award for Best ERP Software here, and the Editors' Choice for Acumatica's ERP Inventory Management Software here. You can also check out the other two awards by clicking on these links: Best ERP Software and Best Inventory Management Software.
How does PCMag choose the best enterprise accounting software?
PCMag tested and compared the general ledger software of ten top ERP companies. In the review, the editor distinguishes between small to mid-size business (SMB) and mid-size enterprise (SME) accounting software. The difference rests in the ability of the financial management software to handle complex business functions and be affordable for – and usable by – "modest-sized" businesses.
SME software must be able to handle multifaceted business requirements, such as operating internationally. The challenge for many organizations is finding financial management software that incorporates their basic accounting needs with their other business processes. Acumatica's enterprise accounting software is not only fully integrated with Acumatica's Customer Management, Distribution Management, Manufacturing Management, Field Services Edition, and Project Accounting suites but also allows companies of all sizes to operate efficiently locally and globally.
Like Acumatica, most of the companies included in the review have financial systems that include additional modules. PCMag chose to limit their testing to general ledger accounting and looked at customizability and scalability. The editors used a testing account for each vendor unless one was unavailable. For this, they "installed the in-house version." Mobility was also a factor, tested with an iPad Air, a Lenovo Android tablet, a Microsoft Surface 3, and a desktop PC.
PCMag had this to say about Acumatica's enterprise accounting software, "Acumatica has extensive customization capabilities. Import and export capabilities are easily accessed, and the system is Open Data Protocol (OData)-compliant so you can export data to other apps. That's useful in case you need to do further analysis, render different data visualizations or even satisfy a third-party auditing program." The review also noted, "Account structure is easy to understand."
The following list has some of the features PCMag used to compare the various enterprise accounting software vendors:
Deployment: On-Premises, SaaS-Hosted, and Cloud-Based
Multicurrency
Document Management
Expense Reporting/Management
LIFO
FIFO
SQL Queries
Acumatica checks off all of these options. Implementing our powerful financial management software gives your company the benefits of streamlined operations; an accurate, single-version of the truth with configurable dashboards; managing multiple entities; and cloud multi-currency and multi-language capabilities.
Acumatica is the best general ledger software on the market
PCMag's full review of Acumatica's general ledger software also covers some of our other cloud ERP platform features and is worth a read. As the PCMag editor writes, "The product excels in both these (Enterprise Accounting and Inventory Management categories) areas."
As with our win of a PCMag Editors' Choice Award last year, this year's nod for three of our ERP suites and for our mobile ERP capabilities affirms that our drive to offer real – and continued – value to our customers is succeeding. And another valuable resource for our customers is our two premier events coming soon: Acumatica 2017 R2 (the launch of the latest release of Acumatica, September 13, 2017 in Boston, MA – register now!) and Acumatica Summit 2018 (January 28 through February 2, 2018 in Nashville, TN).
The enterprise accounting software you choose can affect your business' success. As the PCMag review recommends, investigate exactly how your business runs and understand your workflows before selecting financial accounting software. We hope you'll also contact our Acumatica team members who are available to answer any questions you may have. We are ready to help you accelerate your business!