Tim Carroll of Acumatica recently sat down with ERP industry experts Esteban Kolsky and Ajoy Krishnamoorthy to discuss if "Software eats the world" is now actually "Platform eats the world." The verdict? Read on.
There's been a lot of chatter lately about how businesses need to integrate platforms to provide a more efficient, user-oriented experience for customers. Is the old trope still true that "Software eats the world"? Or has it, in fact, become "Platform eats the world"?
To get some expert insights, I recently had the privilege of interviewing industry analyst and expert Esteban Kolsky and Head of Cloud Platform at Acumatica, Ajoy Krishnamoorthy. We talked about why platforms are so important for businesses seeking out this integrated approach for their customers.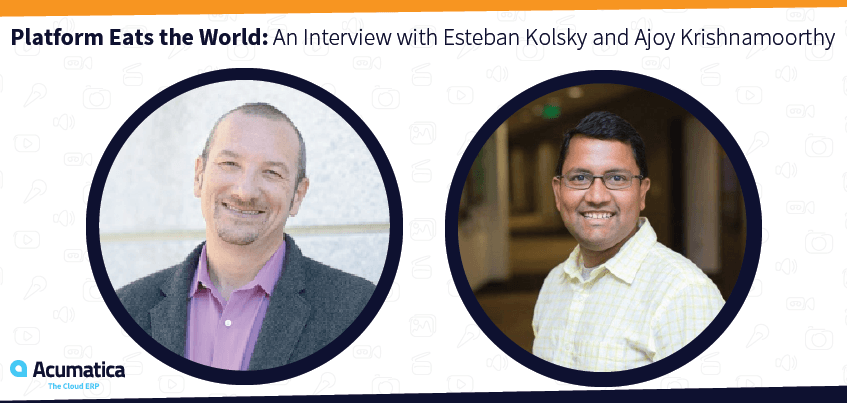 Tim Carroll: Can you give us an overview of the pulse of the industry? Why is platform starting to conquer software?
Esteban Kolsky: It's true that platform is going to eat the world. At all the conferences I've been to this year, the concepts of open integration, centralized management, aggregational processing, and the Cloud are a part of every single discussion. Every vendor now uses the terms Cloud and Platform to describe what they do.
Take AI services. Once upon a time, this would have required a huge effort on the part of several vendors to achieve, but now it boils down to a single API call to get what you want. It's fascinating how services that used to take a long time to achieve have become the norm in a very short time.
Ajoy Krishnamoorthy: We live in an exciting time for technology as a whole and particularly for developers. There is a tremendous pace of innovation across many areas including Machine Learning and AI, Big Data, the Internet of Things, and others. Platforms are driving the democratization of capabilities such as machine learning, natural language processing and big data analysis.  The key here is how business applications like Acumatica Cloud ERP can leverage these new technologies and use it to enhance and improve business processes and in some cases eliminating processes.
These technologies and enabling services are increasingly relevant in any business scenario. Consumer technology has undergone a massive redesign to adapt to the way customers use it, but business applications still lag behind. So we at Acumatica are taking value-added services and applying them to business scenarios—integrating with these services to core modules within Acumatica. We show cased few examples of these at our recent Acumatica Summit with BOTs, OCR and integration to Amazon Echo.
Tim: How can we cut through the hype to show what platform capabilities really are?
Ajoy: Don't get bogged down in the technical elements. We have to look at how technology can help our users get more things done. Look for tasks that can be automated, eliminate mundane tasks or enhance tasks so it results in increased productivity. Bill Gates once said, "We always overestimate the change that will occur in the next two years and underestimate the change that will occur in the next ten. Don't let yourself be lulled into inaction." We at Acumatica totally subscribe to that.
We at Acumatica see a multicloud world where many cloud platform and solutions live in harmony. This is about identifying solutions and services that are providing specific capabilities and integrate them to Acumatica Cloud ERP using our APIs, whether it is for sales tax with Avalara or esigning with DocuSign.
Esteban: The concept of the platform is giving birth to two important new trends: the citizen programmer and customizability. We want to provide services to an interface so a business can build its own apps. And we want our services to be able to extend into any size or scale that the business wants—a reasonably priced and easy to access application of any size. When organizations today want to upgrade to a platform, these trends guide their decision about where to take things next.
Tim: Given the richness and depth of functionality behind the scenes, how important is integration and customization to the end-user?
Ajoy: One of the strengths of Acumatica 6 is its features that integrate with other applications to get the job done faster. It's also about customization because our partners can build solutions onto Acumatica and share them. Our driving question in a world of IoT and machine learning is how to make the data exchange frictionless. The platform is not just one or the other, but it's many, and that's what makes this job so interesting. We offer Acumatica Cloud xRP, which is the underlying platform that our developers use to build the core ERP modules and we make that available to our customers and partners. Our customers use this platform to customize their ERP implementation and our partners are  using it to build complimentary and vertical ISV solutions.
Esteban: I agree. The platform is not about the technology itself but about delivering value to the customer and company. A platform provides stability and creates custom-built applications that do what you need when you need it.
Tim: Thanks for your thoughts, gents. Great insights here. We discussed all of this and more at the Acumatica Summit 2017. I would encourage everyone to go and watch the Keynotes to learn more about what a customizable platform can do to accelerate your business. Platform—not software—is eating the world.