At Acumatica Summit 2018, you can expect to increase your cloud ERP knowledge – thus increasing your success in the cloud – through specially designed trainings and breakouts. CFO Nigel LeGresley is looking forward to working with you as you empower your business at the Summit.
Acumatica Summit 2018 (coming January 28-February 2, 2018) is a great opportunity for customers and partners to come together in one place at one time. It's a chance to focus exclusively on cloud ERP learning and experience direct interaction with the Acumatica community. Building community along with accelerating success in the cloud is our top priority. Our belief that customers and partners come first defines who we are as a company and dictates everything we do.
My fellow executive team members, Ajoy Krishnamoorthy and Christian Lindberg, have also written posts on how Acumatica Summit 2018 supports this principle of people first. I encourage you to check them out!
I also encourage you to register for our premier cloud ERP event if you haven't yet. I'm excited for this year (as I am for every year) and hope you'll join us.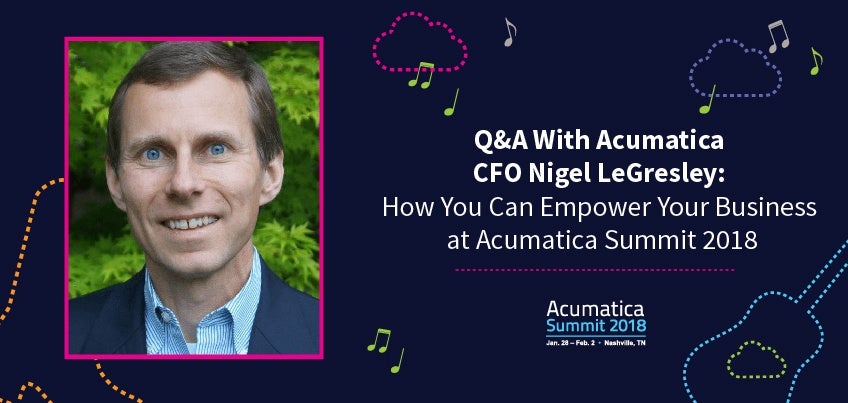 How we define success at Acumatica Summit 2018
There are many reasons to attend our Summits. They include the expert-led and hands-on training tracks, the breakouts geared specifically to your needs, our amazing keynote speakers (including closing speaker Carey Lohrenz), the extensive EXPO, and so much more. All are geared to helping you empower your business in the cloud, which is how we define success at Acumatica Summit 2018.
We see your success as our success, but we don't see it as a static state of being. Success is a persistent drive to improve and innovate. We – the entire Acumatica leadership team and I – are passionate about giving a value proposition to our customers and partners through our Acumatica platform. We're committed to upping the game in our rapidly evolving industry so that you can continue to achieve more and go higher.
Part of that commitment is being accessible to you at our Summits. We look forward to our face-to-face conversations with customers and partners, learning what you think we're doing right and what you think we need to improve. During this time, you also have the chance to network with your peers and learn from their experiences with Acumatica. Building these relationships strengthens the whole community.
However, Acumatica Summit 2018 isn't just about serious cloud ERP networking and training – it's also about having a good time! It's the perfect time and place to step out of our daily schedules and reboot. Nashville, Tennessee, this year's location, is an amazing place with a lot of things to do and see.
I consider Nashville, also called Music City, as more than the epicenter of country music; it's the epicenter of music! You'll want to explore the over 100 live music venues and learn about Nashville's history at the Country Music Hall of Fame and Museum (conveniently attached to our venue, the Omni Nashville Hotel). You'll also want to try the local flavor and cuisine. Wherever you look, you'll find plenty to enjoy during your free time at Acumatica Summit 2018.
In addition to how cool Nashville is, Acumatica Summit 2018 has a Yoga session and a 5K Fun Run happening on Tuesday, January 29. These are other (optional) chances for you to interact within the community in an informal and fun setting. A healthy, happy life style should not only include taking care of your mind and body but also include utilizing Acumatica's complete cloud ERP solution.
Connect at Acumatica Summit 2018
As the CFO of Acumatica, I can tell you that Acumatica Summit 2018 is not about selling a product; it's about connecting people who speak the same language. I enjoy the chance to meet new people and catching up with those I've gotten to know over the years. Unsurprisingly, the conversation always revolves around what Acumatica's cloud ERP platform and products can do for you and your business. I haven't had one that didn't result in the consensus that Acumatica can truly offer the features and functionality that aid in streamlining your business management needs.
After using other ERPs, I consider Acumatica a superior solution. Our personal approach is key in helping the community succeed. The amount of resources in our customer and partner portal, our continual interaction through webinars and in-person meetings, and visiting customers and partners while working around the country all reinforce our motto of the customer and partner as the reason Acumatica is what it is today.
I encourage you to register for Acumatica Summit 2018. It's the place to empower your business and reenergize at the same time. If you've been to our Summits before, then you know what I'm talking about. If you haven't, then you're going to find out! I look forward to seeing you there.