Acumatica Summit 2018 is coming together and the Acumatica community can look forward to some amazing training, breakouts, speakers, and entertainment. Acumatica's Christian Lindberg gives his reasons why he thinks it's the don't-miss-event of the year.
By now, you're probably aware that Acumatica Summit 2018 is coming January 28-February 2, 2018 in Nashville, Tennessee. I consider our annual cloud ERP event the pinnacle of Acumatica's year, but before I tell you why, I want to give you an opportunity to read our first post in our series focusing on the Summit from the perspective of our executive team. Our very own Ajoy Krishnamoorthy gives his reasons he believes you should attend Acumatica Summit 2018.
I also want to give you a chance register if you haven't yet done so. You'll receive immeasurable benefits when you attend, two of which I'll break down for you today.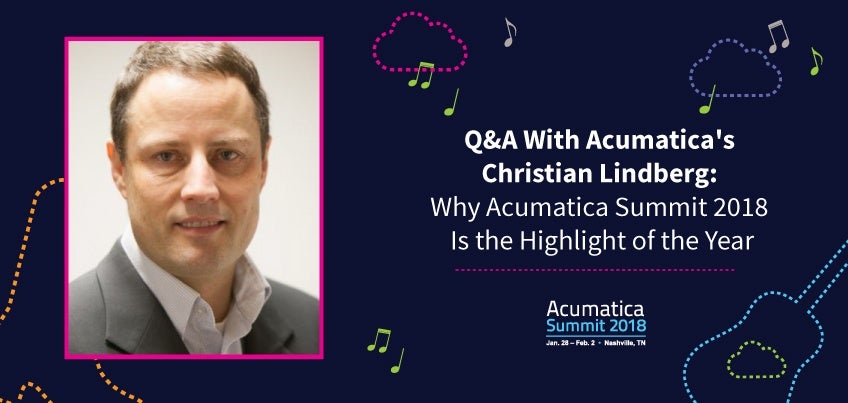 Benefit #1: Accessibility
At Acumatica, we're known for providing amazing accessibility to our leadership team. CEO Jon Roskill, CMO Kathy Visser-May, and CPO Ali Jani (to name a few) attend the Summit from the beginning to end and make a point of meeting with customers and partners throughout. This personal, relationship-building aspect is something I believe sets Acumatica apart from our cloud ERP competitors.
As the Vice President of Partner Solutions, I align everything I do with this personal approach, and love being readily accessible to our ISVs – those partners that are either building complementary solutions to Acumatica's cloud ERP platform or a full industry of vertical solutions – and our OEM partners, our strategic regional partners.
In fact, I enjoy developing these relationships so much I decided to integrate my family's vacation with a work trip I called #Acumatica Roadtrip 2017. This trip allowed my family and I to travel from Washington to Texas and back again, spending time together while visiting customers and partners along the way. Excitingly, all of these same customers and partners will be attending Acumatica Summit 2018, and I'm looking forward to catching up with them – part of which will happen during our EXPO (Solution Showcase).
This year's EXPO is the largest one we've had in the six years I've been attending our Summits and boasts the largest partner participation yet. I will be spending a majority of my time at the EXPO, mingling with my ISV and OEM partners. I'll also be meeting new and potential Acumatica partners during that time, helping with introductions and making connections to our resellers. We'll have a meeting area right next to the EXPO providing a location for customers and partners to gather for further networking; this is a great place for our ISVs to meet and network with people from all over the world.
Being visible and accessible at the Summit during the EXPO, training tracks, breakouts, meals, entertainment functions, and more means our Acumatica Summit 2018 attendees have ample opportunity to visit with, ask questions of, and give feedback to me and Acumatica's leadership team face-to-face.
Benefit #2: Fun
While our Summits are serious cloud ERP educational events, that's not the only reason they're so successful. I give some credit to the fun entertainment the team plans every year. Case in point, Acumatica Summit 2018's Celebration Party (happening the evening of Monday, January 29 in the Country Music Hall of Fame) will have THREE live bands this year!
I'm also excited to participate in some fun (optional) events planned for Tuesday, January 30, which includes a Yoga session and a 5K Fun Run. I'm personally looking forward to running with Mark Franks, our Acumatica Platform Evangelist, who will be leading the Fun Run. I bike about 30 miles a day and am ready to go, but Mark is an avid runner and is in it to win it. They say competition is good for the soul, so we'll see if it's good for the team!
In addition to great entertainment, the various locations we've selected throughout the years offers a multitude of attractions for attendees to check out during their free time, and Acumatica Summit 2018's location is no exception! We'll be heading to awesome Music City – a culturally dynamic and historically fascinating city.
Between the Summit's entertainment and Nashville's music-related attractions, non-music related attractions, and unique dining options, you'll have a major amount of fun things to see and do.
Acumatica Summit 2018: the cloud ERP Olympics
To me, our annual Summit is similar to the Olympics – a high profile event that brings highly trained people ready to demonstrate their skills together in one place at one time – but instead of athleticism, we're showcasing our cloud ERP expertise. With our partners as our valued teammates, we focus on increasing customer satisfaction through continuous innovations giving Acumatica the title of the best cloud ERP software on the market.
However, unlike the Olympics, we don't come together to compete (except for the Fun Run). We see the Summit as a place to grow, celebrate, and build relationships in an electric environment. Our ISVs and OEMs play a big part in this event, making sure Acumatica's software solution works for our customers. This, along with the accessibility and the fun, is a powerful recipe for success.
I consider Acumatica Summit 2018 the highlight of the year. As I shared, attending provides some great benefits and includes accelerating your success in the cloud and gaining incredible cloud ERP knowledge. I hope you register right away – you won't regret it!