Acumatica Partner RAD Apps attended their second Acumatica Summit, bringing with them in 2017 one of their top prospects. See why they recommend going to the Summit and the many benefits their team received, including closing a key customer deal.
The 2017 Acumatica Summit in beautiful La Jolla, California, was RAD Apps second Acumatica Summit.  We became an Acumatica partner in late 2015 and attended our first summit in Orlando, Florida in 2016. At this year's Summit, Acumatica asked us to participate in one of their partner breakout sessions, validating that we've been on the right path to success here at RAD Apps. I was honored to speak alongside my colleague, Lana Amodeo.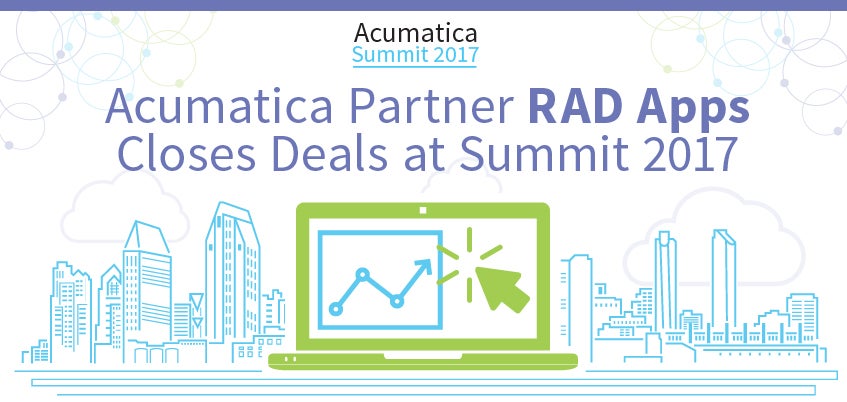 We attribute a good amount of our success in the ERP industry to the 2016 Acumatica Summit. It was there that we received a timeline and milestones document from a Sales training class. This document has helped our prospects understand the timeline and milestones of our sales cycle, as well as implementation timeline and milestones. As resellers of Acumatica Cloud ERP, we do many implementations in our career, but our prospects and customers only do one or two. This document has done wonders to put our prospects at ease as we walk them through the implementation process.
Another big advantage to this document is that almost none of our competitors are providing this type of roadmap to their prospects and customers, giving us a competitive advantage. This has helped position us as the trusted advisor for our prospects. They feel like they can trust us and the recommendations our team gives. It's these types of nuggets of gold that happen at the Summit, and why we attend each year.
In addition to the training courses, our team looks forward to the keynotes where Jon Roskill, Acumatica's CEO, and others give an overview of the future of the product. This year our team was impressed by the keynotes and the numerous awesome new features coming our way, including machine learning and an Amazon Echo integration that lets you check inventory and place a purchase order via a voice command. When these two futuristic features are fully implemented, we resellers won't be able to keep up with the demand. We'll be selling Acumatica like hotcakes! My colleague Lana adds: "Acumatica gave back that initial adrenaline rush I had so many years ago. I love being on the cutting edge of technology with an awesome Accounting solution that can change a company's dynamics. Acumatica offers a very full feature system with a supportive infrastructure that enables any reseller to become successful."
After all the hard work our team does throughout the year, the Celebration Party at the Summit is a great way to recognize and honor this work. This year's party was a poolside dinner with good food, great music, and tons of interesting conversations. We met people from all over the world and we shared our Acumatica stories. Everyone is always positive and we all feel the same way about Acumatica as a company and as our partner.
If I were to say anything negative about the Summit, it would be about a positive problem that Acumatica is facing: training class popularity. Some of their sessions were so popular that they were sold out and bulging at the seams. My guess is there might have been more attendees if there was more capacity. Good thing the Summit location in Nashville looks like it can hold a great crowd – we're going to need the room!
To close out this recap, I would recommend two last things. One, have your clients and prospects attend the Summit. You don't have to worry about anyone poaching your clients, as that's not allowed. We invited our prospect and they came and saw the excitement. Our PAM at Acumatica, Roman Ozerskiy, did a great job making sure they met with the right people and even had an exclusive meeting with Jon Roskill. What other software vendor would have their CEO meet with a prospect? That's unheard of and another reason why we love partnering with Acumatica.  The Summit was instrumental in helping us close this large opportunity. Secondly, make sure to book your rooms and training early. It really makes for a more enjoyable stay when you're booked at the hotel venue and easily able to attend events and trainings.
I hope you enjoyed my recap and it inspired you to attend next year's Summit in Nashville. I will see you there!