If you have limited time but want to tap into the full functionality of Acumatica's cloud ERP solution, then Acumatica Summit 2019 is where you need to be. Acumatica customer Ray Allen Manufacturing says it's the perfect place to accelerate the learning process and your success.  
John Oakley wears a lot of hats as Vice President of Operations at Ray Allen Manufacturing. Of the many things he does, one is being the primary Acumatica system support person. The company implemented our cloud ERP solution in 2016, and John decided to attend Acumatica Summit 2017 in San Diego—something he feels provided immeasurable help for doing his job. He's now hoping to attend Acumatica Summit 2019 (coming January 27-February 1, 2019 in Houston, Texas) to receive the same benefits.
Today, he shares what those benefits were (and are) and encourages other Acumatica customers to join him in registering for our annual cloud ERP event. You can also read our first three posts where Acumatica customers InSync Healthcare Solutions, Dakota Red, and Korpack explain why they're excited to attend Acumatica Summit 2019.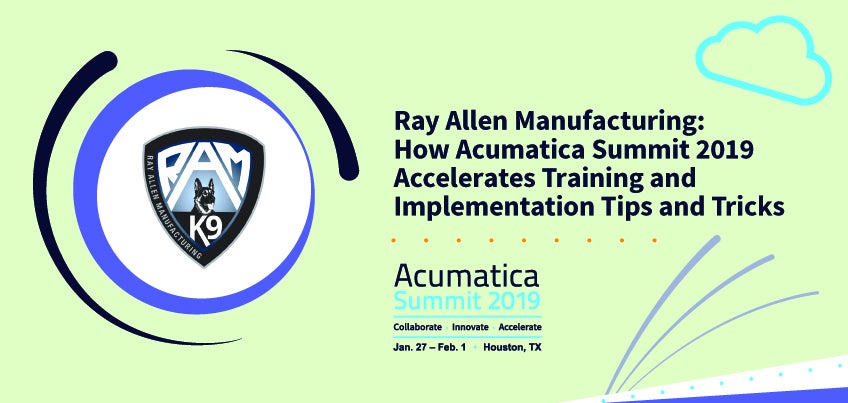 Fine tune Acumatica cloud ERP functionality at Acumatica Summit 2019
Ray Allen Manufacturing supplies high-quality K-9 gear and equipment for military and police departments along with a consumer-based product line. Watch their video testimonial below for more insight into the organization.
They required a cloud ERP system that could flex with their growth, had the technology able to integrate with manufacturing and eCommerce applications, and provided a strong CRM system. They also needed powerful reporting capabilities and the ability to run multiple companies from a singular inventory. In their case study, past President Steve Cates says they chose Acumatica's cloud ERP solution over major competitors—such as NetSuite, Sage, and Epicor—because our open ERP platform (and unlimited user licensing) fit their needs perfectly.
Though ERP implementations are notoriously challenging, they found that Acumatica VAR M2 Technologies did a great job in helping them through the process of implementing our integrated B2B eCommerce software (Acumatica Commerce Edition), and JAAS Advanced Manufacturing Software (JAMS). They also helped them move their web operations to Magento using the Kensium Magento Connector.
For John, his time at Acumatica Summit 2017 was exactly what he needed to fine-tune their Acumatica cloud ERP capabilities. He says, "I learned more in five days at the conference about the system [Acumatica] than I was able to really teach myself the prior year. You can get that much deeper into the system."
That deep knowledge comes from the variety of events within the conference including two Keynote Sessions, a Solutions Showcase with Acumatica ISVs, and numerous breakouts and training tracks. John participated in the Intermediate Distribution training track.
"It gave us a lot more insight into the inventory management capabilities of the system," he says.
Along with the deep dive into Acumatica's cloud ERP software and ERP platform, John had the opportunity to speak with Acumatica partners. He specifically mentioned appreciating the chat he had with JAAS about JAMS enhancements.
"I found it really beneficial that all of the Acumatica partners were there, so I was able to speak to the different components that we're utilizing," he says. "They spend time talking to the data-driven people, the Power BI people and are able to find ways to utilize the tools we already have as well as find new things we could incorporate that give us even more functionality."
Acumatica Summit 2019 attendees can also speak with the Acumatica leadership team, all of whom attend the full week. It's a priority for them to be available for the Acumatica community. This is one way we can learn how we're doing and how we can improve. In addition to connecting with the Acumatica leadership team and partners, other customers—those who have similar ERP needs and experiences—are great resources for learning more about how to use Acumatica cloud ERP fully.
John notes, "No system is perfect. The conference allowed us to talk about some of the difficulties we were finding, and we actually found a lot of things to help with them by talking with partners and customers."
Accelerated learning (and fun) at Acumatica Summit 2019
Acumatica Summit 2019 is something John believes every Acumatica customer should experience.
"The main reason for any customer to go is because it allows them to see the true, full functionality of the product and all the enhancements and things you can do with the product," John says.
And along with increasing cloud ERP functionality, the venue (the Marriott Marquis Houston), visitor attractions, and local eateries provide attendees with some enjoyable downtime options. We hope you'll join us for five days packed full of learning and enjoyment. Like John, we believe you'll walk away having learned more in a few days than you could learn in a year on your own. The return on your investment of time and cost is solid.
For any questions about our cloud ERP solution, ERP platform, or annual Summit,  contact our team at any time!