For Geoff Ashley, VP, Partner Strategy & Programs at Acumatica, Acumatica Summit 2020 is where all Acumatica Partners should be come January. He explains why he feels so strongly about attending Acumatica's annual cloud ERP event.
Acumatica Partners ask me all the time, why should I attend Summit? For me, the answers are easy, and they pertain not only to Acumatica Summit 2020, coming January 26-31, 2020 in Las Vegas, Nevada at the Cosmopolitan of Las Vegas, but to every one of our annual cloud ERP events.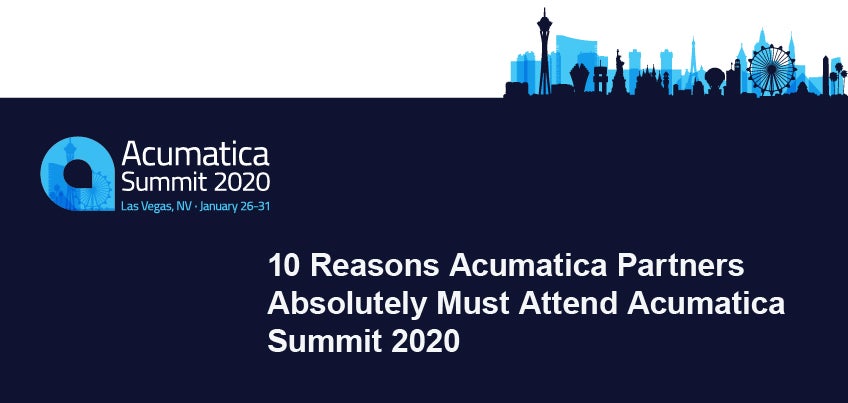 Why Acumatica Partners must attend Acumatica Summit 2020
Networking: Everyone talks about networking. So, how valuable is networking anyway? According to Tom Farley from the New York Stock Exchange, "Networking is about collecting relationships with interesting or influential people irrespective of the immediate benefit of these relationships." There will be thousands of people at Summit. By taking time to meet and get to know the community, you can establish relationships that transcend Summit and bring value to you and your organization all year long.
Creating partnerships: Summit is a special experience as well as the perfect place to build strong relationships with organizations of all kinds. These could be informal relationships, formal relationships that lead to much bigger opportunities in the future, partnerships with entire groups of people—like the various Acumatica User Groups that are forming all over the country and who use Summit for a central meeting place.
Sharing ideas, knowledge and experience. Do you have a problem you can't seem to figure out? Is there a report you wish you had that someone else might already have? Is there a company just like yours, in your industry, that you don't know—but do now? Is there a simple solution to an issue that is holding you back? Find out at Acumatica Summit 2020.
Solving real problems: Think about this… everyone at Summit is there for similar reasons. They all have a connection to a world-class business solution. Everyone at the Cosmopolitan is using Acumatica's cloud ERP software to solve real problems. To empower their companies. To drive more business. To establish new routes to market. To solve issues in the warehouse, on the shop floor, at the construction site, out in the field. When you combine sharing ideas with getting answers to questions, Summit becomes a highly strategic venue, only available to you once per year.
Planning for the next year: With 90 ISVs at the Summit Solution Exhibitor Showcase, you can see all of the ways to extend the value of Acumatica—in one place, at one time. And you can see the solution. You can speak with the publisher. You can determine what projects and budgets are necessary for all of 2020.
Up-to-date information: It goes without saying, you will see the most current version of Acumatica displayed with all the new functionality being demonstrated. You can go to the Acumatica booth to get even more information from the hundreds of Acumatica employees that attend Summit to be with you, to celebrate with you, to learn from you, as we continue to build our amazing Acumatica community.
Access to resources: As just mentioned, hundreds of Acumatica employees, and thousands of ISV employees will be at Acumatica Summit 2020. Like the Acumatica Partner Program, which offers topnotch training and support, the Summit is an amazing venue filled with unbeatable resources. Do you have a question? We have the answers. DO NOT LEAVE SUMMIT WITH ANY UNANSWERED QUESTIONS.
Access to learning opportunities: According to Gartner, it takes three to six times as long for an untrained person to accomplish the same work done by a trained practitioner. In addition, CSTI found that giving your people additional training can result in a 30% increase in productivity—per person! And, if that is not enough to convince you, consider that an untrained user will utilize 24% or less of a product's features while a trained user will utilize as much as 66% (source: Booth Research). Acumatica provides numerous classes in addition to the dozens of breakout sessions, exceptional keynote addresses, and inspirational closing speakers (such as Robert Ballard, the person who found the RMS Titanic). How can you not attend?
Rewarding those that make you great! Many customers and partners use Summit as a way of rewarding their employees for all the hard work they do every day. They use Acumatica every day to accomplish great things and exceed expectations. By sending them to Summit, you are not only giving them even more Acumatica knowledge and training, you're also keeping them engaged. Dale Carnegie estimates that companies with highly trained and engaged employees outperform other companies with disengaged employees by as much as 202%. If true, this statistic alone could more than pay for the entire conference—many times over. How can you not take advantage of this amazing venue?
Confidence—you made the right choice! Finally, Summit gives you all the validation you need to know…really know…that you made the right decision. You chose the right solution, the right partner, and the right publisher. Summit can give you confidence and you can take that confidence back to your company and back to your employees. Together, you can continue to grow your company with the same confidence.
Acumatica Summit 2020 promises to be big
Acumatica Summit 2020 promises to be the best Summit ever. Bigger, more informative, more fun, and more rewarding.
Acumatica believes in community. It is part of our culture and it is something we promote every single day. Summit is the culmination of this culture and we hope to see all of our Acumatica VARs in Las Vegas this January 26th as we kick off another amazing year in a spectacular location.
Until then, contact our Summit planning team with any questions about this year's event and feel free to also reach out with any questions about Acumatica's comprehensive cloud-based ERP solution.