Did you know that if you sign up for Acumatica Summit 2018 today, you can receive our special early bird pricing? Our premier event is the place where you can learn more about cloud ERP, network with your industry peers, and have fun doing it. If you're planning to attend, why not get all of this at a discounted cost? Hurry, before it's too late!
Acumatica Summit 2018 is approaching fast and I hope you are as excited as we are to meet up with our customer and partner community in Nashville, Tennessee January 28 through February 2, 2018. We have a lot of fun planned including our celebration party at the Country Music Hall of Fame and an inspiring guest speaker, Carey Lohrenz.
If you have been putting off registering for Summit or have been on the fence – now is the time to register as our early bird pricing is ending very soon.
That's right, our early bird pricing ends on Friday, 11/17 at 11:59 pm PST – only a few days from now. But there's a silver lining to this situation: you still have these few days to take advantage of our special deal! Register for Acumatica Summit 2018 today before time runs out.
Still waiting to register? Let's take a look at the many advantages you receive for registering NOW.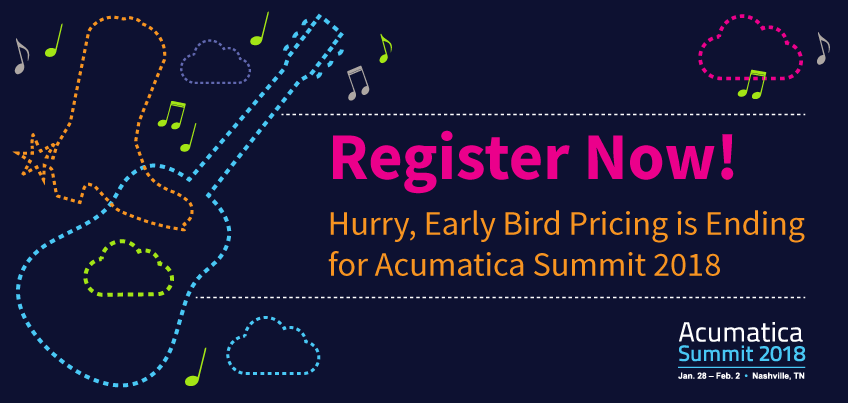 Acumatica Summit 2018 early bird pricing advantages
I believe the benefits of signing up sooner than later are clear, especially in the cost savings. Here's the pricing lowdown for registering during our early bird timeframe versus waiting until after:
For Summit Only attendees, the cost is $599.99 vs. $799.99
For Summit & Training attendees, the cost is $1,299.99 vs. $1,999.99
For Training Only attendees, the cost is $999.99 vs. $1,499.99
I have a few more reasons for you to register early for Acumatica Summit 2018:
First choice of limited-seating training classes (these go quickly!) and are first-come, first-served
Book a spot in our hotel block at the Omni Nashville
More time to research and make plans to visit Nashville's top attractions and learn about the Music City
If you book your travel now, you'll have more options and can save even more on your trip versus waiting until January!
Again, these significant savings are for attendees who choose to sign up before Friday, 11/17 before 11:59 pm PST. Important note: we negotiated the hotel room rate of $238/per night with the Omni Nashville Hotel, our Summit venue. To get it, you must book your room during the registration process. But hurry, as our reserved block is filling up very quickly, and we don't want you to miss out!
Speaking of the hotel, have you checked out the accommodations? Our Summit venue offers luxurious rooms, and provides a wide array of amenities; not reserving a room before the block fills up would be a shame, especially since being steps away from the meeting space and Partner Expo is both convenient and efficient.
Why are you waiting?
To recap, waiting to register for Acumatica Summit 2018 means you are going to miss out on financial savings, might miss out on your training class of choice, staying at the Summit venue, and a myriad of other benefits. The good news is that you can sign up today and secure your spot before it's too late.
Our premier, invite-only Summit is full of value for you and your business. Peek at the agenda! It's filled to the brim with everything you need to accelerate your business in the cloud: breakouts geared to our Customer, Marketing, Partners, and Sales needs; live demonstrations; insight into our newest release and products; networking with industry peers and analysts; engaging with ISV providers; instructor-led certification training sessions; and hands-on technical tracks.
And don't forget the expanded Acumatica Summit 2018 Hackathon on January 27, 2018 for Developers; let your creative and technological juices flow as you work with teams creating real-life business solutions.
Don't delay! Make the decision to attend, mark your calendars, register for Acumatica Summit 2018, and take advantage of our early bird pricing. It's now or never!