Now is the time to register for Acumatica Summit 2018! Our early bird pricing is ending soon, and registering today means you save on the registration fee plus so much more.
As the saying goes, the early bird gets the worm. It therefore follows that the person who registers early for Acumatica Summit 2018 (January 28 – February 2, 2018) gets the savings!
Notice that, for both the bird and the attendee, an action takes place for them to get what they want. This means you need to register for Acumatica Summit 2018 before Friday, 11/17 at 11:59pm PST! Why? Because this is the very last day you can register to receive some incredible savings.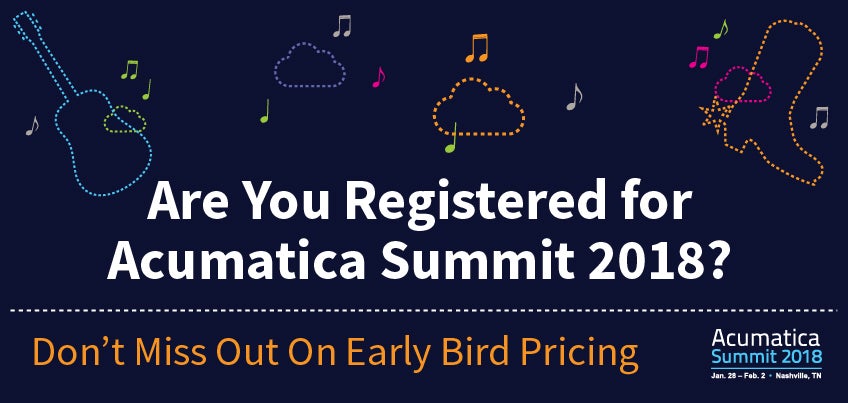 Register for Acumatica Summit 2018 today
By taking care of your registration before Friday, 11/17 at 11:59 PST, you'll receive multiple benefits.
Let's start with the actual financial savings. Here are the costs for early bird attendees:
For Summit Only attendees: $599.99
For Summit & Training attendees: $1,299.99
For Training Only attendees: $999.99
Now, let's compare that to the costs for those of you who decide to wait:
For Summit Only attendees: $799.99
For Summit & Training attendees: $1,999.99
For Training Only attendees: $1,499.99
The cost savings are clear. As with any sound business decision you make, cost is a factor. The only thing excluding you from these significant savings is you! Registering for Acumatica Summit 2018 doesn't take long, but if you're still waiting, this is the question you need to ask yourself: why not register right now and pay less for the exact same experience?
Speaking of which, let's review everything you'll experience when you attend Acumatica Summit 2018. You'll not only expand your cloud ERP knowledge – which will produce increased productivity and growth for your business – you'll get to do it while having a good time.
This year, we head to Nashville, Tennessee. If you've never been there or don't know much about it, I'll do a quick rundown for you. Nashville is dubbed Music City for its amazing culture fostering innovative and world-renowned musicians. There's an emerging food scene for you to enjoy; in fact, make sure you try Nashville's 'hot chicken' before you go! There's also a mind-boggling amount of attractions you can check out during your free time. I recommend you do advance research so you don't miss out on your favorites. Finally, we've booked an amazing venue, the Omni Nashville Hotel, which is the perfect place to be when learning, collaborating, and having fun.
As for the cloud ERP aspect of the Summit, you'll have the opportunity to:
Collaborate and network with industry peers and analysts
Meet our leadership teams face-to-face
Attend a myriad of breakouts, instructor-led certification training sessions, and hands on technical training tracks – all geared to your specific business needs
Engage with our leading ISV providers
Experience insightful and forward-thinking Keynotes and live demonstrations
Acumatica Summit 2018 – The exclusive cloud ERP event of the year
I hope you're seeing why registering sooner than later (before Fri, 11/17 at 11:59pm PST) is a great idea.
Need a few more reasons? We've secured Carey Lohrenz as our closing speaker; her amazing personal achievements and her advice will inspire every person who hears her story. You can only take advantage of our reserved block of rooms when you register, and they're filling up fast. Moreover, the earlier you book your flight, the more likely you'll get a lower airfare. And some of the popular training classes are limited-seating, which means the earlier you register, the better chance you have of reserving a spot.
Finally, community is important to Acumatica and our exclusive cloud ERP event is possible because of you, our Customers, Partners, and Developers.
I'm excited to see everyone at Acumatica Summit 2018, and I hope this includes you!