You know those action movies where the moving walls slowly groan towards the floor, cutting the hero off from some treasure on the other side? If you listen closely, my friends, you can hear it making its descent even now. In this case, the "wall" is registration for Acumatica Summit 2017. This is our annual event where partners, customers, industry experts, and folks from the broader ERP industry gather together to get up-to-the-minute news on Acumatica products and learn from the top minds in the ERP industry. If you haven't signed up yet, don't miss out! You can register here. Registration closes on Sunday, January 29th.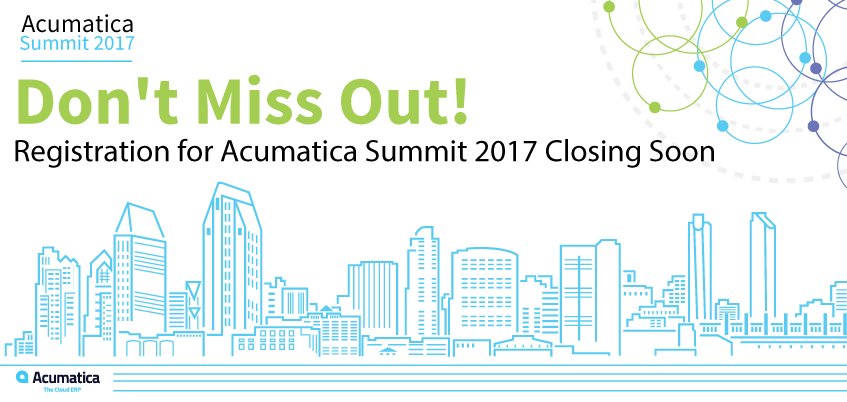 Event Information
Acumatica Summit 2017 is taking place Jan 29-Feb 3, 2017. This year we're holding it in beautiful San Diego, at the Hyatt Regency La Jolla. The Summit is designed to help you take your Acumatica-powered business to the next level by providing the most hands-on instruction possible for our products and solutions. The focus of this year's Summit is on collaboration, innovation, and acceleration.
Why You Should Come
There are all kinds of reasons you should be a part of 2017's summit, but here are the most prominent:
Get certified through instructor-led training sessions taught by Acumatica developers. This year we have full Partner and Customer training tracks.
Maximize your investment with Acumatica by engaging in hands-on technical training tracks.
Expand your Acumatica solution portfolio by engaging with our leading ISV providers and partner network.
Network with hundreds of your industry peers. See why Acumatica customer CASE recommends attending and how they benefited from last year's Summit.
Oh, and there will be a celebration party as well. Music, food, drinks… Not a bad throw-in, eh?
Breakout Sessions
This year's breakout sessions include marketing, sales, customer and product sessions. Yes, as we've said before, there's something for everyone! Below is some more info on the various sessions available.
Marketing: This year's sessions will train your team on how to create and implement a full marketing and sales funnel approach to achieve your business goals in 2017. You'll walk away with a better understanding and knowledge about various available tools and strategies, as well as insights into Acumatica's customer segmentation and practices. You'll also receive training on marketing strategies that generate leads, how to pull and analyze industry and compete date, and how to utilize analytics to drive sales. This includes a hands-on training workshop by Matt Heinz, author of "Full Funnel Marketing".
Sales: Attend these sessions and hear firsthand from our Partner Account Managers, Sales Engineers and Partners as they share amazing, 'in the trenches' experiences. They uncover why we've won and lost past sales opportunities in a year where we are again on track to double our growth. 2016 was full of product launches, mergers and acquisitions – find out what that means for Acumatica and our partner community. Last but not the least, we will also feature key ISVs that have played pivotal roles in our growth. You don't want to miss this track!
Product: Take your understanding of Acumatica Cloud ERP to the next level by attending these sessions. Learn about the recent changes and inner workings of functionality and the Acumatica platform, which in turn will help your organization maximize the benefits gained from the solution. Topics in these sessions will include the Acumatica xRP development platform, implementation best practices, integration with other systems, analytics, tips and tricks, and a variety of Acumatica Mobile topics.
Customers: Take your place in the Acumatica customer community by joining Acumatica staff and other customers to explore their successes with Acumatica via these breakout sessions. Network with others in your industry, learn about available resources to help tackle your issues, and receive customer-specific training. Make a contribution in sessions by suggesting product improvements and sharing lessons learned.
Register Now
The end of registration is close, so don't miss out! We'd hate to miss you this time around. You can register for Acumatica Summit 2017 here. Make sure to do so before Sunday, January 29th.