Acumatica Summit 2021 is coming! Registration is open, and we're getting ready (including taking comprehensive precautionary COVID-19 measures) to get the Acumatica community together again.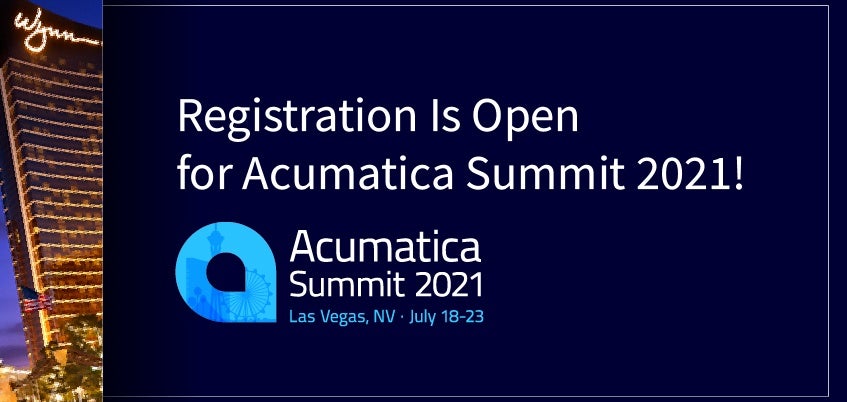 Registration for Acumatica's next annual cloud ERP event, Acumatica Summit 2021, is open! Surprised? We understand. It's been a rough year, and there has been no guarantee that we'd be able to gather with the Acumatica community…until now.
We are thrilled that we'll be seeing our customers, partners, developers, and analysts face-to-face. However, there will be some changes, including where we're meeting, when it's taking place, and very importantly, how we're going to address COVID-19. Rest assured, the health and safety of our attendees is our number one priority, and we'll lay out our plan for you today.
Acumatica Summit 2021: The details
Before diving into how we're addressing COVID-19, here's the pertinent Summit information.
Where: Las Vegas, Nevada at the Wynn Las Vegas
When: Sunday, July 18 – Friday, July 23, 2021
What: Acumatica's superlative annual Summit with two days of general sessions, three days of technical training (including a deep dive into Acumatica 2021 R1), and a whole lot more, including live product demonstrations, product roadmap insights, direct interaction with Acumatica's team, networking with your peers, and exciting social events.
As with Summits past, we're offering an early-bird registration special. The cost savings to you and your company are significant. Here are the early-bird rates in comparison to the regular rates:
—   Summit Only: $795 versus $995
—   Summit & Training: $1,895 versus $2,495
—   Training Only: $1,595 versus $1,895
Keep in mind, the discounted rates won't last, so register by or before Friday, June 18, 2021 to get the best rates possible.
Acumatica Summit 2021: COVID-19 precautions and preparations
So, how can Acumatica Summit 2021 attendees be assured of their safety during this event?
We secured a venue that dedicated three months to the creation of a comprehensive Health and Safety Plan. With the help of leading medical and public health professionals, the Wynn Las Vegas has done everything possible to ensure guests are safe and that their efforts are seen and felt by every visitor.
Following is an overview of the resort's Health and Sanitation guidelines:
—   Face coverings: All employees and guests are required to wear face coverings in public spaces; face coverings will be available at each resort entrance, Front Desk, and Red Card desk and made available on a daily basis.
—   COVID-19 screening: Employees and guests will receive COVID-19 screenings via non-invasive thermal cameras located at each entry point to the resort. Per the venue, "Any person displaying a temperature above 100.4°F or displaying or complaining of a cough, fever, shortness of breath, chills, a new loss of taste or smell, repeated shaking with chills, muscle pain, headache, sore throat or other known symptoms of COVID-19 will be discreetly offered a secondary screening.  Employees or guests confirmed to have a temperature over 100.4°F will not be allowed entry to the property and will be directed towards appropriate medical care."
—   Guest room sanitation: All guest rooms are thoroughly cleaned, disinfected, and sealed with a disinfection sticker the guest will break upon entry. In addition to a COVID-19 awareness card outlining the hotel's safety measures and sanitizer, in-room Alexas will allow for no-touch drape and sheer opening as well as light and air conditioner controlling.
You can read the Wynn Las Vegas' full COVID-19 sanitation plan, which includes information on what to do if you don't feel well, physical distancing, casino sanitation, golf club sanitation, hotel guest elevator sanitation, restaurant sanitation, salon sanitation, and more.
Your health and safety are of the utmost importance, and we're confident that the Wynn Las Vegas has done—and will do—everything in their power to keep Acumatica attendees protected.
Acumatica Summit 2021: Raising the bar
We're anticipating over 2,000 attendees this year and believe the cloud ERP learning, networking, and fun—as well as the safety measures being taken for COVID-19—will help Acumatica Summit 2021 raise the bar for Summits to come.
Register now to get our early-bird special pricing and to ensure that you're able to get a guestroom at the Wynn Las Vegas at the Summit's negotiated rate. If you wait and our contracted rooms sell out, you will pay the resort's nightly rate (which is based on hotel demand and varies day to day).
In addition, by registering early, you'll:
—   Book your flight early, which may result in better airfare
—   Secure a spot in our limited-seating training courses
—   Be fully prepared by setting up offsite meetings with customers and partners, creating a list of questions for the Acumatica executive team or for the ISVs during the Solution Showcase, and thinking about what feedback you have to share about Acumatica's cloud ERP software before you arrive
We can't wait to see members of the Acumatica community together in one place again. Acumatica Summit 2021 will open the doors for further exploration of exciting ideas and strategies. Plus, we'll get to enjoy Las Vegas and all that the Wynn Las Vegas has to offer, including some of the finest dining in the world, incomparable nightlife, award-winning spas/salons, luxury shopping, a championship golf course, and so much more.
Before you go, check out the highlights from Acumatica Summit 2020, as well as the on-demand sessions from our recent Acumatica 2020 R2 virtual launch event. We guarantee that like we are, you'll be counting the days until Acumatica Summit 2021.
Until then, don't hesitate to contact us with any questions about the event, our latest Acumatica 2020 R2 release (check out the press release for more details), or for any general inquiries regarding our award-winning, cloud-based ERP solution.