Keeping it simple when you're discussing the Return On Investment (ROI) of a process, tool, or product with your senior leadership allows you to quickly overview benefits—but discussing the bottom line benefits of tool usually speaks to a deeply complex equation to get there. When it comes to ERP, there's no denying some complexity in defining the investment side of the ROI equation.
Honestly, the danger in writing about a clear assessment of ROI is that it will appear to be so complex as to discourage anyone who might be considering a new ERP implementation. Fear not! It's important for technical leadership to face needed change instead of fearing it or putting it off.
ERP veterans do groan at the idea of new ERP implementation—for good historical reason—because ERP projects generally have a less-than-stellar track record with regard to time and cost.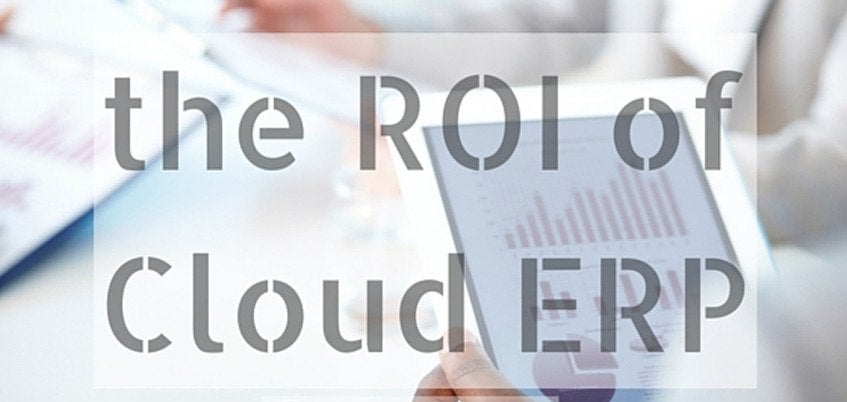 When it comes to time, overruns can often be traced to a failure of project management processes or team dynamics. Cost overruns, on the other hand, are usually a result of not having a clear understanding of all cost components, and/or underestimating the value for some parts of the project.
So, to be ahead of the game, avoid time/cost overruns and provide a true estimate of the cost of an ERP software investment, the first step is to define each element, the number of items that comprise each element, and the cost per item.
Below are 5 key ROI factors that can impact the investment and costs you'll be considering. Some of these factors may even change the accounting treatment of the implementation project.
There are very likely more than just five factors, and we'd love to hear from you in the comments if you think of other elements worth considering for an ERP implementation. We hope this sheds some light on the decisions you'll be making at this stage, and on how they will impact the Return on Investment of any ERP software solution you choose to implement:
Key ROI Factor #1: Hardware Acquisition and/or Upgrade
Traditional ERP software would have been installed on existing IT infrastructure, the only option. However, the availability of Cloud-based ERP solutions, SaaS configurations, and Cloud Service Providers now allows for many ERP software acquisition, deployment, and usage options.
You and your IT team will have to choose which solution is best for your business. If it is on-premise, you may have to upgrade or acquire computer hardware, additional servers and/or telecommunication equipment.
The ROI calculation needs to identify and include these equipment. Typically, computer hardware is purchased, recorded on the balance sheet as an asset, and depreciation is calculated in over its useful life. The positive impact of the additional depreciation in terms of reduced taxes, or improved cash flow should be captured as a benefit (Return) in the ROI calculation.
Key ROI Factor #2: Software Acquisition
In the past, software was treated the same way as hardware purchase, in that the purchase of a software license was capitalized and depreciated over its useful life. However, Software-as-a-Service (SaaS) subscription configurations have dramatically changed the manner in which ERP software is acquired and used. In fact, it has been a bit of a hassle within the Accounting industry to provide guidance and definition to the proper accounting treatment for fees paid in a SaaS arrangement.
Recently proposed guidelines by the Financial Accounting Standards Board (FASB) provide the definition that if a fee paid under a SaaS arrangement includes a software license element, that cost element needs to be identified and treated as any other software license; that is, capitalized and depreciated over its useful life. If the SaaS arrangement does not identify a software license element, then the SaaS fee is treated as Service Contract and charged to operating expenses.
You can see here how the difference in treatment of the software acquisition cost in an on-premise arrangement or a SaaS arrangement can have a significant impact on the calculation of ROI. This decision needs to be made prior to defining ROI on an ERP implementation.
Key ROI Factor#3: Software Customization Cost
Even when an ERP product has a good "fit" to an organization's needs, some customization of that software may be necessary. The good news is that some of the customization costs of ERP implementations can also be capitalized and depreciated, adding to the financial benefit of the ROI calculation.
The bad news is that perhaps no single ERP implementation cost component is more underestimated than the cost of software customization. No other cost component can scuttle an entire ERP project or so drastically impact ROI calculations. Moreover, software customizations can grow almost exponentially, adding to implementation time and delaying the realization of the benefits sought from the ERP investment. It will save you many headaches and explanations later on to exercise great care and accuracy when estimating the full scope, time, and cost of ERP customization efforts.
Key ROI Factor #4: Project Management and Implementation Cost
While the all-up costs of the implementation efforts cannot be capitalized as part of the acquisition cost from an accounting point of view, many of these costs should be identified and included as part of the investment piece of the ROI calculation.
The cost of external consulting or project management services should be included, as well as the cost of training and the cost of any temp services to fill personnel gaps during the implementation. Initial training and data conversion costs should also be identified, estimated, and included as part of an ERP implementation cost.
Key ROI Factor #5: Ongoing Costs
Even after an ERP system is implemented, it will need to be maintained. Software maintenance fees are usually defined when an ERP system is purchased, whether in an on-premise or SaaS configuration. Such costs should be estimated for the useful life of the software and included in the ongoing expense as incurred. The cost of training new staff, or re-training existing staff when software upgrades are installed, should also be estimated and included as an ongoing expense of maintaining (and maximizing) your ERP investment.
Again, the danger in writing an article like this is that it could present ERP implementation as a bit of a decision minefield! Don't get me wrong—ERP software can be a game-changer for your business (check out our customer stories page). But being aware of all the scope and cost elements involved, as well as which processes and decisions will impact those elements, can only better set up your company for a fast and accurate ROI calculation to produce and prove a successful implementation.
With due diligence, a complete and accurate ROI assessment will ensure that your company asks the right questions and makes the right decisions up front, acquires the best ERP system for your needs, and is empowered to fully realize the benefits of a new solution.
Considering an ERP implementation? We can help you assess your needs and understand the decisions you'll want to make early the process. To get started on your research, you can download our free ebook, "Clearing the ERP Clouds" with the link below.