As a business consulting firm specializing in ERP software, Polaris Business Solutions has extensive experience with the different project accounting solutions on the market. Today, the company compares the solutions provided by Microsoft Dynamics SL and Acumatica, the true cloud ERP, and explains why Acumatica comes out ahead.
Microsoft Dynamics SL has a long history of assisting companies with their project accounting needs, but as Microsoft starts to allocate its resources to their new cloud offering, Dynamics 365 Business Central, it leaves some Dynamics SL clients to wonder: What is the future of the product? Dynamics 365 Business Central doesn't provide any strong project accounting functionality yet, and when it does arrive the interface will feel completely different. Meanwhile, Dynamics SL users will find they have some familiarity with the Acumatica interface and processes, but may be wondering how the project functionality matches up with Dynamics SL.
Let's compare Acumatica Project Accounting software with Dynamics SL's project accounting offering.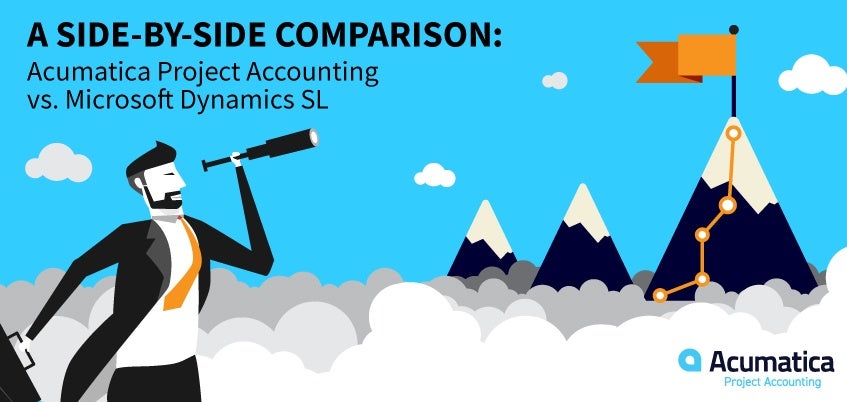 Project accounting functionality comparison
Here is a short comparison of features project users are commonly looking for in an ERP package:
Mobility: Dynamics SL has added more and more functionality to Web Apps where users can access timecards, expense reports and approvals. But it is a separate install and interface. Acumatica was built so you can access the entire system anytime, from anywhere, on any device — with the same user interface that is much easier to customize, if necessary, than Web Apps.
Communication: Acumatica gives you the power to send and receive email from within the application. By keeping a copy of communication with a client (for example sending an invoice), other users in the organization are able to see when it was sent and to whom. With the Acumatica Customer Portal—something Dynamics SL doesn't offer—clients can review their invoices, support cases and more.
Workflow and Approval: Dynamics SL 2018 has just added AP workflow capability to go along with their standard project approvals – time, expense, invoice and project budgets. Acumatica has all these, including time and expense tracking software, and in addition, provides approval for project change orders, inventory item requests, inventory requisitions and many more. Acumatica also provides multi-level approvals with the possibility of adding additional criteria, which Dynamics SL can't match.
Experienced SL users will ask if you can do project allocations, project change orders, project rate lookups, project billing rules, project cost assessments, project invoices, project commitments, timecards and expense reports with time and expense tracking software, and timecard corrections on Acumatica. And the answer is yes!
Which industries benefit from Acumatica's project accounting solution?
With the recent announcement of Acumatica's Construction Edition, Acumatica is well positioned to handle the needs of general contractors, home builders, and land developers. Both Dynamics SL and Acumatica can handle retainage, commitments, budgets, change management, subcontracts and more, but Acumatica is able to provide better workflows and approvals as well as ready integration with tools like Procore, Excel, ProEst, and Building Connected.
Many professional services firms use Dynamics SL to track their projects. Acumatica can provide project cost tracking, time and expense management, field service automation and, of course, integrated financials. But Acumatica also has a built-in CRM that shares the same central database, which can provide better customer management than trying to integrate something like Dynamics CRM into Dynamics SL.
Nonprofit organizations (NPOs) have been using Dynamics SL for decades, but Acumatica can match it in terms of out-of-the-box functionality, and with the addition of the Acumatica Nonprofit Accounting Suite, NPOs can gain additional industry-specific functionality. NPOs can have one place for all their accounting needs and manage their donors, volunteers and board members. Acumatica is licensed for unlimited users, so multiple people can have access to the system for no additional cost.
These are just a sampling of industries that have already discovered Acumatica. Acumatica was born in the cloud and built on the world's best cloud and mobile technology, making it highly adaptable and able to serve a wide cross-section of industries.
Acumatica answers your project accounting needs
Users moving from Microsoft Dynamics SL to Acumatica will find that Acumatica can meet their project accounting needs and provide tight integration with financials, distribution and field service, as well as expand their workflow, approvals and document management, giving users greater remote access and improved internal and external communication with integrated email and CRM.
If you need consulting services, customized solutions, or want to maximize the return on your cloud ERP investment, Polaris Business Solutions can help. Contact our team today.