Algorithm has been in the ERP space for decades, and their many years of experience and resulting expertise help differentiate them from their competitors. Today, they break down the struggles manufacturing COOs deal with and why Acumatica's manufacturing ERP software is the answer.
Just as a first officer executes the course the ship's captain puts forth, the Chief Operating Officer (COO) is often charged with executing the operating plans that support the company's strategy. For a manufacturing company, those plans may include cost reduction, efficiency improvement, and decreasing inventory investment and holding costs, all while increasing customer satisfaction and retention. This sounds like a clear-cut strategy, but it's not without its challenges. Modern manufacturing ERP software may be exactly what they need to overcome them.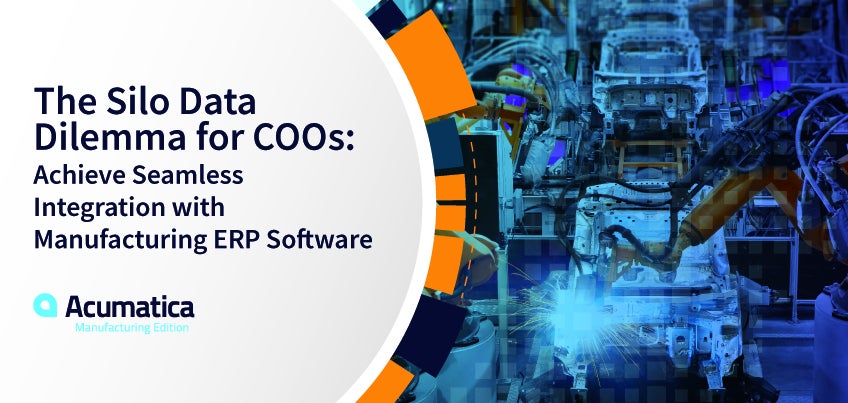 The struggles many COOs commonly face
For years, COOs and operations leadership struggled with getting information from their ERP systems, and many still do. Legacy ERP systems often required add-on programs for specialized tasks, or integration packages to be written because they lacked a full set of features.
This created silos of data and even if the system was able to collect data from more of the enterprise, reporting tools were not mature enough to provide a single source of the truth. Consultants and IT staff made a good living on creating Access databases for reporting, or authoring Crystal reports to turn specific data into information.
The overall lack of integration and data access has long been the pain a COO had to deal with. Acumatica's true cloud ERP solution and ERP for manufacturing changes all of that.
A whole new world for COOs—through the lens of launching a new cloud manufacturing product with Acumatica
Let's look into an example that demonstrates this bright new reality for manufacturing COOs.
Product development has just come up with the next big thing and engineering creates the inventory items, BOM costing, and production routing for a new finished good. All of this information is in a single source of truth, Acumatica. Even if they create this detail outside of Acumatica, with tools built into Acumatica, it can be uploaded directly to save manual entry. Now, this item is available for sale, creating forecasts, and planning purchasing.
Purchasing can start a bidding process to gather vendor information for supplying the product. All of the bid response information, price, lead time, fob point, and shipping terms are captured in Acumatica and can then be converted into purchasing profiles for the item/vendor. By streamlining the administration, purchasing can spend more time on vendor relations and effective procurement. Based on the forecast, and as customer orders roll in, materials resource planning systems—such as Acumatica—can provide guidance on purchasing and production to minimize inventory carrying costs and make inventory management more effective.
Sales and marketing start doing their thing and customers are loving the idea. With the customized dashboard, the COO can monitor the orders against the forecast to make sure production isn't going to be overrun and can communicate with sales to set proper expectations for delivery as well as provide insight to the production team on the pipeline. Since the data is kept in a single source, the COO can view purchasing, sales, and production data in a single dashboard.
During production, the COO needs a system, or manufacturing production software, that will provide the data to make the right decisions. It is important the system help the production staff, not just give them more work to do. If the tool isn't used correctly, it doesn't add the value needed to justify the investment. If you read the customer testimonials on the Acumatica website, there is a common theme: high user engagement and acceptance.
The COO needs that engagement to efficiently collect accurate data for managing production operations. Engagement means ownership and ownership means accountability and improvement. Moving accountability and improvement initiatives downstream help develop a successful organization. Production reporting—whether it is actual labor hours, material issues, or having everything backflushed when finished production is reported—is available from a tablet or PC with no special equipment needed. But if you need to integrate barcodes in the process, Acumatica's xRP platform allows these systems to integrate. Real-time production data is available on a dashboard designed to show the COO exactly the manufacturing metrics they need to see: orders in production, late production orders, work center load, etc.
And, in an ever-changing game of spin the plates, the COO must also consider adopting technology innovations to increase productivity on the shop floor. Maybe integrating IoT sensors on production equipment or using process control language to better manage equipment and take a more proactive approach in maintenance as an initiative. Acumatica's open xRP platform provides a robust interface to integrate those types of initiatives. Examples of integration with IoT sensors and blockchain, as well as voice skills, were presented at the Acumatica Summit 2018. They are not just research and development at Acumatica, they are reality.
The same single-source of data for supply chain management and production management provides real-time information for order fulfillment and distribution activities. Integration with WMS systems and shipping software provides the real-time transactional data that becomes useful information.
Need to track a hot order and see its status? Add a widget to the dashboard and you can follow it along the way. Do you manage by exception? Set up triggers to alert you when things fall out of the acceptable range. From CRM to the shop floor and out to field service and sales routes, all of the data resides in a single source of truth.
Acumatica gives you the information you want, when you want it. Plus, as shown in this video from Microsoft, this information is easily accessed with Power BI, Excel and other standard tools.
Win with Algorithm and Acumatica's cloud manufacturing solution
Understanding the technological landscape and utilizing modern ERP systems are a must to enable the manufacturing COO in managing critical activities and to create and maintain a competitive advantage. Why Acumatica? Because Acumatica is disrupting the industry with a solution that helps companies, particularly manufacturers, win in a competitive environment.
Algorithm has been in the ERP space for 25+ years with a team that has 200+ years of combined experience. Contact our team of experts to find out exactly how Acumatica's manufacturing ERP can change the way you do business and drive growth.