Small and midsized businesses can struggle in today's fast-paced economy if they don't implement technology that can keep up with the changes. A recent study from the SMB Group lays out the reasons why you and your business should embrace ERP CRM integration as well as the many benefits you'll receive when you do.
For small and midsized businesses (SMBs), the challenge of choosing an affordable CRM (Customer Relationship Management) solution that supports their goals of keeping existing customers and attracting new ones – while also growing revenue – is no small feat. The task, however, isn't limited to finding the perfect CRM software. It should also include the search for an all-encompassing cloud ERP system that is capable of integrating every aspect of their business – sales, marketing, customer service, and financials – if they want to achieve, and surpass, these goals.
In a recent SMB Group study, Integrated Business Solutions: Helping SMBs Keep Pace with Customers, the analysts address this exact issue. "Integration is essential to helping SMBs reap the full business process value of new applications—and to gain a unified, consistent view of the company. Having integrated customer data—across CRM and financials systems—helps SMBs do more with less."
I encourage you to read the full study if you are an SMB looking for answers to accelerating your business in our multicloud world.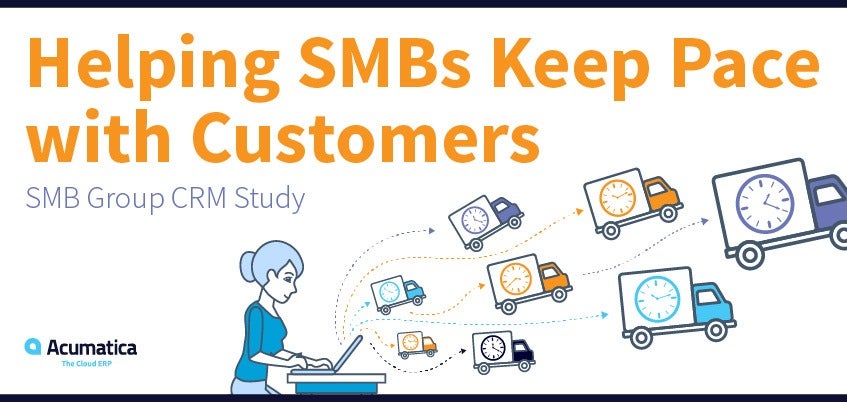 Customer-centric business model + ERP CRM integration = success
As it notes in the study, "Buyers have more knowledge, choice, and power than ever before." Consumers have access to a myriad of online ratings and research allowing for educated decision-making when choosing an ERP customer services management system. Your business relies on satisfying customers who continue to raise their expectations.
Meeting those high expectations, according to the study, requires businesses to focus on the buyer's needs, provide smooth and easy purchase procedures, and keep the entire process a positive experience "from presales to returns to service calls."
This is something I think about every time I meet with either new or potential Acumatica customers, focusing on their specific SMB needs. Do they need an expensive stand-alone CRM system of which they may only use 20% of the features? Or do they need an affordable ERP CRM integration providing an all-in-one database? For the majority of the companies – whether wholesale distribution, manufacturing, or professional services – having a singular cloud-based technology strategy that drives their business growth is what they require.
At Acumatica, we want to empower our customers with information so that they in turn can empower their customers. A business whose technology allows for real-time updates providing clear and reliable information, the ability for their sales systems to speak to their financial systems, and the opportunity for customers to submit their own cases through our Customer Portal (which are all available in Acumatica's Customer Management Suite) is a business that satisfies their present and future customers.
ERP CRM integration benefits are real, and they make a very big difference.
The benefits of choosing a fully integrated business solution
The report specifies major benefits of an SMB choosing an integrated ERP CRM platform and had this to say, "SMBs that have fully integrated business solutions are 29% more likely to expect revenue growth than those that have only partially integrated these solutions, and they are 40% more likely than those that have not done any integration."
As someone who works daily with a system that not only provides a 360-degree view of my business but also provides integrated financials, marketing, sales, and service that allow me to see my customer's interactions with my business, I couldn't agree more with the report's assessment.
Here are the ERP CRM integration benefits noted in the report:
Cost and time savings – SMBs don't need to invest time or money to build clunky custom code or to choose and deploy expensive third-party integration tools
Clear visibility and better decision making through integrated dashboards that provide roles-based access to manage forecasts, quotes, and results
Improved collaboration – everyone in the organization is "on the same page" with consistent, updated information, as well as has the ability to more easily create customer portals to communicate with customers throughout the entire process
In addition, here are some benefits Acumatica customers experience with integrated marketing:
CRM was built into Acumatica from the get-go. Integration is not an afterthought but a key feature of the system, working directly with every aspect of your business through a single dashboard. From marketing, quoting, and sales to delivery and post-sales support, customer information is always accurate.
Allows for a team approach so that sales and service collaborate effectively based on shared information.
Regardless of your technological device of choice, the system is completely mobile; you can access the easily navigated dashboard and support your customers whether you are in your office or on the road at any time.
The CRM Add-In for Microsoft Outlook works with incoming and outgoing email in Outlook. It searches for existing leads, contacts, and employees in CRM and then allows one-click access to an existing contact. You can also create new leads and contacts right from your Inbox; create opportunities and cases associated with existing contacts, and log activity, and attach e-mail contents to CRM. Users no longer need to switch back and forth between separate systems to piece together past conversations or hard-to-compile information necessary for the next sales or service need.
The financial team is also able to manage vendor requirements from the same system – from scheduling to invoicing to billing.
Keeping pace with proactive measures
Do you want to keep pace with your customers? It's critical to have the ability to respond rapidly to customers' requests throughout the sales cycle – from the initial contact, through sales and fulfillment, billing, and after-sale service requests. A single-source, mobile business system that provides a clear and accurate picture of every transaction will not only provide exceptional customer service but also drive your business to the next level.
"Integration enables SMBs to streamline workflows and information sharing across different functional areas of the business. This provides a more complete view of the customer as well as the agility and insights needed to improve customer interactions, engagement, and experience—and to grow the business," say the analysts at SMB Group.
I couldn't agree more. If you do, too, then I hope you'll take a moment to read the report about ERP CRM integration for yourself.
Please feel free to contact us after you read it; we're ready and able to assist you in the process of accelerating your business through a fully integrated, customer-oriented, and mobile cloud ERP system with CRM geared specifically for you and your business.
I also want to invite you to watch the on-demand recording for a recent webinar we hosted in conjunction with SMB Group. The webinar focuses on how integrated customer management provides you with a complete view of your business along with the ability to maximize your profit per customer while simultaneously increasing their satisfaction. Get the recording here for "Integrated Customer Management for a 360 View of Your Business".