Even over the time I've been here at Acumatica, market growth for cloud computing generally and the Cloud ERP software market in particular has boomed. Louis Columbus made some great points in a recent article posted on Forbes, "The Future of Cloud ERP is Now:"
Impatient for results and systems that can deliver them, the high growth areas of the ERP market are being driven by companies who see cloud-based systems as more agile and responsive to their changing business model needs."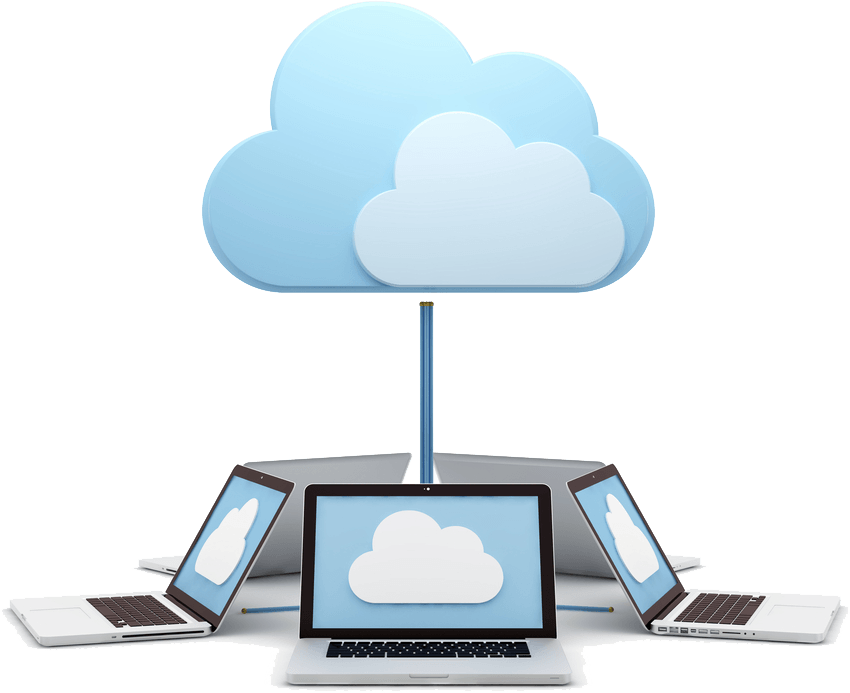 If you're a regular reader, this will sound familiar to you. Companies of all sizes are moving to the cloud, and they're more likely than ever to be implementing mission-critical applications in a variety of cloud environments.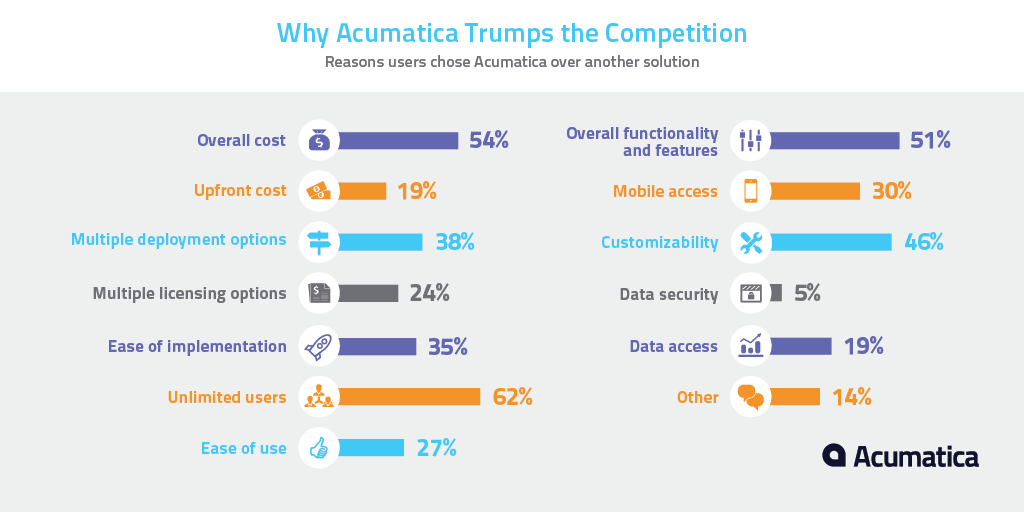 The flexibility and scalability of cloud computing has provided established enterprises with new, lower-cost and lower-maintenance options for deploying Enterprise Resource Planning (ERP), and Customer Relationship Management (CRM) applications. More importantly, cloud computing has made sophisticated ERP and CRM software widely available to small and midsized businesses (SMBs).
Growing in tandem with the cloud computing market, the growth of the mobile technology market—through near-constant innovation from devices to apps to software delivery and update cycles—have extended the confines of the workplace and driven the expectation for 24-7 accessibility of supply chain and customer information.
Given the pace of change in the ERP and CRM markets, it's important to know where we are in that market. At our recent Analyst Day event in Boston, we shared our latest revenue growth figures as well as a comparison with our major competitors.
It is incredibly rewarding for me to confirm that Acumatica is still the fastest-growing provider of Cloud ERP software–quite a feat for a company founded in only 2008. While proud of our position, it wasn't a huge surprise for me. Acumatica's transition from startup to standout is still ongoing, but a few key elements have contributed to our foundational and critical growth:
A Solid Foundation
The founders of Acumatica envisioned a transformation of the ERP market landscape through the emergence and adoption of cloud computing technology. They knew in the face of such radical change, a critical shift in the needs of clients, capabilities and deployment options would demand capitalizing on underlying cloud computing infrastructure. This is why Acumatica was built from the beginning for the cloud, allowing access from any device with an internet browser, and it's also the reason we offer support for a variety of hosting deployment options.
Being a startup software company is challenging, but it also has advantages. From the start, we could focus exclusively on cloud-based ERP and CRM applications deployed either on-premise, or Software-as-a Service (SaaS) configuration. We were not burdened with maintaining a legacy software solution, and we could devote more of our development resources to expanding the functionality of our software.
The functionality of our ERP and CRM solutions is also built on a solid foundation. Both products were full-featured with the multi-language, multi-currency, and multi-entity capabilities SMBs need to pivot and compete in today's global economy. By 2012, we had concentrated our development on 4 main business application suites:
We continued to add functionality and deepen the potential of each suite, as well as releasing an enhanced mobile development platform this year with the release of Acumatica 5.
Clear Market Focus
While many of our competitors are focusing on moving "up-market," and trying to sell their ERP and CRM solutions to increasingly larger enterprises who typically have on-premise, legacy ERP and CRM software solutions installed, Acumatica is focusing our efforts on building specifically for the midmarket.
As I wrote in a previous blog post (Mind the GAP: The ERP Midmarket Black Hole), we believe that mid-market companies are the engines of economic growth as well as the source of product and service innovations. Judging by the perspective of the Analyst Day reports (Read more reports of Analyst Day from Jon Reed at Diginomica and Cindy Jutras at the Mint-Jutras blog), our focus on the mid-market is paying off. The needs and potential of this market are great, and it will continue to be a focus of our development and implementation efforts.
A Global Network
Acumatica realized from day one that the key to providing software solutions to customers in today's global economy was to have a strong network of global Partners who could serve the needs of companies on a more local basis. Our Partners network is second to none. We have provided these partners with extensive training and the tools they need to empower them to offer unparalleled service to customers.
Core Values and Shared Vision
Acumatica is certainly different from your standard ERP provider. We are proud of what differentiates us from other Cloud ERP/CRM providers; our product's solid foundations, our market focus, our global network of capable partners, and the core values and vision embodied in our people. These differences have enabled our rapid growth so far, and the value they offer to our team, our customers, and our partners predicts a promising future.
We invite you to share that future with us—you can start by taking Acumatica for a free test drive through AWS Cloud Services!