If distribution is a critical part of your business, then Acumatica's new Distribution Edition is worth researching. Our modern, automated, and integrated distribution software can meet all your supply chain management needs in one, cost-effective cloud ERP system.
Here at Acumatica, we believe in combining our passion for innovation with the power of user feedback to provide a comprehensive cloud ERP solution. Using suggestions from our customers and partners, our recently released Acumatica 2018 R1 offers numerous value-adding enhancements; we examined the improved features and resulting benefits in our first post of a three-part series. In this second post, we'll look at our newly available Acumatica Distribution Edition and highlight how our distribution software can help you efficiently manage your wholesale distribution management needs. You can also learn more in our press release, Acumatica Momentum Continues with Release of 2018 R1, Construction Edition, Distribution Edition, and Acumatica Business Intelligence.
Stay tuned for our third post on Acumatica Business Intelligence with Reporting, Dashboards, and Data Analysis.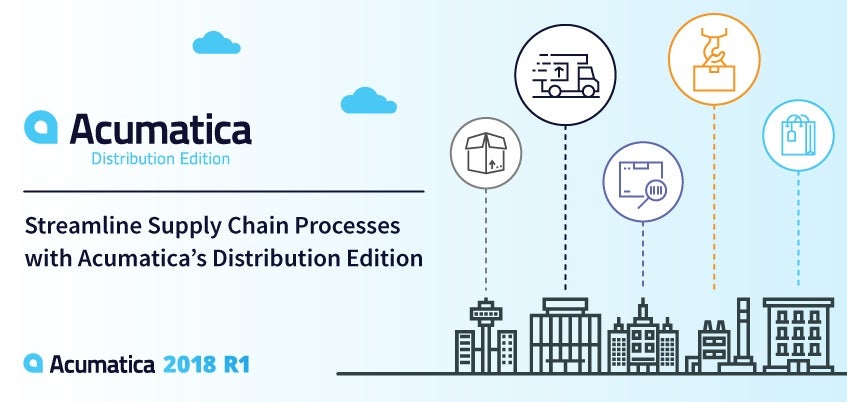 Acumatica's new Distribution Edition helps streamline supply chain processes
We know that price is a factor as you research our Distribution Edition. We're pleased to announce that we're providing Acumatica Distribution Edition at a bundled cost! This bundled pricing includes our Advanced Financials – General Ledger, Accounts Receivable, Accounts Payable, and Cash Management – along with the following software:
Whether you hail from a retailer, manufacturer, or service provider perspective or you're an exclusive wholesaler or distributor, you have very specific distribution needs; modern distribution software is critical for your overall supply chain management. Acumatica Distribution Edition – which contains our previous Distribution Management features – offers you the ability to manage your warehouse management, inventory management, and purchasing concerns while integrating these activities with your company's financials and sales.
We introduced our new Acumatica Distribution Edition at Acumatica Summit 2018 to our more than 1,100 customers and partners. They were excited to see how our updated distribution ERP software will help streamline supply chain processes including two new features improving sales order workflow: 1) adding stock items directly to an invoice and updating inventory without creating a sales order or return and 2) being able to process an order in one click, keeping you updated throughout the process.
Depending on your business' supply chain processes, you may need additional Acumatica cloud ERP software such as Advanced CRM, Commerce Integration, Field Service, Equipment Maintenance, Route Management, Intercompany Accounting, and Contracts. The good news is that you don't have to figure this out on your own. Our partners are experts on what cloud ERP software you require; they're readily available to answer your questions and to expertly assist you with the implementation process.
Acumatica's cloud ERP solution also provides pre-built and integrated partner software for your specific needs. For example, SalesForce has the software to help you efficiently manage your many customers, representatives, opportunities, etc. and Avalara is a tax compliance solution – both of which integrate seamlessly with Acumatica. We have many more ISV partner solutions you can check out in our Extension Catalog.
Let Acumatica Distribution Edition answer your distribution needs
Distributors of any size face many of the same global challenges, including rapidly changing customer demands, complex product inventories, and fluctuations in the supply chain. Acumatica offers a single integrated distribution management system that integrates and automates the entire quote-to-cash cycle.
Acumatica provides accurate and timely information, as well as the functionality needed to readily resolve issues and update management and customers. Our modern distribution business software provides true, company-wide inventory data that lets you create proactive, responsive replenishment operations and minimize inventory costs. And you'll experience better decision-making with more timely and accurate financial data through Acumatica's Financial Management software, which includes the core set of financial applications, fully integrated with customer management and operational software for distributors and wholesalers
The benefits of our cloud ERP software can be seen in:
Improving customer satisfaction while minimizing cost: Efficiently manage distribution processes with real-time visibility of available inventory, inventory in transit, reorder quantities, and inventory costs. Minimize inventory and costs; optimize quoting, acceptance, entry, and fulfillment processes.
Reducing order times: Eliminate delays through automated sales order processing and shipping order generation. Set rules to manage multiple warehouses, returns, credit limits, drop shipments, and more.
Knowing where your business is: Ensure a steady supply of materials by optimizing and automating your purchasing process.
Knowing your true costs: Determine real-time profitability by warehouse, product line, location, or business unit. Use real-time information to control costs across the entire supply and distribution chain.
As Ali Jani, Chief Product Officer, said in our Acumatica Summit 2018 press release, "Customers are challenging us to constantly innovate and extend our offerings as a way to maximize their business success."
We believe Acumatica 2018 R1 and our Distribution Edition meet that challenge with increased functionality and capabilities. Contact us today and let our experts answer any questions you may have about our distribution software and our true cloud ERP platform.