This post explains how to implement a manufacturing process where you provide some or all inventory to an external manufacturer. This tutorial assumes a working knowledge of Acumatica, but is also designed to give those who don't have that knowledge a glimpse into what Acumatica Cloud ERP Software can do to transform business processes.
Demo Built in Acumatica Environment: 5.20.1452 with JAMS 18 – 2015.10.07 customization
Data: SalesDemo Data from Acumatica's Partner Portal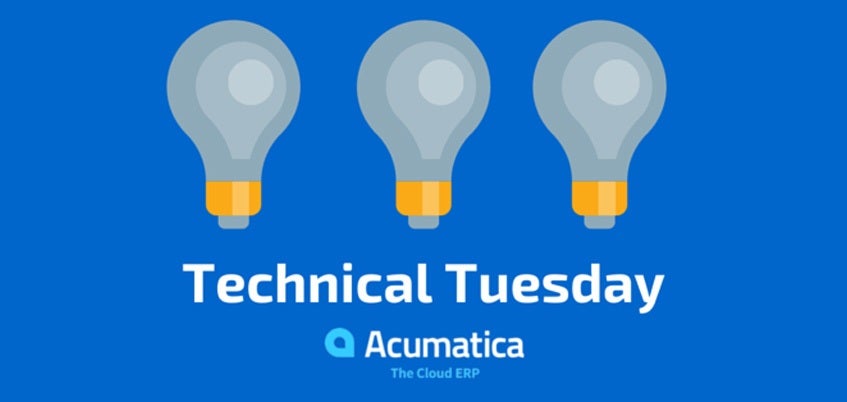 Business Process
Your business buys inventory and ships it to a third party manufacturing firm. The third party firm produces the end product for a contracted fee. You need to audit that the proper amount of inventory is being used in the manufacturing process and make sure that the total cost of the finished goods is tracked accurately.
The workflow for this scenario is as follows:
Create a purchase order for raw materials and ship it to the manufacturer's warehouse
Receive the goods at the manufacturer's warehouse
Create a production order for the finished goods and send to outside manufacturer
Receive/enter an invoice for the manufactured goods that includes the quantity produced
Run production – reduce inventory of raw materials and create finished goods

A non-stock item includes the cost above raw materials for the produced item

Ship items from vendor site to main warehouse

Inventory Checks
At periodic intervals, the vendor will report the amount of inventory that is available. The available amount should match the amount reported in Acumatica within a specified tolerance.
Implementation Setup in Acumatica
In this example, we will produce a circuit board with the help of an outside manufacturer. We will purchase raw materials (resin and screws) and ship them to our supplier.
Setup Process
1. Create a Vendor Warehouse. Add locations as needed.
Create separate GL accounts or subaccounts if you want to track vendor inventory differently.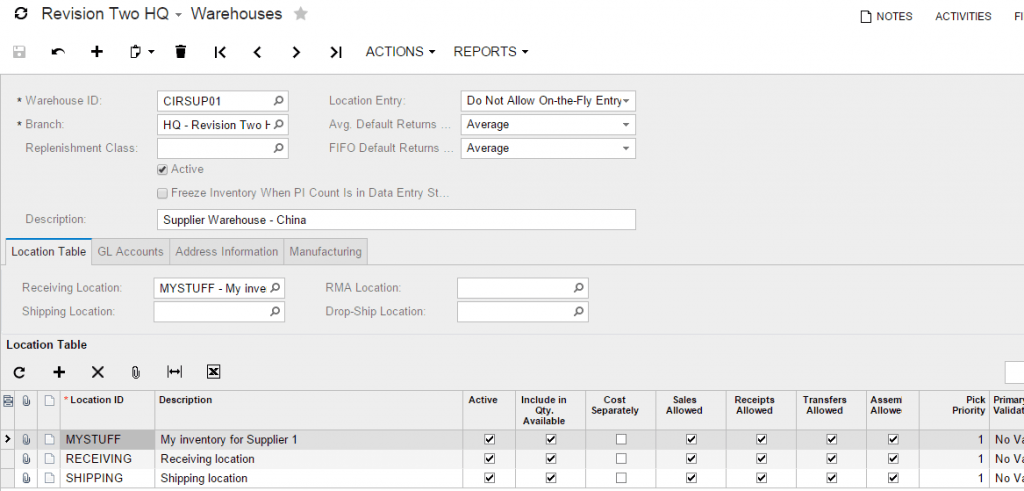 2. Create stock items (parts and finished good).
Set cost info and vendor details in other tabs
In warehouse details – set the default to the vendor warehouse you just created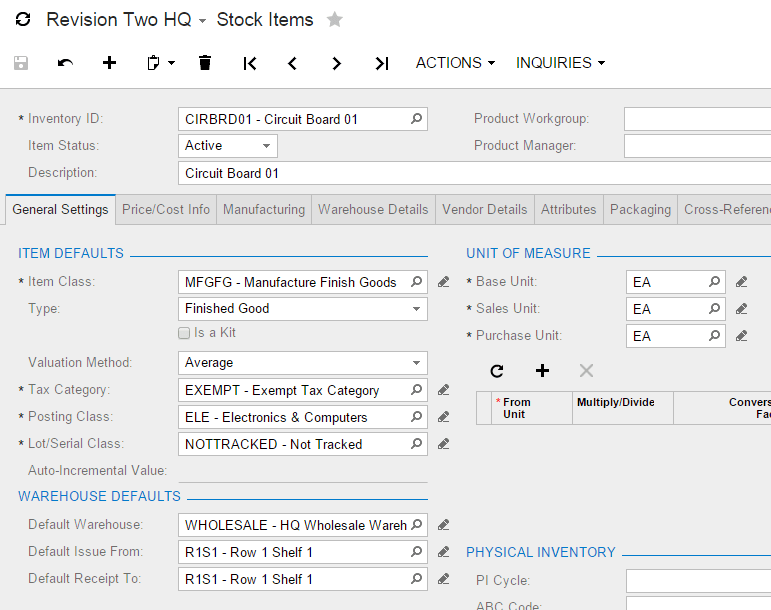 Finished good – add warehouse detail
3. Create non-stock item (used to record cost of production for components and other items provided by the manufacturer.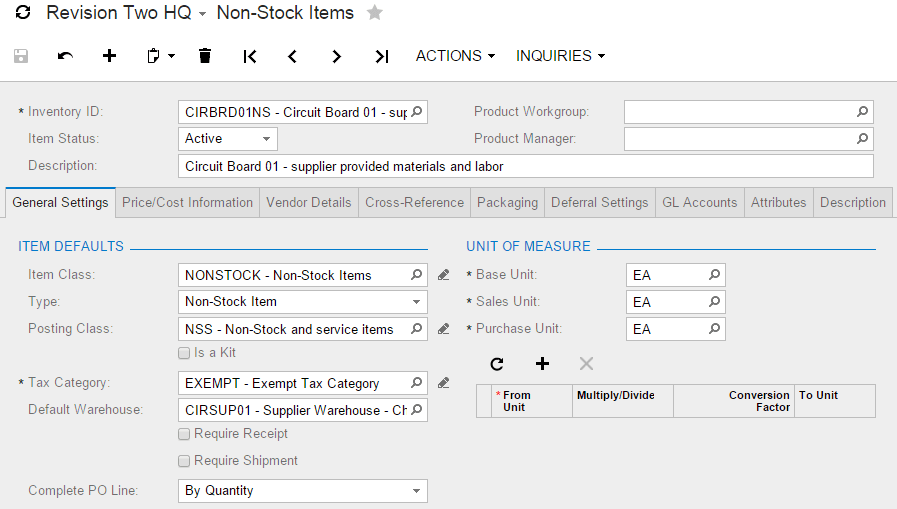 Add standard cost in price/cost information tab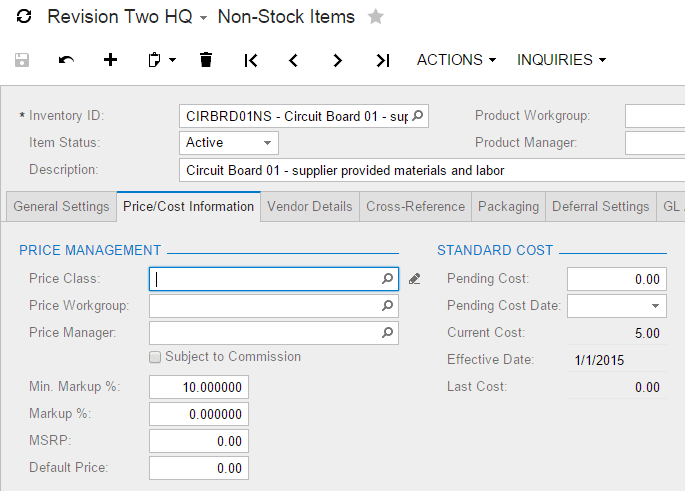 Set vendor details to your outside manufacturing vendor
4. Create bill of material for production items
Backflush labor and materials
Add inventory you want to manage plus non-stock item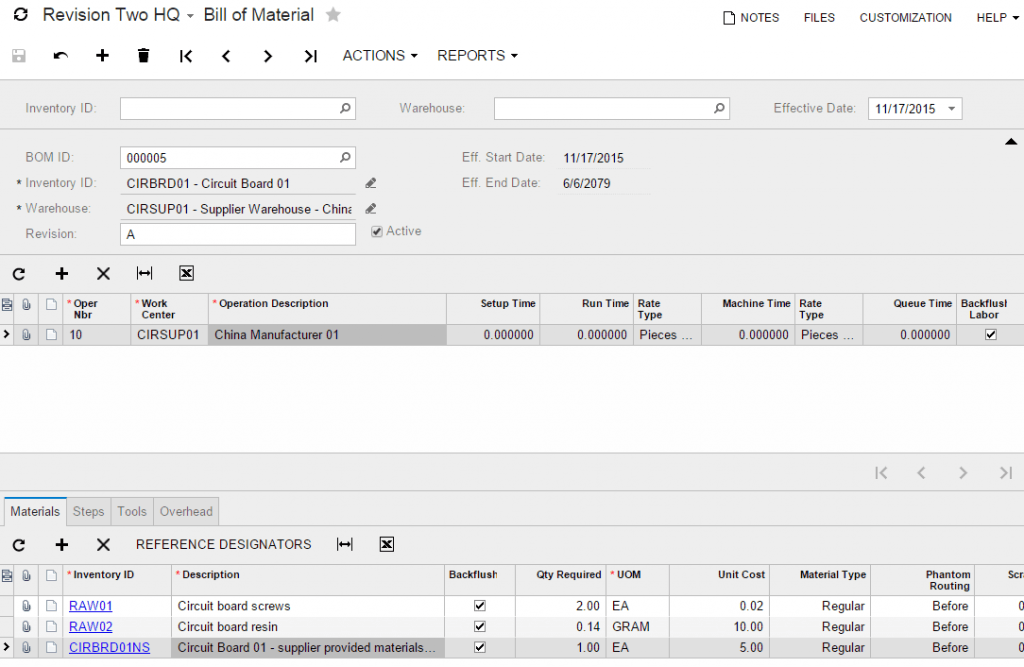 A Work Center must be created and have the Outside Processing box checked.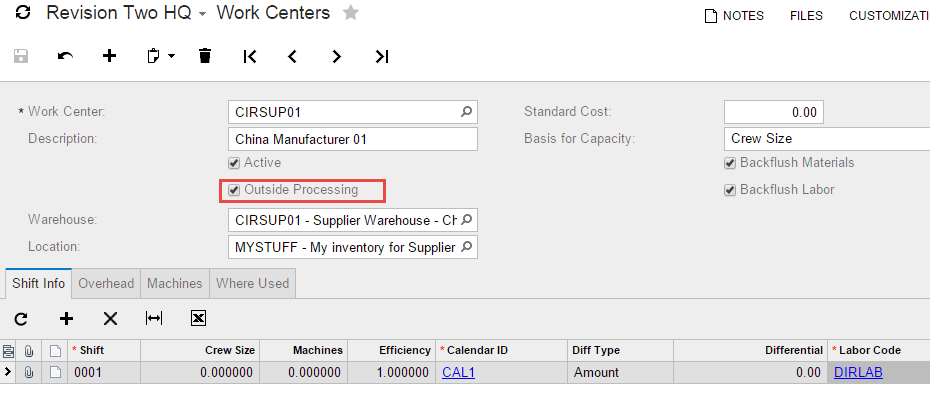 Processing Steps
Step 1: Create PO
Create a Purchase Order on screen (PO.30.10.00) and specify the third party manufacturer's warehouse for the item delivery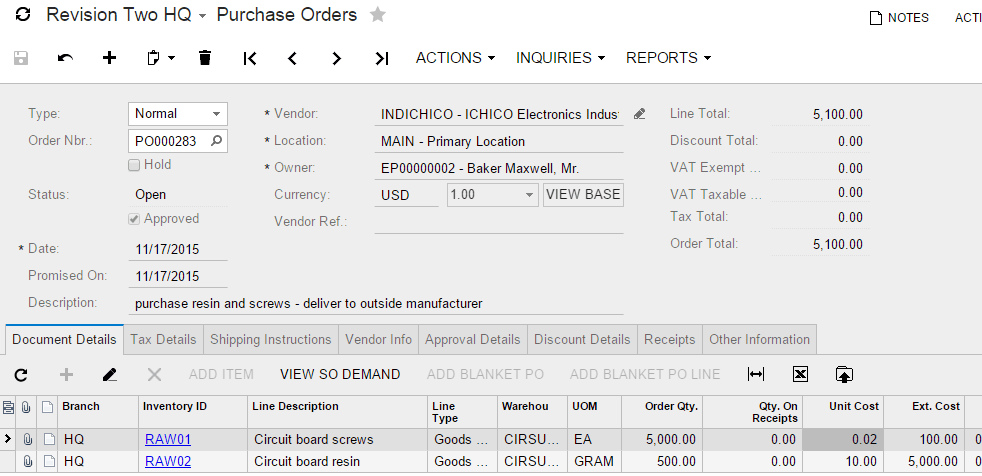 Step 2: Receive PO

Note: Items added directly to the manufacturing supplier's warehouse. Inventory costs tracked.
Step 3: Create production order and run production
Create the production order as illustrated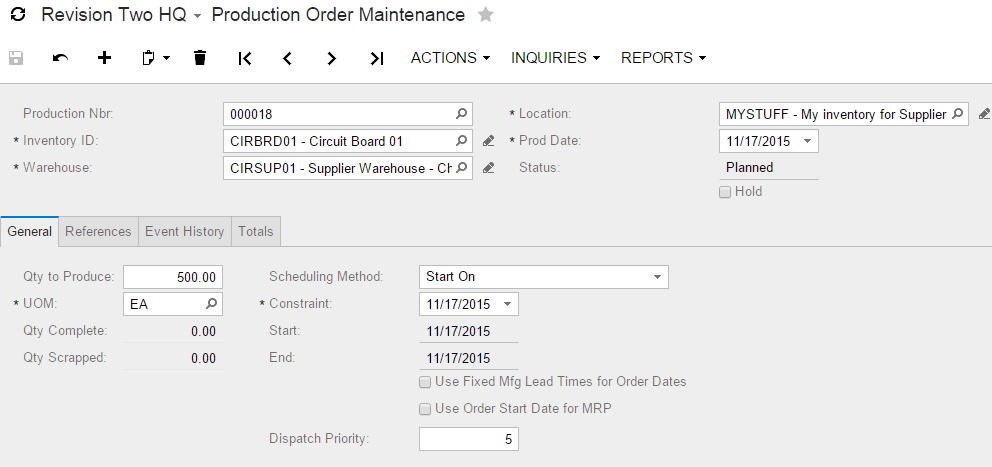 Run production by entering a move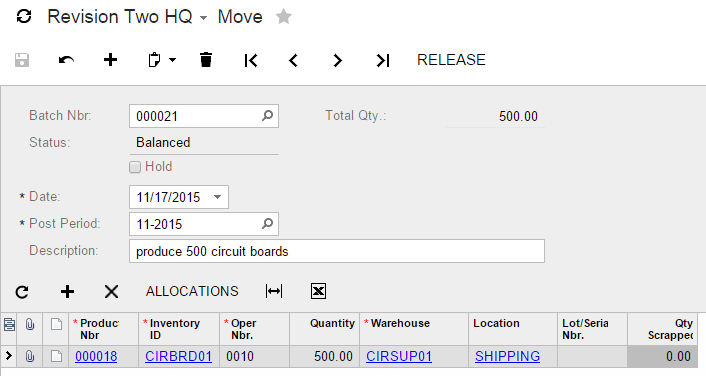 When move is released, the production order is completed (assuming all items produced):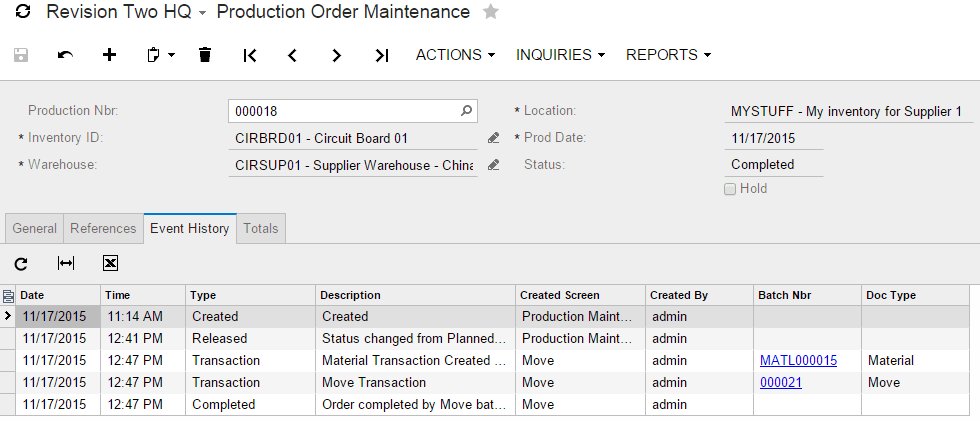 Raw materials are backflushed and the new items are received into inventory. The unit cost is taken directly from the production order.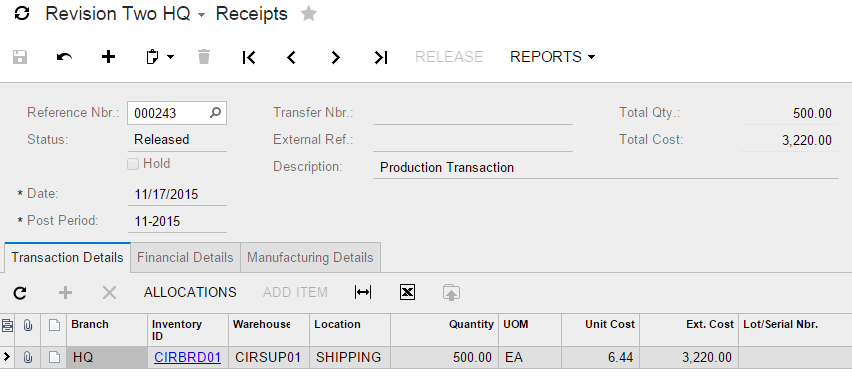 Step 4: Enter invoice from external supplier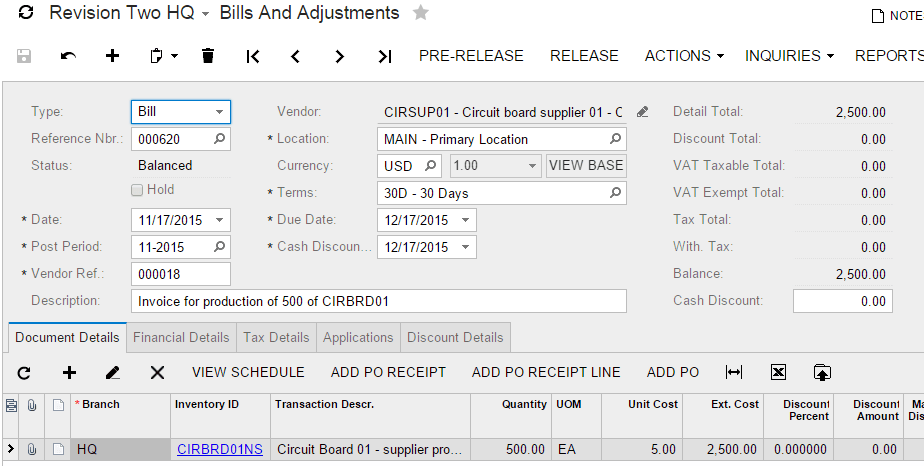 I entered the production order number as the vendor reference number.
Step 5: Transfer inventory to US warehouse
Create a simple transfer order to move the finished goods to a new location.
Step 6: Validate inventory
Assume we receive the following report from our external manufacturing vendor:
RAW01 (screw): 4,000 in stock
RAW02 (resin): 425 grams in stock
Using standard inventory screens, the totals can be validated.

In this case, the amount reported is 5 grams short, so we would have to make an adjustment entry in our inventory stock.
Since the variance amount (5/70 = 7.1%) is outside the tolerance (+/- 5%), we would follow procedures to resolve the issue.
Conclusion
Using Acumatica with the Advanced Manufacturing module from JAAS Systems, you can supply inventory to external manufacturing vendors without losing control of your inventory and costs.
Inventory issued to the external manufacturer is automatically maintained by the system
Inventory costs are accounted for when finished goods are produced
Tracking reports allow you to manage external manufacturer performance for production materials usage
Since Acumatica is web-based with strict access controls, you can enable external vendors to enter inventory data and vendor invoices. With simple configuration, you can provide external vendors with the ability to access and update production orders.
To learn more about JAAS Manufacturing, watch the below video. I recommend that you enlarge the video to full screen width for best viewing.
Have a unique controlled inventory scenario? Contact djohnson@acumatica.com with requirements to see if the solution can be easily adapted for your needs.