Geoff Ashley, recently named to CRN's 2018 Channel Chiefs List, continues his series on becoming a Modern VAR in the 21st century. This transformation requires you to make many changes in the way you do business, and he shares the most important one today.
If you have been following along for the past four parts of this series, good for you! I'm not only grateful for your support, but I'm inspired by your dedication to figuring out how to transition from a professional service-focused partner to a partner focused on building a highly profitable, highly effective, and highly efficient Modern VAR practice, something the Acumatica VARs who recently made Bob Scott's 100 VAR list for 2018 know something about. For those of you who may have missed the first posts in the series, I hope you'll take a moment to check them out: Part I, Part II, Part III, and Part IV.
In Part V, we tackle what is perhaps the single most important issue facing almost all professional services companies today. This topic is impossible to cover in a few pages, so I will attempt to boil it down to only the most essential points with the hope that you can gain what you need to transform your business.
Today we focus on the experience you provide. This experience is provided to prospects, customers, key partners and alliances, vendors, and pretty much anyone having an interaction with your company today.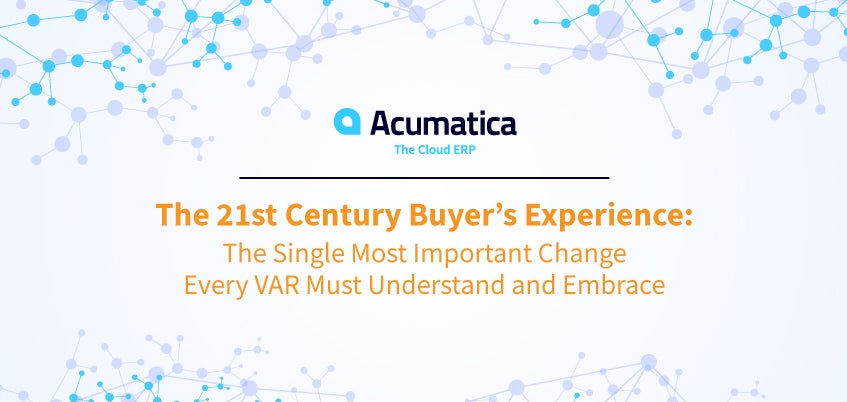 Why should a modern VAR focus on the experience?
In this internet world, if you provide someone with a negative experience, they will take a couple of minutes to inform billions of people of their opinion of you and your company. This "review" will be in a forum that is totally undisciplined. No one fact checks that what they say is true.
This "review" will also be in a format (e.g. blog, review site, article, etc.) that never expires. In fact, a bad review can negatively impact your business for years to come. Most "reviews" do not even have dates associated with them. So other people reading about this experience will have no idea if it occurred today or ten years ago. Finally, this "review" exists in an environment that is available 24×7. It never sleeps, never calls in sick—it just keeps telling people to avoid your company at all costs.
If you do not take anything from everything I have published to this point, please take notice of this: Providing a stellar experience for every stakeholder that interacts with your company must be priority number one for every single employee.
It must be stressed in every company meeting. It should be your final thoughts in every email. It should be a significant driver in your performance reviews and compensation plans. The inability to provide a stellar experience is a career-limiting deficiency. No one in your company can be excluded from this imperative. It is that important!
What does it mean to focus on the experience?
The first thing you must understand about an experience is that no two people are looking for the same thing. You can't provide everyone with the same experience. And yet, almost all professional services firms do this today.
For example, very few web sites differentiate by micro-vertical industry focus. This is issue number one. But if you do provide a micro-vertical industry landing page, do you then separate your message based on the role? At a minimum, you need to focus on three distinct roles when you consider the experience.
"C" level executive: Executive management has a very specific need. It is almost never "how do I void a check?" Quite the opposite in fact. Executives want to understand what comes OUT of the software. What results did we achieve? What issues are we facing? Hopefully you are providing this information before it has a negative impact on the business. Forecasting, budgeting, strategic planning, analytics…these are areas that executives care about. If your website has page after page of screen shots, you have already lost their interest.
Mid-level management: Mid-level management and/or supervisory levels have a different need. They focus on business rules. Process flow. Approvals. They want reports that focus more on the immediate now. Do we have enough product? Do we have the right people? What discount levels are you pre-approved to offer? Can I find the mistakes before the order is shipped?
Line-level employees: How will your solution hep me to do my job? How does your solution empower me? Can I offer more and better service and support? Can I close this deal while I have my prospect/customer on the phone? If I have to hang up and call back, they will find their answer somewhere else. These are very different needs and requirements. Your content and interactions should be totally different in this section.
Once you have determined your micro-vertical industry focus, and you have identified your key roles, you now turn your focus to the content. This is where the biggest shift in your culture will occur.
How do you change your culture to become a modern VAR?
The professional services model focuses on billable time. Creating content, however, is non-billable time. But you have a TON of content you must create. It is the very nature of how people consume our goods and services in this new paradigm. They want whitepapers. They want blogs. They want articles (specific to their industry). They want video. And they take everything they find out there on the internet and they SHARE IT throughout their company. The data is very conclusive on this point! All the content they find gets shared. If it is not your content, it will be someone else's. Can you take that chance?
Think about what is involved in creating this stellar experience:
You create an environment that is micro-vertical focused. You need to be able to differentiate yourself, and you can't do that if your presence screams "horizontal— all things to all people".
You are further differentiating yourself be creating messages specific to roles. If you take the three we mentioned above, that means every piece of content you create could have THREE versions!
You create self-service. You create packaged services. You create intellectual property (IP), which is not a project-based initiative; it is an initiative that is packaged and sold 1,000 times. You create managed services—again, sold on a subscription to thousands of customers. Maybe you create a Friday Afternoon Demo for your micro-vertical. Your sales people use this demo as part of their sales cycle. It qualifies prospects while at the same time, giving them exactly what they are looking for—packaged content to consume. They can register and attend your demo (showing commitment), but they can also view that content on a Sunday night at midnight (because you are recording all your presentations going forward). But don't forget, you might have several versions of each presentation depending on the audience.
How can Acumatica and our Acumatica Partner Program help you become a Modern VAR?
As you can see, creating a stellar experience for your prospects and customers is no simple matter. It might mean totally rethinking and repackaging your current business. The results, however, are substantial. This is what the 21st Century VAR practice looks like. Is this what you look like? If not, we can help.
First, you can become an Acumatica VAR. We depend completely on our VAR team to sell and support our true cloud ERP. This dependence results in us gladly providing our VARs with comprehensive training, competitive advantages, no channel conflict, and generous margins and terms. As you check out our Acumatica Partner Program and our partner recruitment referral program, you can be assured that our focus will be on helping you achieve the Modern VAR status and experience the resulting benefits. This includes providing you with direct access to our Campaign Factory Program, which assists you in clearly communicating the value you provide to your customers.
Second, you can attend our annual cloud ERP event. If you register for Acumatica Summit 2019 (coming January 27-February 1, 2019 in Houston, Texas), you'll have the chance to speak directly with me and my team about becoming a Modern VAR with a 21st century business model.
Finally, you can contact us with either a call or an email at any time. Your business' success rests on a Modern VAR transformation, and we want to be a part of it!