From the new Magento and Kensium powered Acumatica Commerce Edition to the Amazon Echo demonstration to the trainings and keynotes, Kensium Solutions had a fantastic time at this year's Acumatica Summit. Read their recap below.
Every year, Acumatica makes the annual Acumatica Summit worth attending, and 2017 delivered the biggest event yet. With more than 800 attendees from across the Acumatica ecosystem, we at Kensium Solutions encountered Value Added Resellers (VARs), Independent Software Vendors (ISVs), Acumatica employees, customers, and more. We caught up with partners, matched familiar names to faces, and made new friends. Beyond interactions with attendees, we learned about the latest advancements in Acumatica and the diverse opportunities that lie ahead.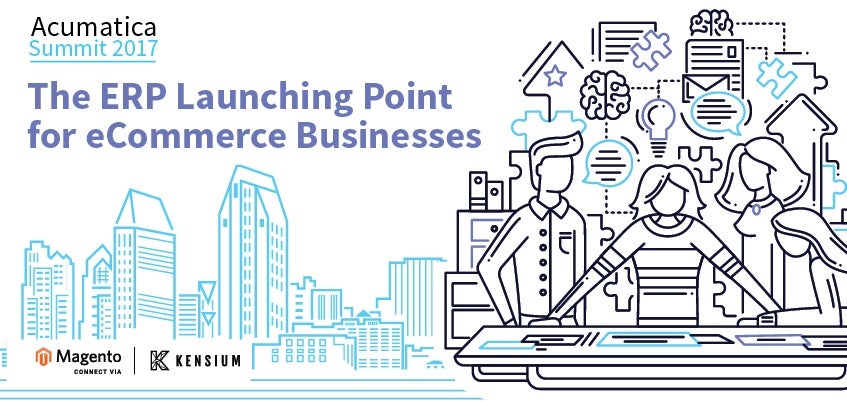 Our Summit Focus
While we are deeply involved with Acumatica and the ecosystem, we have been rooted in eCommerce development for more than a decade and are partnered with Magento Commerce, the world's most popular eCommerce platform. To showcase the eCommerce opportunities available to the Acumatica ecosystem, we teamed up with Magento as an Executive Sponsor of this year's Summit. SHOEBACCA, the Acumatica Customer of the Year, showcased what this new Edition has done for their business.
Acumatica took interest in our area of specialty and worked closely with Kensium and Magento to create Acumatica Commerce Edition, which was unveiled by Acumatica CEO Jon Roskill during the Summit's opening keynote. This new product incorporates certified Acumatica extensions and back-office tools into a single eCommerce package, allowing merchants to get to market faster with an integrated Acumatica solution and Magento website.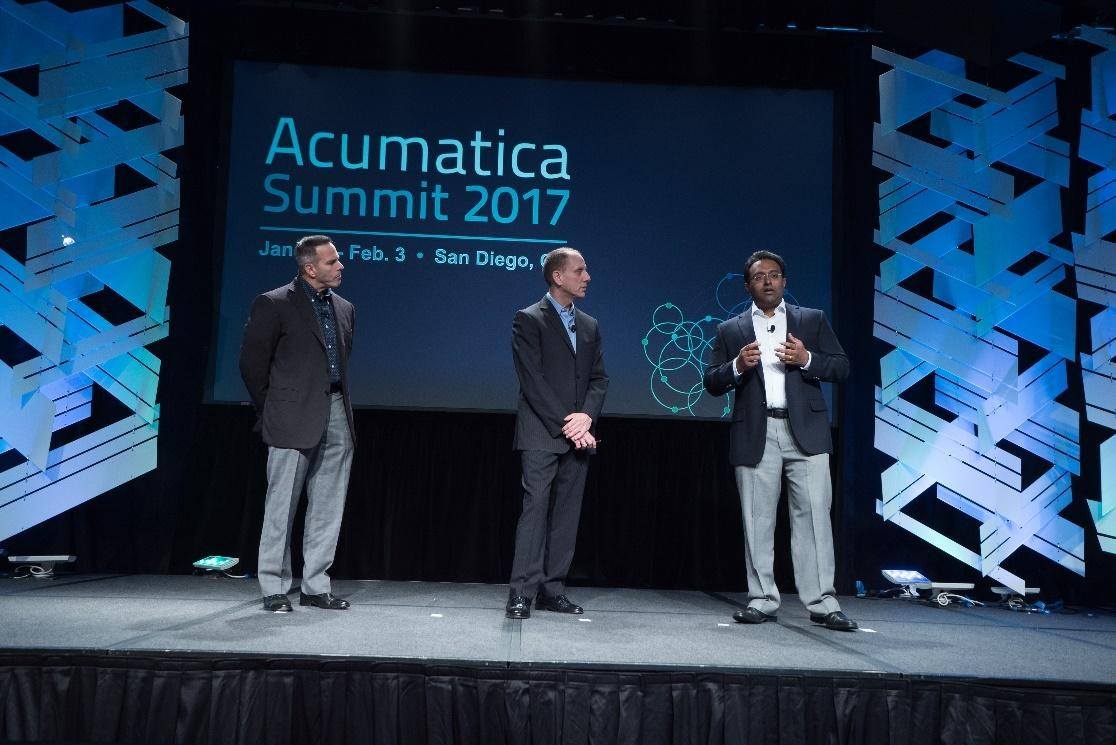 Acumatica CEO Jon Roskill is joined on stage by Kensium's Rahul Gedupudi and Magento's Gary Specter during the announcement of Acumatica Commerce Edition.
With the launch of the Commerce Edition, attendees were eager to learn about the product and how to get started. We were showered with questions about eCommerce and the Magento platform. All members of the Kensium team shared the details of the ripening $2.7 trillion eCommerce industry, including the need for back-end process automation.
To ensure those selling the new Acumatica Commerce Edition are well-versed in eCommerce and implementation procedures, Acumatica and Kensium collaborated to create training courses that certify a VAR to sell the product. With a certification, partners are ready to start effectively communicating and selling to merchants looking to revamp their eCommerce operations.
Regularly offered through Acumatica University, in-person training courses were conducted at the Summit. Several attendees jumped on board with Acumatica Commerce Edition and walked away ready to pitch the product to eCommerce merchants across the world. 
What We Learned
As always, presentations from Acumatica and partners were enlightening and indicative of Acumatica's continued success. Roskill reported during the opening keynote that Acumatica experienced another period of substantial year-over-year growth – this time 83%.
It was apparent through keynotes, partner sessions, and conversations that innovation is on the minds of Acumatica and partners. Field Service Edition and Amazon Echo demonstrations were carried out, along with several other external application integrations that will bring customers closer to complete unity of systems.
The latest version, Acumatica 6.1, featured enhancements in the areas of security, workflows, and reporting. Some notable changes include:
Improvements to mobile functionality
Dashboard drill-down capability
Smart capture for expense receipts
Modification of customers in sales orders
Enhanced warehousing capabilities
Added rights management options
 Looking Toward the 2018 Summit
The next year will be interesting for Acumatica and Kensium as we venture forward with the freshly unveiled Acumatica Commerce Edition. Just more than a month removed from the Summit, we have several partners who are certified and actively pitching the product to solution-seeking merchants.
The timing behind the product release is promising, as a large portion of Magento merchants are in a transition phase. Magento will shift its focus solely to its latest platform, Magento 2, in November of 2018, meaning merchants on the Magento 1 platform will no longer be supported. Acumatica Commerce Edition gives the connected ERP option to these merchants already facing a store migration, likely in the next 12 months.
Acumatica's announced updates and added features allow us to create better products and more efficient ways to produce, and this year was no different. Aside from Acumatica Commerce Edition, we always look forward to the latest developments in Acumatica, and our team will be looking for opportunities to improve through the advancements unveiled this year.
For more information on Acumatica Commerce Edition, look here. To learn about our partnership with Acumatica, go here.