The decision to upgrade to a modern cloud solution from a legacy system is imperative if a business wants to grow. But such a significant investment of time and money should be researched thoroughly and most probably will require evidence of the Return on Investment. Acumatica's Whitepaper, ROI Analysis of Replacement ERP, provides the tools for doing just that. The paper discusses how to calculate ERP cost savings.
As a complete, modern solution for business needs, Acumatica's cloud ERP platform allows SMBs to integrate their business management systems (Financials, Distribution, Manufacturing, Project Accounting, and CRM) and access their information anywhere at any time through an all- inclusive user-licensing model. This is the opposite of how legacy systems operate, yet many organizations still use these systems while competing in an increasingly complex technological and economic arena.
Acumatica also utilizes Amazon Web Services (AWS) as our web services platform – they have an impressive 99.95% uptime rating – as it enables us to give our customers the best ERP return on investment (ROI) and it's the premier cloud solution available, which streamlines operations and accelerates growth.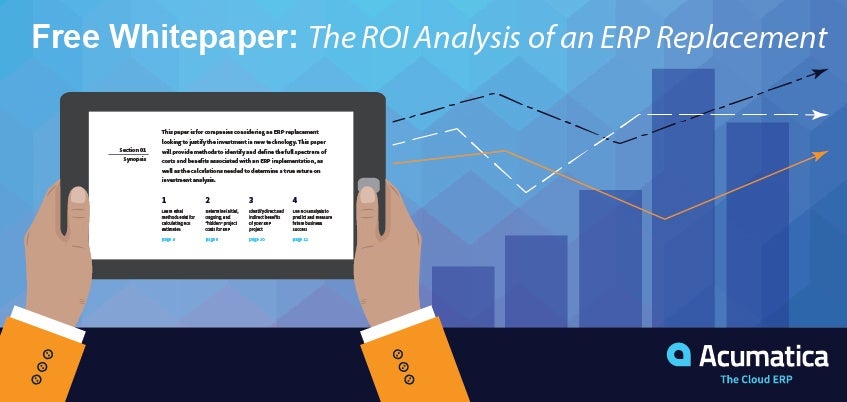 Because we provide a flexible, easy-to-use, and scalable ERP system run by the leading web services platform, we feel confident that businesses that run on legacy systems will benefit from upgrading to a modern cloud solution. It's an important consideration, one that the CIO and application leaders making the decision to upgrade need to evaluate thoroughly. Part of the evaluation includes putting together an ERP cost benefit analysis to see if the benefits outweigh the investment.
To assist in the decision-making, Acumatica has put together a Whitepaper, Return on Investment (ROI) Analysis for ERP Replacement. Download your free copy here.
Before we go further, let's first discuss legacy systems.
The scoop on legacy systems
Legacy systems are the business management systems you have been using for 7 years or more. They were probably very good systems when you bought them. However, things have changed and gotten better. With your legacy system, you must maintain old hardware and buy more licenses to add users. Plus, if it is that old you most likely have difficulty integrating to other business systems, getting up-to-date custom reports and accessing the data remotely. These drawbacks hinder your growth and you risk getting left behind, instead of staying on top of paradigm shifts in the software industry. As your competitors replace their systems, you lose the competitive advantage.
Upgrading your ERP to a modern cloud solution can save on average more than 20% in IT spending as a percentage of revenue and have been found to deliver 2.1x times the relative return on investment (ROI) of on-premise ones. Clearly, upgrading legacy systems produces benefits for your company but there's more to calculating ERP ROI and it can be complicated.
To help clarify the process, our free Whitepaper breaks down your ERP cost savings and shows you how to:
Choose the right method of ROI calculation.
Include people costs in your projections.
Identify the direct and indirect benefits of your ERP project.
Account for both first-year and ongoing costs.
Predict and measure your future business success.
You can download this free business-transforming Whitepaper for yourself here.
Upgrading to a modern ERP: Is it worth it?
Danforth Pewter, a company founded in 1975 who traces its family roots in pewter manufacturing back to 1755, says an ERP upgrade is definitely worth it.
Danforth Pewter designs and crafts handmade pewter items. The company's aging hardware began to fail after 20 years of using the same financial software and hardware to run its growing business. In 2014, unable to upgrade its old software to new hardware and wanting an integrated system, Danforth Pewter executives chose Acumatica's highly integrated ERP as their modern cloud solution for continued growth
"Once we heard about Acumatica, the choice was easy. It was the only one that met our criteria," Bram Kleppner, Danforth Pewter CEO, says.
And once Kleppner and his team chose Acumatica's ERP, the benefits of becoming more efficient and productive were immediately noticeable – from entering data into their system only once to being able to batch invoices to automatically entering orders (increasing daily orders being sent out) plus reviewing inventory accurately and in real-time.
As Kleppner says, "The leadership team of any small or medium business considering an ERP system is doing themselves a great disservice if Acumatica isn't on their list to investigate."
To read more about their ERP ROI, please go here in our Customer Success Stories.
What's holding you back?
Acknowledging the need to move to a modern, flexible, and easy-to-use ERP solution, researching the many options available and implementing your ERP of choice is a pain-staking but necessary process. Take a moment and read the whitepaper about how to perform an ERP cost benefit analysis; it's essential for calculating ERP cost savings that lead to success and growth.
No one understands the incredibly challenging task of upgrading a legacy system more than the team at Acumatica, powered and supported by the team at AWS.
Let us help you as you make this critical and forward-thinking decision. We want to assist in your business' growth as you look to the future. Contact us today and we'll start the process that will change your organization forever.