As a subcontractor, you're expected to capably manage complex construction scenarios, but you may struggle with knowing which technology systems are best in helping you to do so. With construction ERP software, such as Acumatica Construction Edition, you can be assured that you have the seven essential technology systems available to you in one complete solution.
Why does your subcontractor business need sophisticated construction accounting software, such as Acumatica Construction Edition? Your business has just as much complexity per square inch as the largest general contractor firms. The dollar figures on your invoices may be smaller than those of your counterparts but your business challenges aren't.
Even though you may specialize in one piece of the construction puzzle – electrical, HVAC, plumbing – you know that managing your different lines of business requires great attention to detail. You need to automatically exchange information with customers and suppliers, as well as easily upload spreadsheets. Plus, you need to be able do it in the field as a routine part of your complete construction management, project accounting and back office system.
Let's explore these challenges and then outline exactly what you should be looking for in a technology solution.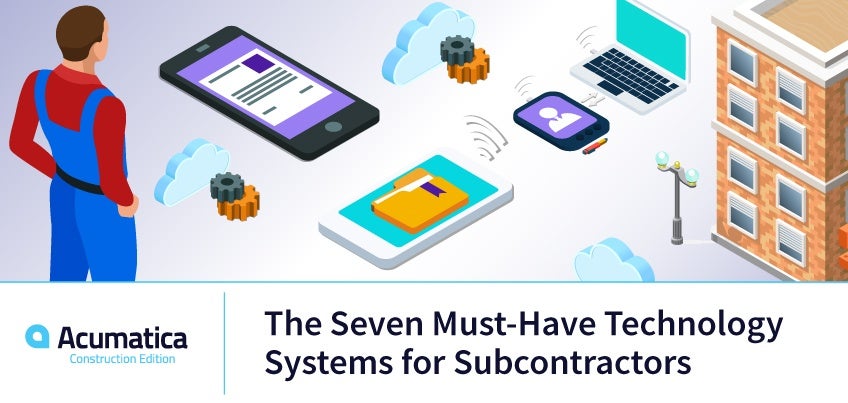 Subcontractors face big-business challenges
When general contractors bring you in for a specific phase of the construction process, they may assume that just because your scope of work is smaller than theirs, it will be easy for you to manage the business side of your tasks. Nothing could be further from the truth.
A recent ConstructionDIVE article points out, "[G]eneral contractors don't just delegate the responsibility of getting the work done when they engage subcontractors. They also pass on the burden of scheduling, securing the lines of credit necessary to supply materials and equipment, staffing the project and paying wages until they receive their first progress payment. For the biggest subcontractors, this could mean fronting millions of dollars in payroll and other expenses each month."
When you're first starting out, you can probably manage most of your back-office functions without using specific general contractor software. You'll get the basic accounting functionality you need using QuickBooks or legacy software and can fill in the gaps using the Microsoft Office suite.
But managing these same back-office functions when you begin to grow produces challenges. For example, what happens when:
you start offering specialty repair services or selling specialty replacement equipment and parts,
your increasingly sophisticated jobs require you to navigate ever more complex permitting processes,
you start adding a wide range of employees (some on a W2 basis and others on a 1099),
your cash flow and credit checks become difficult to manage,
and your enhanced reputation lets you move up the food chain to larger clients who demand highly specific – and highly aggressive – completion dates for their projects with the expectation of financial concessions in the event you fail to deliver?
That's when you'll know you've outgrown your QuickBooks or legacy construction management solution. Prepare now, not later, for successful, profitable growth by implementing the right construction ERP for your business.
The technology systems subcontractors need most
What does it take for a subcontractor to compete with the big boys and win? Here are seven technology elements we consider indispensable to running a complex construction business:
Construction management system: This will be your hub for managing subcontracts and your services. The right system can even help you simplify multiple bids by creating one estimate and managing individual bids to multiple general contractors. It will then automatically proceed with the winning contractor.
Consumer website: This will be your main customer-facing marketing tool for service customers.
CRM system: Here's where you'll manage bids, consumers, service cases, and so on.
Warranty management system: This system will make it easier to track the preventive maintenance services you provide.
Distribution system: Manage your inventory as it travels on trucks and sits at various job sites.
Field service system: Here's where you'll manage scheduling and routing.
Accounting system: Simplify the process of getting paid.
Any modern construction ERP system you consider should also be built to run just as well on mobile devices as it does on desktop or laptop computers. You'll be able to keep business processes moving forward as you travel from a supplier's office to your next job site.
With a mobile field system and mobile back office system in the palm of your hand, what can you accomplish for your business in 2018? Find out by exploring Acumatica Construction Edition, an end-to-end cloud business management system for general contractors, homebuilders, subcontractors, and land developers.