One of the best things about attending our annual cloud ERP Summits is the opportunity to visit different locations with eclectic food choices around the U.S. Acumatica Summit 2019 is in Houston, Texas, and we want to give you a list of tasty restaurants we think you'll want to check out.
Have you ever visited the largest city in Texas? If not, you'll be able to when you attend Acumatica Summit 2019. Our premier cloud ERP event (coming January 27-February 1, 2019) is heading to Houston. Your Summit experience will be enhanced by the many attractions and eateries the diverse city has to offer. Today, I'll focus on the top places to eat in Houston that are in close proximity to our venue, the Marriott Marquis Houston.
To learn more about the hotel, check out my post focused on the amenities of the Marriott Marquis Houston. To find out about the top Houston attractions, stay tuned for my upcoming post. And to attend Acumatica Summit 2019, register right now.

Top places to eat in Houston
Where are we going to eat? This is the inevitable question that pops up when you travel, and it can lead to a lengthy debate (if more than just yourself are involved). The good news is, I've done the legwork for you.
Following is a list of eight restaurants (five of which are right in the Marriott Marquis Houston) that you can check out when you register for, and attend, Acumatica Summit 2019. The restaurant descriptions will include whether they're open for breakfast, brunch, lunch, or dinner.
Keep in mind as you read the list that the conference food is both plentiful and top notch. Checking out Houston's local flavor, however, is a great idea.
1. Walker Street Kitchen – Look no further than your doorstep. This Marriott Marquis Houston restaurant offers up American-style breakfast, brunch, and dinner options sourced from local farmers. If you're wanting a fresh, seasonal meal (think Brisket Green Chilies, Shrimp & Grits, and Blackened Gulf Red Fish), you've found it.

Pictured: Walker Street Kitchen private dining option; brunch and dinner samples.
2. Biggio's – Open for lunch and dinner, Biggio's is the Marriott Marquis Houston's upscale sports bar. It has not one, but TWO, 30-foot tall multi-media screens for your sports-viewing pleasure. The bar is named after Craig Biggio, a Hall of Fame recipient from the Houston Astros. There's an impressive beer and beverage list along with signature dishes, such as Texas Wild Boar Bolognaise and Burnt End Tacos. This is the perfect place to unwind in-between or after your cloud ERP meetings.
3.  Ceuva – This "wine cave" boasts wine from around the world along with 12 local wines on tap. It's located in our hotel's lobby and provides Mediterranean tapas for a dinner-only option during the Summit. With over 200 wines to choose from, this may become your favorite after-event destination.
4. High Dive – Aptly named, this open-air restaurant sits next to the Infinity Pool and Lazy River. It's an American-style bar and grill with a view of the Houston skyline. The menu consists of casual lunch and dinner options, such as Brisket Burnt End Cobb Salad, High Dive Burger, and more. The more includes a variety of cocktails, beers, and wine you'll enjoy with the stunning view.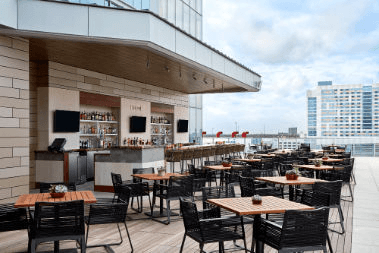 Pictured: High Dive
5. Xochi by Hugo Ortega – Hugo Ortega, the award-winning chef of this Oaxacan-inspired restaurant, has brought Mexican cuisine to a whole new level. From masas (with many types and colors of corn) to a variety of moles, and from chocolate made in-house to ribbons of cheese (quesillo), Xochi raises the standard for Mexican fare. Plus, they offer mezcals, tequilas, and Mexican craft beers. Also, grasshoppers. This may be a do-not miss-experience. Oh, and Xochi made GQ's Best New Restaurants in America, 2018 I think you'll want to see what it's all about. *Brunch, lunch, and dinner.
6. Around the Corner – If you think you'll need a coffee and a cocktail while learning about Acumatica's cloud ERP software, these two libations are available literally right around the corner in one bungalow-style restaurant. With a view of the Houston skyline, you can choose to have brunch or dinner in a relaxed, restored atmosphere.
7. Vic & Anthony's Steakhouse – This says it all: "Vic & Anthony's award-winning menu delivers impeccable cuisine and service for fine steakhouse dining." They feature USDA Prime Midwest grain-fed beef along with seafood and dessert, open for lunch and dinner. It was hard to count because the list was so long, but Vic & Anthony's Steakhouse has won at least 38 awards.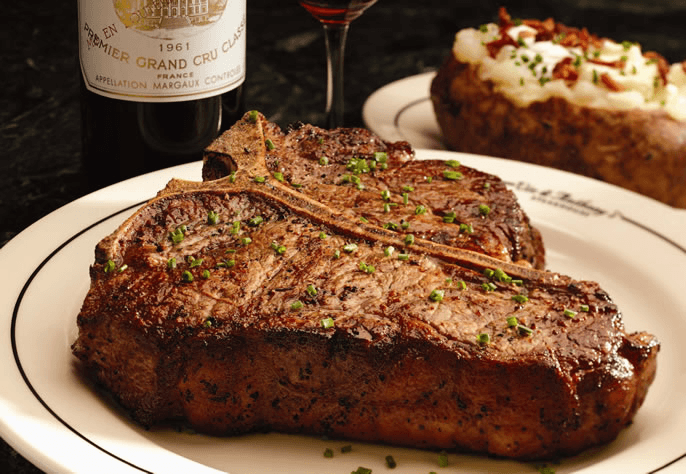 Pictured: What you can expect at Vic & Anthony's Steakhouse.
8. Huynh Restaurant – Some of the best Vietnamese food in Houston can be found at this family-run restaurant. They were voted the Best Vietnamese Restaurant by the Houston Press in 2010 and 2016 and made the Top 100 Houston Restaurants in 2012, 2013, 2014, 2015, 2106, and 2017. If fresh spring rolls, rice plates, noodle bowls (and more) sound good, then visit this popular spot for lunch or dinner.
As I mentioned earlier, these restaurants are either located in, or are very close to, the Acumatica Summit 2019 venue. If you're looking to try some of the local fare, these restaurants are a good place to start.
Learn more about cloud ERP (and sample the cuisine) in Houston
When you register for Acumatica Summit 2019, your time will be centered on our cloud ERP software training tracks, breakouts, live demonstrations, and more. You'll have the opportunity to visit with the Acumatica team and your industry peers face-to-face. Our customers –  both current and prospect – will have the chance to mingle with other customers, learning about their shared experiences with our cloud ERP software and making connections for the future.
Acumatica customer Tom Maricle, IT Director at CCS Presentation Systems, says networking (along with our in-depth training) is one of the reasons he attends our yearly Summits. "We really do want to talk to the leadership team and see where Acumatica is going. We also want a chance to meet some of the third-party providers as well as talk to a few other companies doing what we're doing."
Though your schedule will be filled with these events and with meeting your fellow cloud ERP Summit attendees, you will have some down time. I think you may want to spend some of it taking a bite out of Houston's top eateries.
Contact our team of experts if you have any questions about Acumatica Summit 2019 or about our disruptive cloud ERP solution. Our goal is to provide you with the business management system you need to accelerate your success in the cloud.