We can't help but highlight the variety of attractions Nashville, Tennessee has to offer our Acumatica Summit 2018 attendees. Why? Because we want our cloud ERP event of the year to fulfill your business management needs completely, which includes taking time for you.
Warning: if you're hungry, this may not be a good time to read this post! We're talking about some of the top places to eat during Acumatica Summit 2018, coming January 28-February 2, and these menus will tempt your taste buds. While we're going to feed you well at our premier, cloud ERP event, we're also urging our customers and partners to check out the local flavor and cuisine in Nashville.
Have you ever heard of Nashville's "hot chicken"? You're about to! And have you registered for the Summit yet? Now is the best time to register for the Summit – make sure you don't just hear about hot chicken but have the chance to taste it, as well.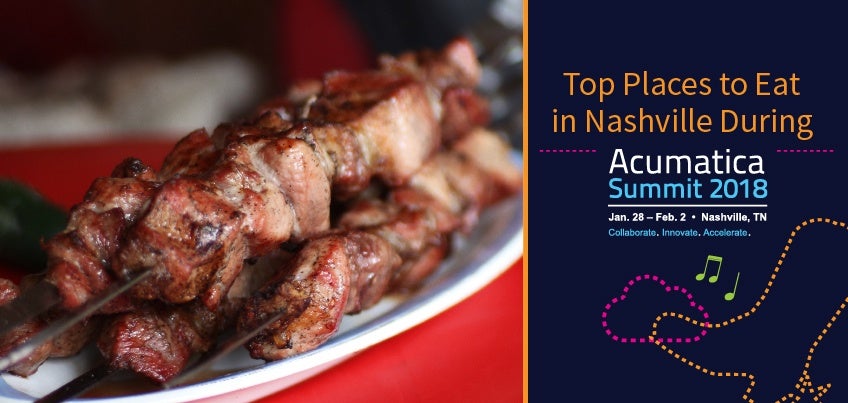 Top places to eat in Music City
In-between keynote sessions, trainings, networking, and visiting the Partner EXPO (among many other cloud software activities), Nashville's emerging food scene is waiting.
Let's dive right in to the list of restaurants cited as favorites by locals and visitors alike; they're found within walking distance from this year's venue, the Omni Nashville Hotel. In fact, a previous post, Acumatica Summit 2018 at the Omni Nashville Hotel, already introduced the first three restaurants on our list, all of which are conveniently located right inside the hotel.
All restaurant descriptions will include which meals they serve (breakfast, lunch, dinner) and we highly recommend you make advanced reservations – these places are popular!
Bob's Steak and Chop House – As we pointed out, this award-winning steakhouse is literally at your doorstep. Located in the Omni Nashville Hotel, this is the right place to savor a perfectly prepared prime steak, pork chop, or lamb dish. It also offers appetizers, salads, and seafood for every diner. Bob's makes every dish in house including their famous pickles and loaves of breads along with their desserts and sides. "Simple elegance, lively atmosphere, big drinks and fine wines" await those who venture in their doors. *Dinner only!
Kitchen Notes – Want to try amazing biscuits served daily at Nashville's famous biscuit bar? This is the place to do it! Kitchen Notes' serves their flavorful and varied biscuits all day long. The restaurants "farm-to-fork philosophy" should entice you to eat at least one meal during the Summit. Their high quality ingredients from local farms and businesses offer fresh and Southern-inspired options for breakfast, lunch, and dinner.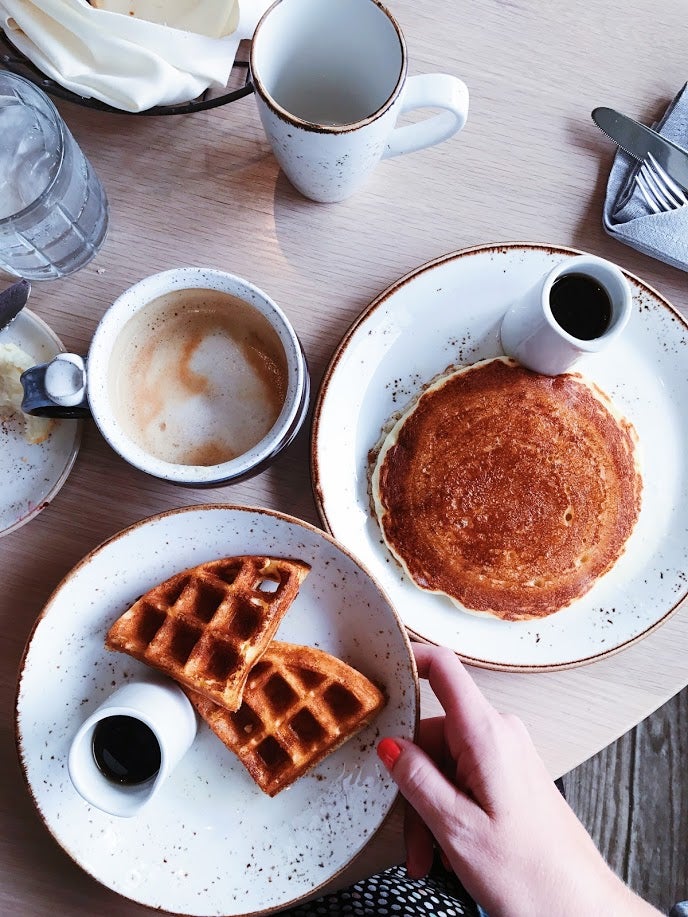 Pictured: Waffles, pancakes, and coffee at Kitchen Notes.
Barlines – A self-described "upscale honky-tonk", Barlines gives you live music seven days of the week right at the hotel. You can check out their event calendar during your stay to see what's on the entertainment agenda! It also prides itself on using locally produced foods to tempt their patrons with Southern-inspired dishes such as Southern Fried Pickles & Green Tomatoes to their Moonshine Burger. Honestly, the menu is packed with fabulous sounding entrees for lunch and dinner. And don't forget their Whiskey Trail Bar – actually, there's two full-service bars – serving "the region's most distinctive spirits." Check it out!
Pictured: A delicious salad at Barlines.
2/22 – By now, you've heard how the Omni Nashville Hotel is joined at the hip with the Country Music Hall of Fame and Museum. What you haven't heard is that there is lunch available at the museum itself from Monday through Saturday. 2/22 – like its sister restaurants at the Omni Nashville Hotel – favors local farmers and growers to fill their menu with "a metropolitan twist on Southern favorites."
Etch Restaurant – This highly rated lunch and dinner location boasts the skills of certified executive chef, Deb Paquette – the first woman in Tennessee to hold this title. She has been working and living in Nashville for over thirty years and is well-respected by the locals, which means you won't want to miss out on what they deem a great place to eat.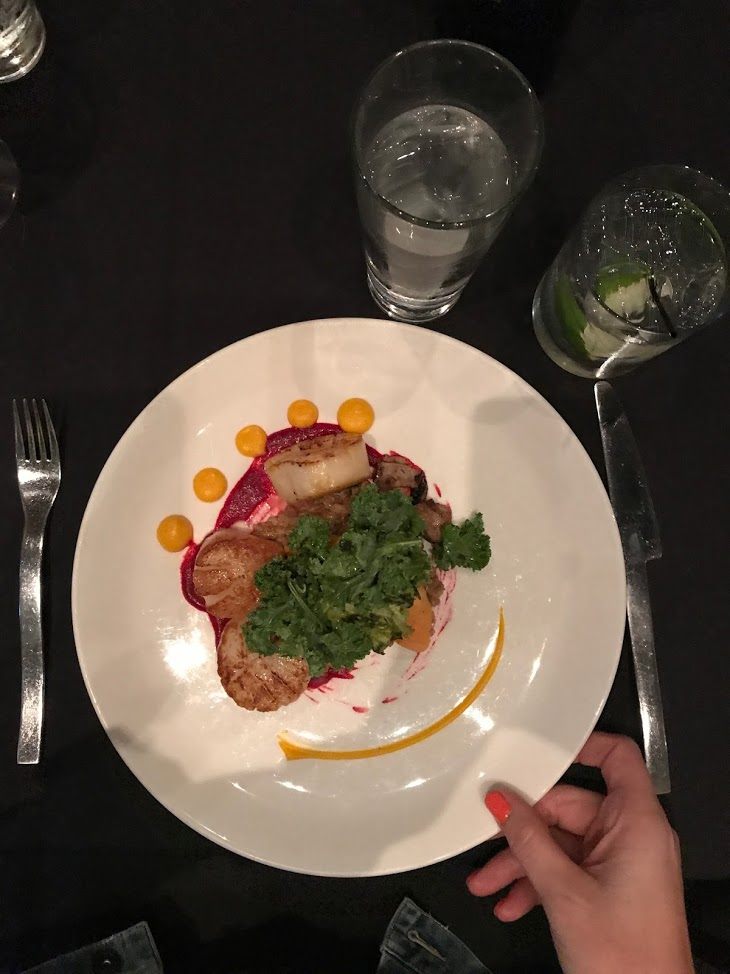 Pictured: The scallops entrée at Etch.
The Listening Room Cafe – This popular café provides brunch, lunch, dinner, and after-hour menus with live music nightly. They consider their bar food out of the ordinary and the acoustics top of the line. Fresh, local ingredients and a passion for music are a great combination that may need to go on your list of things to experience.
The Wildhorse Saloon – Do you want to let your hair down and put your dancing boots on after a productive day focused on Acumatica's complete ERP cloud solution? This is the place for you. With 66,000 square feet of event space, the Wildhorse Saloon has three floors of entertainment space. Free line dancing and famous performers (such as Lady Antebellum, Rascal Flatts, Etta James to name a few) are incentives to visit this unique destination. The menu is impressive, too – check it out for an amazing night of dinner and dancing.
There's so many restaurants to consider in Nashville, we just don't have the ability to suggest them all. However, you should consider taking the time to research which eateries might appeal to you during our cloud ERP Summit.
Are you hungry for cloud ERP success?
Just as our bodies require nourishment to operate properly, every business does, too. The nutrition businesses need can be found at Acumatica Summit 2018 in the form of face-time with our leadership teams, hands-on technical trainings, breakouts, live demonstrations and more with an emphasis on how Acumatica's cloud software helps your organization become mobile and adaptable with a real time and single view of your business processes.
Register now for the cloud ERP event of the year. Energize yourself with the amazing array of restaurants Nashville has to offer and energize your business with the cloud software nutrition Acumatica provides!
Speaking of proper nourishment, we don't want to forget about "hot chicken"! This is a Nashville staple of fried, breaded chicken coated heavily in spices, especially cayenne. More often than not, it's served with pickles and white bread. You can find it on the menus of more than a few of the restaurants listed above or try it at Nashville favorites: Edley's Bar-B-Que and Hattie B's Hot Chicken. Whatever you do, don't leave without trying it!