Though undergoing audits can be a challenge, the Modern CFO has some viable methods of increasing auditability. Acumatica's Bob Garofallou shares five of them today in the fourth post of our Modern CFO series. Check out the other posts on KPIs & reporting, planning for growth, and communicating financial information.
Auditors of financial statements dream of quick, easy, and uneventful audit engagements just as much as the Modern CFO does. Auditability depends on a business's financial recording policies and procedures, effective internal controls, and the willingness of a company's executives to provide its external auditors with requested data and information.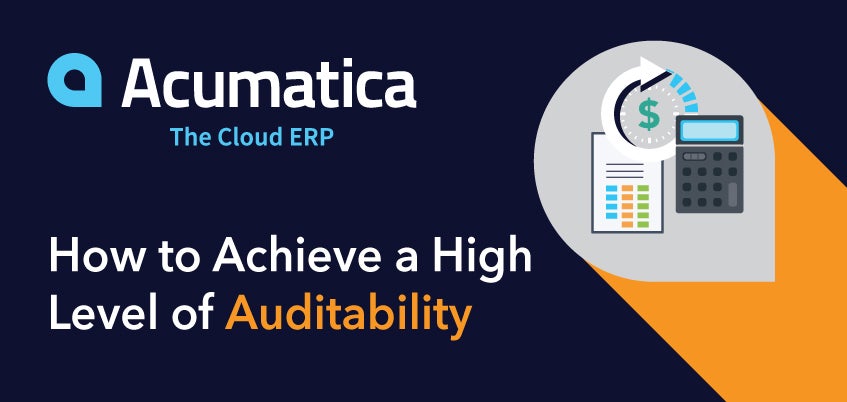 Increase your company's auditability
With continually evolving technology, the Modern CFO has encountered both new opportunities as well as challenges when faced with an impending audit. Here are five suggestions for increasing your company's auditability:
1. Invest in your ERP system
The first step in achieving a high-level of auditability is having a financial management system with financial records that are complete and organized. Keep your system up to date with regular technology and functional enhancements from your ERP provider. For many businesses, a modern cloud ERP system streamlines recording and organizing data, providing actionable information remotely, and allowing complete drilldown to the transactional level.
2. Automate routine manual tasks
One of the primary advantages of a modern ERP system is the ability to eliminate manual data entry with automation. Automation helps enforce approval authority, ensures regulatory compliance, and provides a complete audit trail of all transactions.
3. Partner with other executives
Audits affect most, if not all, divisions and departments of a company. CFOs need to be in dialogue with the heads of all your business's departments to facilitate the audit process. With an ERP in place at your company, a CFO can more readily share information with other departments using a common ERP platform rather than multiple systems for each department. ERP-aided auditing can provide substantial benefits, but it can also create an added layer of complexity that requires training for executives and employees who are not familiar with the technology.
4. Provide insightful forecasts
More and more, auditors expect CFOs to take responsibility of accurate forecasting and guidance. Modern financial software with financial reporting and business intelligence tools make it easier for CFOs to provide accurate forward-looking performance, as well as identifying the factors that cause them.
5. Manage risk effectively
The Modern CFO must be aware of and manage risk to the organization in many forms, not just financial risk or regulatory compliance, but also in how the operational aspects of the company are looking. This requires the ability to see across the enterprise at once and identify deficient areas that require attention early. Modern ERP systems with cloud-based financial management software that provide a real-time view of the company's performance are a vital tool for mitigating risk.
Modern ERP systems ease the audit burden
Audits are never easy. But cloud-based ERP systems and financial reporting tools can make the process faster and more accurate by automating repetitive tasks and ensuring compliance. This allows the Modern CFO and the financial staff more time to provide better insight into the company's operations and financial health.
Contact our team with any questions about Acumatica's cloud ERP software, financial management software, or to request a demonstration. Check out our Acumatica Financial Management edition and our Reporting, Dashboards, and Data Analysis Toolkit for further information.