Researching and evaluating your manufacturing ERP options? Acumatica's Whitepaper explores the importance of distinguishing between true cloud and fake cloud software before making your final decision.
Manufacturing companies looking to gain greater access to their data, integrate their processes, and increase customer satisfaction would do well to assess their  manufacturing ERP options based on their true or fake cloud qualifications. Acumatica's Whitepaper, True Cloud vs. Fake Cloud: How Manufacturing Companies Can Tell the Difference, explains what those qualifications are and dives into why they're so crucial to your success. We also have a manufacturing ERP evaluation checklist and a recent Whitepaper on understanding and navigating the current technological landscape that can further assist your research and evaluation process.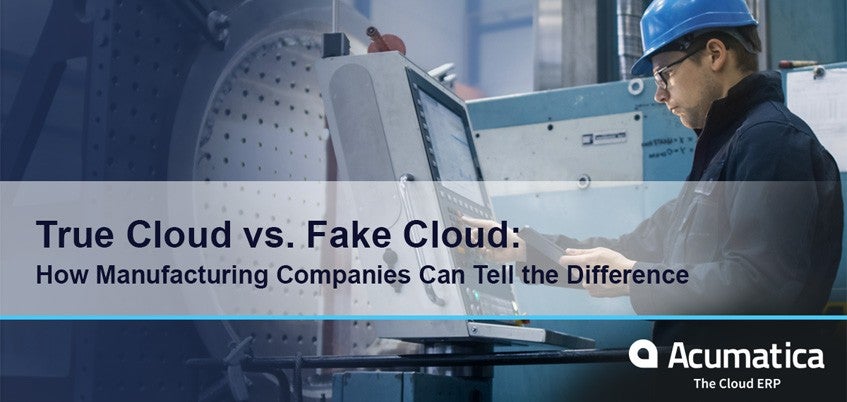 Identifying true cloud manufacturing ERP solutions
How can you tell if manufacturing ERP software is truly a cloud-based solution? Our comprehensive Whitepaper, which you can download for free right now, offers eight identification methods for you to use.
One method is asking, Does the manufacturing software provide full integration? If easily connecting the applications you're using right now into the new system isn't possible, then it's not a true cloud solution.
Here's one more: Security. This is crucial. The manufacturing ERP vendor you choose must be able to protect your data. As the Whitepaper states, "Your vendor must protect your data in a data center that meets the highest data and access security requirements. It should be a large, well-known facility that has the necessary resources for load balancing, backup and recovery, and security."
The six remaining ways to identify true cloud solutions are available in our true vs. fake manufacturing whitepaper. Additionally, the paper explores other aspects of cloud manufacturing software that you should be aware of, including:
Mobile devices have their limits. They can quickly seize "new business opportunities before your competitors do" and provide "speedy access to all the information" you need (e.g. latest order status, production, service, and accounting data), as well as drive security, speed, and personalization. What they don't do—on their own—is provide the ability to see this information in real time, a concern for remote staff, field service representatives, and employees working from home. The Whitepaper highlights what hinders mobile devices from providing this real-time visibility and how a cloud-based manufacturing ERP solves it.
Cloud solutions enhance manufacturing productivity. We disclose the four ways productivity increases. One of those four ways is by delivering powerful functionality with industry-specific features, including bill of material software, production planning and control, and more. Broad and deep functional requirements drive the technical foundation of software (e.g. building in document management, engineering the application for growth, and using Microsoft tools and AWS). You can't modify dated technology for true cloud capabilities.
Fake cloud software can't keep up with true cloud software. Legacy ERP vendors trying to keep up with emerging technology have adapted their manufacturing ERP software by hosting it on the internet. You'll find out the reasons why they don't work like true cloud manufacturing software.
Brewing company chooses Acumatica Manufacturing Edition, accelerates growth
"We were looking for a cloud-based solution that was able to handle the full financial and inventory capability we require," says Derek Szabo, the Managing Director at Devil's Peak Brewing Company (DPBC).
DPBC has been brewing American, Belgian, and English-style ales for their South African consumer base since 2012. Their focus is producing high-quality, exceptional beer backed by effort, craftsmanship, and passion. As they grew, so did their supply chain and their operating system requirements.
Their need for an end-to-end ERP system led them to Acumatica cloud ERP. DPBC implemented Acumatica Manufacturing Edition, fully integrating with Acumatica Financial Management, Customer Management, Distribution Edition, Field Services Edition, and Project Accounting.
They have felt fully supported by Acumatica and have confidence that Acumatica's cloud ERP software will scale with them as they add new regions and products. "I would definitely recommend Acumatica to other businesses. It covers the full ERP functionality, it integrates with other products well, and it's cost effective," Derek says.
You can hear Derek talk about DPBC's partnership with Acumatica in the video testimonial below.
DPBC's experience with true cloud manufacturing software is indicative of what you can experience if you select it for your business. In the Whitepaper, you'll learn how a cloud-based ERP for manufacturing can make your life easier and how choosing a fake cloud solution can be detrimental to the success of your manufacturing business. At Acumatica, we want to ensure that you have the facts before you make your cloud manufacturing ERP software choice and consider Acumatica Manufacturing Edition a viable, true cloud option.
Acumatica Manufacturing Edition seamlessly integrates your manufacturing, inventory management, and accounting processes. It's a complete, adaptable, and flexible manufacturing control and planning system and can give you real-time access to every facet of your business.
Contact our experts for a demonstration of Acumatica Manufacturing Edition today and see how our true cloud technology drives a competitive business.