With Acumatica Summit 2020 drawing ever closer, Acumatica's Digital Marketing Director says it's never too early to start planning. Not sure where to start? She's got you covered.
I'm so excited that Acumatica Summit 2020 is taking place in Las Vegas, Nevada at the luxurious Cosmopolitan of Las Vegas, January 26-31, 2020. In fact, I'm so excited for you to experience our spectacular venue that I created an Attendee's Guide highlighting the many things to do in or around the hotel during your free time. And since I'm on a roll, I decided to revamp my prep-and-pack list from last year's Summit to help you get ready for what I consider the best cloud ERP event out there.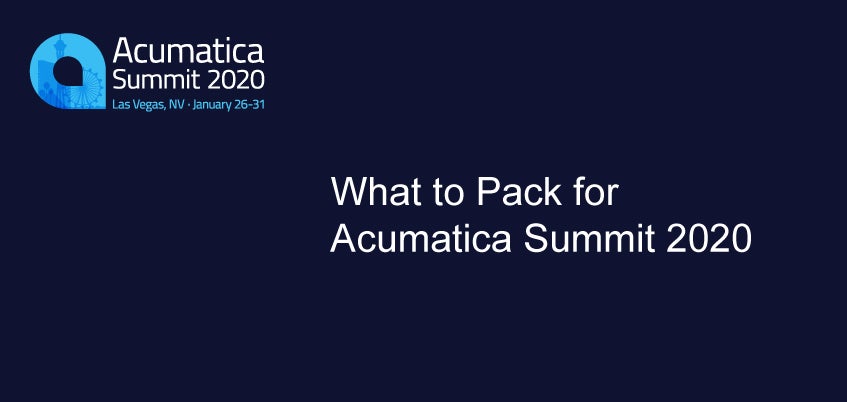 The only prep-and-pack list you'll need for Acumatica Summit 2020
Obviously, Las Vegas in January isn't the same as Las Vegas in July. According to Weather Atlas, the sun is still very much in attendance but the average high temperature in January is 58°F with an average low of 39.4°F.
With this in mind, I've kept many of the basics from last year's list and added a few items specific to our new location.
Comfortable shoes: For women, bring both pumps and flats; our venue, the Cosmopolitan of Las Vegas, is a veritable city, and you'll want to be able to check it out in comfort. And for men, think about professional but comfortable shoes that will work while you're attending a meeting or enjoying the sights.
Business casual clothing (with a few exceptions): Like last year's Summit, Acumatica Summit 2020 is a business casual event. Presenters will want to consider choosing darker-hued bottoms (e.g. navy, black, or gray) as they're less distracting. Remember to hang your clothes (I recommend at least eight hours of hanging) when you arrive at the hotel or ask the hotel to iron your clothes (with advance notice).
Our Monday night Attendee Celebration Party is taking place at Hakkasan in the MGM Grand, a very popular, high energy nightclub with inspired design immersed in several levels of refined decadence. Their dress code is "upscale fashionable attire"; they do not permit hats, sandals, sneakers, hard-soled shoes and boots, ripped or baggy clothing and athletic wear.
And remember to include a few dressier pieces for such things as client dinners.

Branded shirt or polo: Acumatica shirts and/or polos shirts from the Acumatica eStore will be worn by the Acumatica team during this year's event. This is also a great idea for you to consider, especially if you haven't seen the community in a while or are new to it.
Electronics: Laptop, chargers
Travel coffee mug
Phone & charger
Business cards
Water bottle
Reading glasses
Notebook and training prep work
1 Suit skirt/slacks and jacket
1 Pair of jeans
1 Cardigan/blazer (speaker)
1 Light jacket or scarf for the cooler evenings
1 Dressier outfit for Monday Night Attendee Celebration Party
1 Workout outfit (yoga/fun run)
1 Swimsuit
1 Sleep outfit
1 Pair of sneaker tennis shoes
1 Pair of loafers or business-appropriate shoes
1 Pair of flats and 1 pair of heels (speaker)
1, 2, or 3 dress shirts (one shirt for the number of nights I'm gone)

A few more things
Packing list done, it's time to turn our attention to a few things you can do prior to and after Acumatica Summit 2020.
Every Summit you attend provides an opportunity to grow your business, from the cloud ERP software training you receive to the connections you make. To take advantage of these benefits, here's a quick list of things to do:
Prior to the event, make a list of attendees you want to connect with by downloading our mobile app and start networking, review the Acumatica Summit 2020 agenda and decide which training and sessions you need, and make a plan for communicating with your team members who won't be attending (e.g. have them check Twitter for Acumatica's tweets during the event, #AcumaticaSummit).
After the event, reach out to the people you connected with during Acumatica Summit 2020, schedule a meeting with your team and go over the practical and educational insights from our cloud ERP event, and complete your certification requirements.
I've found that preparing in advance is the best way to get an impressive ROI, and it's never too soon to start. I hope my packing list and my things to do before and after Acumatica Summit 2020 make doing it easy and stress free.
Not registered? Do it today!
If you have any questions, our Summit planning team is happy to help. Plus, check out our Acumatica Summit 2020 Activities page for more fun activities we have planned.
Finally, if you have questions about, or would like to schedule a demonstration of, Acumatica's cloud-based ERP solution, contact our experts at any time.