The process of selecting the perfect manufacturing ERP software to fit your business can be either a stressful or a calm endeavor – but it's up to you. The Aberdeen Group's latest Whitepaper breaks down the steps to take to easily choose the right ERP solution for your manufacturing business; all you have to do is check it out, follow the steps, and watch your business grow.
If you're a manufacturing business looking to implement an ERP solution, I have good news and bad news: there are a lot of ERP solutions on the market.
Why is this both good and bad? While it's always beneficial to have multiple options to choose from, it's often overwhelming to sift through them all…especially when not all cloud manufacturing ERPs are created equal. However, the Aberdeen Group has put out a Whitepaper that can help reduce the stress of choosing the best manufacturing ERP software for your business.
You can download Aberdeen's free report on manufacturing ERP software, "What Do Manufacturers Look for in an ERP?", for yourself.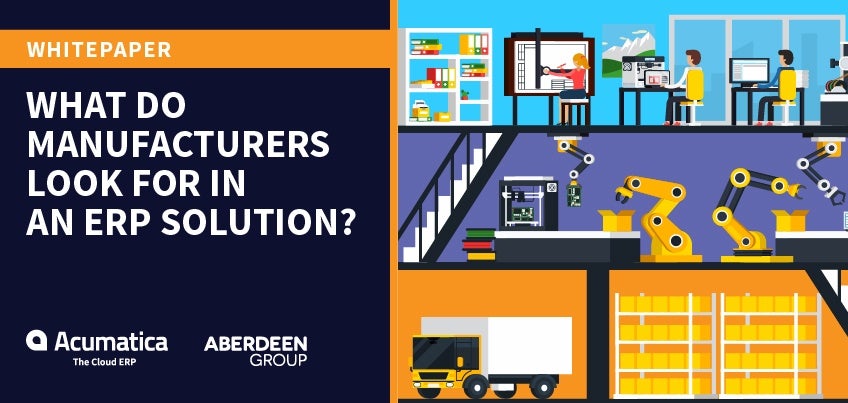 What to look for in manufacturing ERP software
"ERP represents a serious investment for any organization, but is absolutely vital to success in manufacturing. The ERP selection process should be regarded as a top priority, with appropriate time and resources devoted to it," writes the Whitepaper author Nick Castellina, Vice President and Research Group Director, Business Planning and Execution at the Aberdeen Group.
Castellina polled 130 manufacturers to find out what criteria they used in selecting their ERP solution. Ease of use easily topped the chart with 50% of the respondents citing it as their first condition for their MRP (Material Requirements Planning) ERP with Functionality coming in a close second at 46%. This is understandable: no matter how functional your ERP solution is – i.e. supports your business processes and does what it says it will do – it's only as good as the people who use it. And if those people (your employees) can't figure it out easily, your return on investment (ROI) plummets.
And as with any investment, the total cost of ownership is a necessary component. This factor, however, came in third at 43%. Castellina points out "it is wise to care more about the functionality and ease of use in an ERP solution than its impact on your wallet." This does not eliminate the need for manufacturers to consider cost, however, including evaluating the cloud manufacturing features necessary for their organization and those that are not. He suggests month-to-month payments for Software as a Service (Saas) ERP solution may be the way to go.
Choosing the perfect manufacturing ERP software
The report from Aberdeen on what manufacturers look for in an ERP solution notes that fully integrated suites and customization – such as Acumatica provides – come in to play when choosing the best cloud manufacturing system for your business. Leading manufacturers also understand the importance of industry-specific options within their ERP choice, choosing the one that best supports their objectives. "With business objectives clearly in mind, organizations can find the appropriate functionality and features among the myriad of ERP solution options," Castellina writes.
Given these points, here are the four steps the Whitepaper lays out for manufacturers as they select the perfect manufacturing ERP software solution:
Develop a clear plan prior to selection
Value functionality and ease of use over cost
Get input from all levels of the organization
Align ERP with your goals and industry
You can download the full manufacturing ERP software report; it goes into detail about these steps and their effect on the efficiency and smoothness of the MRP ERP selection process.
Manufacturing ERP software success
Acumatica's complete, multi-site cloud manufacturing management system integrates all of your business processes from production planning to the shop floor. We are determined to offer our customers a manufacturing ERP software system that fits their specific needs, understanding that every organization has unique requirements; your cloud manufacturing system needs to be adaptable, powerful, and responsive.
If our mindset meshes with yours, contact our team so that we can set your manufacturing business on the road to success with manufacturing ERP software that works for you.