All retailers, regardless of size, should contemplate retail ERP as the solution for increasing efficiency and customer satisfaction. Improving your front-end experience by integrating your back office systems through a retail management program should be a priority for every business desiring growth.
If you're a retailer, you know that ecommerce trends change rapidly. You've probably either considered or researched the idea of purchasing retail ERP as a way to streamline your operations and to remain competitive in this evolving industry. Managing inventory, the pick-pack-ship process, returns, accounting and ecommerce orders from one dashboard in mobile format – as you can do with Acumatica Commerce Edition – is another incentive for retailers of all sizes to look closely at revamping their retail management program.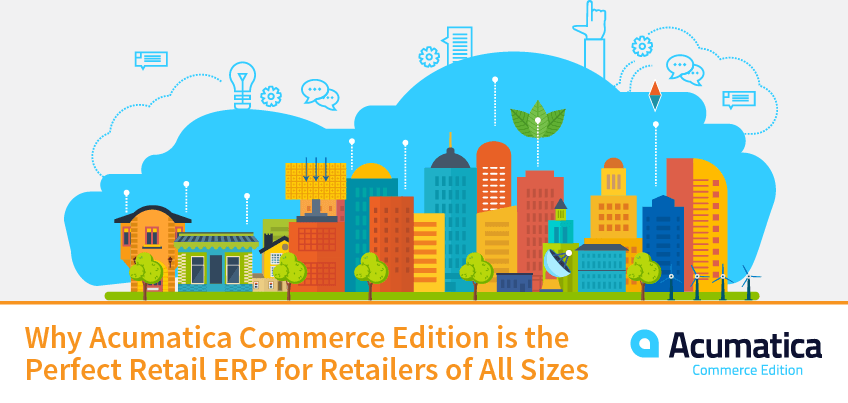 This restructuring of your retail management program is no small order. We understand how important choosing the right retail accounting software is to successfully growing your business. In fact, we have provided a  free Commerce Business Management Checklist for you to use as you consider improving your retail business through an integrated ERP system.
Retailers + retail ERP = success
The upcoming IRCE 2017 conference (June 6 – 9 in Chicago) is an impressive networking venue for investigating your retail ERP options, visiting with industry experts, and listening to retail leaders discuss online commerce strategies from trends in the market to SEO strategies (here you can request technical SEO audit). We are excited to attend IRCE (Internet Retailer Conference & Exhibition) with our preferred ecommerce partner, Kensium Solutions, who integrates our cloud ERP with Magento, the leading ecommerce platform provider; we look forward to showcasing Acumatica Commerce Edition, its benefits, and discussing what implementing a cloud-based retail ERP entails. Come see our team at Booth 229 to learn more at IRCE.
Acumatica Commerce Edition checks all the boxes you would desire for an effective and successful retail management program in productivity, functionality, technology, value, and risk. But it's easy for us to say that we rank the highest in retail ERP and retail accounting software options. We'd like one of our clients to speak on why Acumatica Commerce Edition is perfect for them.
Manufacturing company cites great benefits from choosing Acumatica Commerce Edition
Ray Allen Manufacturing chose Acumatica because, as President Steve Cates says, "We wanted something with a robust foundation; something that would allow us to expand rather than limit us."
The company produces canine training equipment for law enforcement, military, homeland security, and professional security organizations. Through 70 years of operation, the company has bought out a competitor in the business, acquired another company that produces dog agility and obedience competition products, and now runs Ray Allen B2B (an online business that works with larger institutions in the same industry).
The complex nature of their business and its skyrocketing growth resulted in the need for retail accounting software and a retail management program that could streamline operations, easily manage inventory levels, improve customer service, and provide operational insights for future decisions and growth. Acumatica's Commerce Edition met these needs, and more.
"I quickly realized Acumatica's open platform was well-aligned with our company's goals," Cates says. "The strength of Acumatica is that it's an open system that's flexible and integrates well with other applications. That gives us a lot of control to run our business the way we want."
There is a lot more to the Ray Allen Manufacturing story and their successful experience with Acumatica. Take a moment to read about successful ERP implementation and watch the customer video testimonial below.
Is Acumatica Commerce Edition perfect for you?
We believe our retail accounting software is ideal for any size retailer needing a complete ecommerce ERP solution that integrates fully with financials, sales, inventory, CRM, and fulfillment systems. A retail management program that helps your business automate everything from your inventory to order and fulfillment to returns and exchanges – as well as providing a multi-channel shopping experience from a single dashboard – is essential for customer satisfaction and growth.
We would love to chat with you about Acumatica Commerce Edition at IRCE 2017. If you're not attending, then contact us directly and we'll be happy to go over the benefits and details of our retail ERP with you at any time.