Acumatica customer Dan Wilkins, president of Bell and Co., takes time out of his busy schedule to share about his Acumatica experience with us. He also shares why he's excited for Acumatica Summit 2018 (and 2019, 2020, and on), explaining that our Summits will play a big part in his long-term business plan.
At Acumatica, we define our success by how well our customers succeed. Read what Acumatica CEO Jon Roskill had to say about this at last year's Summit: "It's all about accelerating the end customer's solution. That's what we're all here to do – to serve those end customers and deliver great business solutions that accelerate their business."
His declaration underscores everything we do at Acumatica, including how we plan our annual Summit. Acumatica Summit 2018 is on track to be our best yet, and we're putting our customers' needs – along with those of our Partners and Developers – on center stage. I urge you to register soon so you don't miss one second of our educational and entertaining cloud ERP event!
Today, I'll share my conversation with Dan Wilkins, president of Bell and Co. This is my second post in a series based on some of our valued customers' reasons for returning to our Summit year after year. You can also check out our first post on customer Sono Bello.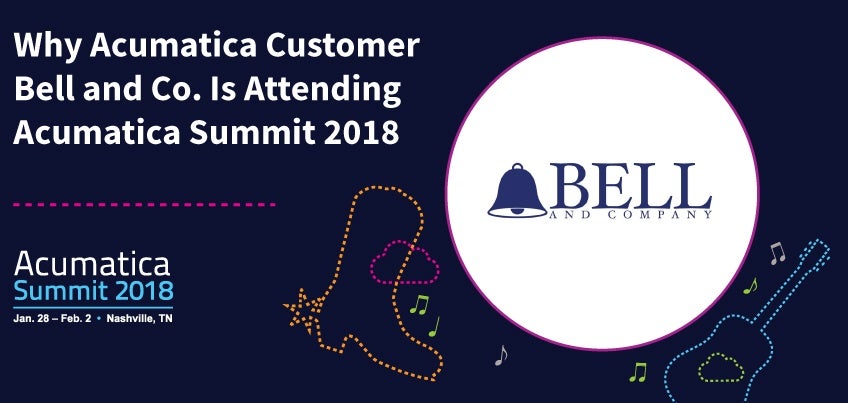 Acumatica's functionality and customer support wins Bell and Co. over
Founded in 1955, Bell and Co. is located in Mobile, Alabama and is a wholesale distributor of industrial and marine supplies. The distribution company used a paper-based financial system before going with QuickBooks in 2008. Fast forward to 2015 when Dan says he realized they needed more functionality from their business software. He researched SAP, Infor, and NetSuite, to name a few, but then he found Acumatica.
"After maybe the second demo, it looked like [Acumatica] was geared towards our type of business. We cut over live on January 1, 2017 and are still finishing the implementation," Dan says. "Everything's going well, it's just a few financial and bookkeeping type things I'm finishing up, but I've enjoyed the software. I'm excited about the functionality it gives us and we haven't utilized it all yet."
Throughout his implementation, Dan has appreciated the major customer support Acumatica provides. He says his Acumatica Partner, Accounting Systems, Inc. (ASI), has been readily available to answer his questions, but he also utilizes Acumatica's supplemental help in the form of our Premier Customer Support program.
"One thing I thought was really helpful was the Premier Support. If I run into little things, I can create a ticket online and sometimes it can be as easy as a one-sentence reply to that ticket that gets me over the hump and keeps me on track," he explains. "It's such a tremendous help to have that access. I don't know if other vendors allow or let customers have that type of access. It's really helped speed up the process for me to learn the software and for getting it up and running the way we want."
In addition to the increased functionality and the amazing access, Dan points out how helpful Acumatica's Genericl Inquiries feature has been. "I have really used that to create inquiries that are getting the right information for us because every business's work flow is different. I'm not a programmer but being able to create the Generic Inquiries that are specific to us with the data we want has been one of the most helpful things of the software."
Bell and Co.'s full case study is available if you'd like to read more about their Acumatica experience.
Product announcements, full access, and insight at Acumatica Summit 2018
Dan is looking forward to Acumatica Summit 2018 for several reasons, one of which is the cloud ERP training. He describes the training tracks as "really good" and an important aspect of why he plans to return in the future.
He also plans to attend the sales session because he's "anxious to hear what's coming in the future." It's important to note that everything we do to improve our products and platform is influenced by our customers' feedback and experience.
Another reason Dan is anticipating his time at Acumatica Summit 2018 is the incredible level of access he says attendees have to every member of the Acumatica team. He says the members of Acumatica's leadership, marketing, sales, engineering, and training teams were all readily available and willing to answer questions.
In fact, Dan came armed with some important questions when he attended last year's Summit. He was only three weeks into his ERP implementation at that point and he says, "It was still quite a learning curve for me. I was able to talk to engineers and actually gain a lot of insight. I came up with some plans for the roadblocks I was running into and was able to solve them. I'm looking forward to that this year."
Dan also says he was able to meet and talk with other customers in his industry. "It was interesting and insightful to see how other people are using Acumatica for the same goals you're trying to accomplish."
Ultimately, his first Summit experience convinced him to attend every year.
Acumatica Summit 2018 – dedicated to cloud ERP and fun
Being from the South, Dan has visited this year's Summit location, Nashville, Tennessee. Its music history, vast array of activities, and amazing eateries make it a perfect place to hold our cloud ERP event. However, he has a suggestion: "Maybe next year it could be in the Virgin Islands!"
Humor aside, Dan says, "It's good to be able to go to a destination – wherever it may be – and not be at work, not having any distractions. I can just take a week and dedicate that to learning more about Acumatica and what it can do for us here."
Register for Acumatica Summit 2018 – coming January 28-February 2, 2018 – and set time aside for focused cloud ERP learning, community development, and fun. It's going to be a fantastic event!