The knowledge that we live in a multicloud world is vital for your business growth. Businesses that embrace one main ERP platform (and one that easily integrates into other Cloud environments) set themselves up for success. Here at Acumatica, we understand that your success is linked to keeping abreast of advances in your industry. Let us help you navigate this constantly morphing landscape by inviting you to our exclusive event: Acumatica Summit 2017.
Because we want all our partners and customers to attend, I'd like to introduce you to Adam Rosenbaum, the Director of Information Services at Acumatica customer CASE. He and his team attended the Summit in 2016, and he was gracious enough to have a conversation with me about his experience at the Summit. His insights may encourage your participation in this exciting and informative event.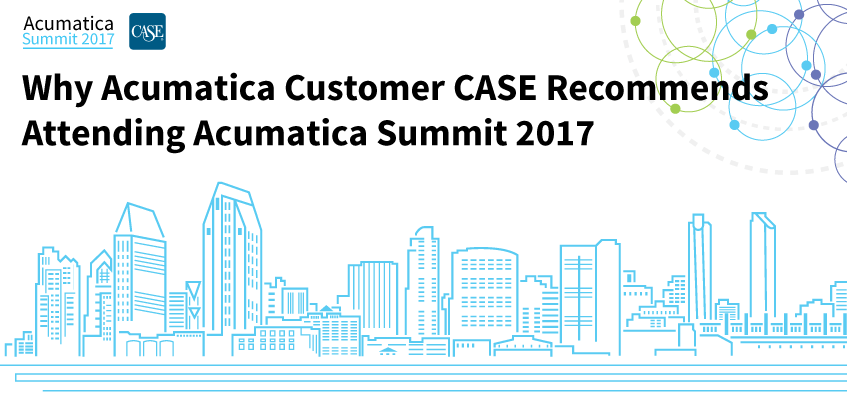 But before we jump into his Summit revelations, let me tell you a little about Adam, CASE, and why Acumatica is the Cloud ERP platform they use. CASE was recently featured in one of our case studies, Acumatica streamlines international non-profit's financial data management.
Acumatica's contribution to CASE's continuing success
The Council for Advancement and Support of Education (CASE) is a nonprofit organization that, as Adam explains, "makes the business of education possible". Created in 1974, CASE "helps its members build stronger relationships with their alumni and donors, raise funds for campus projects, produce recruitment materials, market their institutions to prospective students, diversify the profession, and foster public support of education."
CASE headquarters are located in Washington, D.C., with offices in London, Singapore, and Mexico City. They serve over 3,670 educational institutions, corporate sponsors, and nonprofit organizations in more than 82 countries around the world.
Before Acumatica, CASE had trouble merging their world order. The D.C. office assisted the other offices with their software, but due to running on disparate systems – such as Solomon, QuickBooks, and QuickBooks EU – they experienced difficulties consolidating their reports.
Thanks to Acumatica, the consolidation problem disappeared. Three years ago, CASE went live with Acumatica, and with this launch, the need to run back up files and import those files became obsolete. Immediately, the need to construct a workable spreadsheet from those same files, which would confirm that everyone received accurate information, was unnecessary. They now close out their months within days – versus weeks. All reports are available, as Adam says, with a "click of a button".
The Case for attending Acumatica Summit 2017
Adam explained that nonprofits have a unique mindset. In general (and education-based ones in particular), they are "risk-averse", particularly when it comes to improving technology. After the initial successful integration of Acumatica's cloud-based ERP platform into all CASE offices, the next step for Adam was to keep the upgrades going and ensure his team benefited from the latest version of Acumatica.  
With the idea of heightening excitement for the upgrade as well as providing additional training, Adam and his team attended Acumatica Summit 2016. While there, they got the training they needed and networked with Acumatica employees, partners, and customers, including various other not-for-profit Acumatica users.
Adam shared that another big benefit of attending the Summit was meeting Acumatica's support team members, who work directly with any needs he has at CASE. His face-to-face encounters cemented their already positive working relationship.
Adam considers his experience at the Summit very successful.
"I recommend the event. There seemed to be a good vibe at the Summit. I'm assuming a part of it is Jon Roskill, the CEO, and part of it is that people see the potential for growth and opportunity for Acumatica's Cloud ERP platform."
Join us at Acumatica Summit 2017
The Summit is an opportunity for you to learn more about our ERP platform, as well as how to utilize every aspect of our products and solutions. You and your team will get product certifications and collaborate on accelerating success in the Cloud. We have 17 training sessions with courses ranging from Customization Platform to Sales Methodology. See here for more course information.
As a partner or customer of Acumatica, we want to help you accelerate your business, keep up with constant technological advances in our multi-cloud world, and utilize Acumatica fully with your success in mind. Please register for Acumatica Summit 2017. We would love to see you!