Continual cloud ERP training is crucial for keeping on top of changing market conditions and organizational needs, not to mention keeping you current on innovations to your cloud ERP platform. Acumatica Customer Sono Bello's Brian Pflugrad shares why attending Acumatica Summit 2018 offers him continuing education on everything Acumatica's cloud ERP solution has to offer his organization.
When you think of Acumatica Summit 2018, you may think of cloud ERP products and solutions, major networking opportunities, copious breakout sessions and training tracks led by industry experts, amazing speakers, and even great entertainment. All of this, and more, are why Brian Pflugrad is attending the upcoming Summit. Brian is a Business Analyst at Sono Bello, the largest cosmetic surgery group practice in the U.S., and his thoughts about Acumatica Summit 2018 are centered on how attending helps him learn more about streamlining his business management processes.
As the first post in a series focusing on our valued Customers attending Acumatica Summit 2018, I had a chance to speak with him about his experience with Acumatica and why he's looking forward to our premier cloud ERP event.
If you're an Acumatica Customer like Brian (or a Partner or Developer) and you haven't yet registered, now is the time!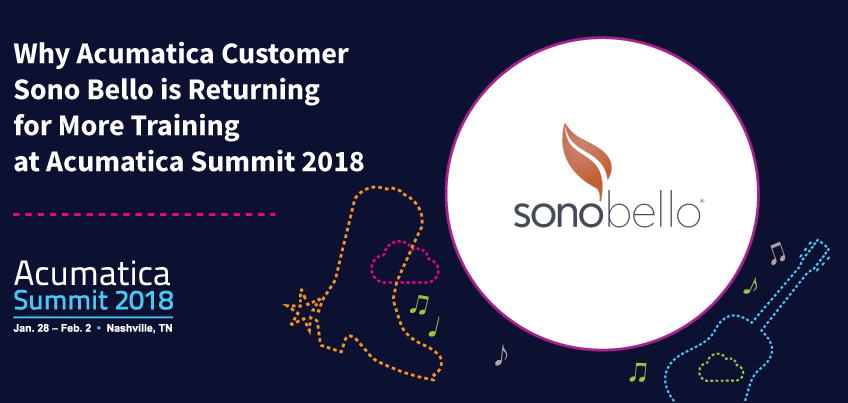 Why Sono Bello chose Acumatica
According to Brian, Sono Bello is an umbrella company with several taxable entities across the United States. With these multiple entities needing to be integrated, their accounting software system they had in place wasn't working.
"We were on QuickBooks and it wasn't really good at handling that type of situation. We ended up with multiple company files and doing this song and dance to get things in-between," Brian says.
Their search for cloud-based accounting software first led them to NetSuite. They quickly realized NetSuite wasn't a good fit as it did not offer a HIPAA compliant solution. Brian then contacted Synergy Business Solutions for assistance. As an Acumatica Value Added Reseller (VAR), they pointed Brian and Sono Bello to Acumatica's true cloud ERP platform.
Before making the decision to go with Acumatica, Brian says they did their due diligence; they requested Acumatica references, visited Acumatica's corporate offices in Bellevue, and met with some of the team including CEO Jon Roskill, who Brian describes as "charismatic."
Ultimately, they chose Acumatica. "We decided to select Acumatica because of the low price point and the opportunity for customization," he says. "I've been pretty impressed with the wide distribution of Acumatica – it's used in so many countries."
Attending Acumatica Summit 2018
This will be Brian's second year attending our annual cloud ERP event. For him, the draw to attend both last year in San Diego and this year in Nashville, Tennessee is our excellent training and certification courses. Between the cost-effectiveness of just paying for the training sessions and desiring the additional training he would get on Acumatica's platform and products, it was a win-win situation.
"I went to the Summit last year because we were considering that we have a lot of custom business rules, needs, forms, data collection, reporting and so on, so I took the T200 Framework training last year. It was very informative, and I really like the model that Acumatica has set up – you can really do a lot with it," he says.
"I'm going to Acumatica Summit 2018 this year to take the T300 Customization training – it's a continuation of my personal training on this system and hopefully I can add some additional things to the system just for our purposes. I'd like to keep the Accounting team able to do almost everything they need to do within Acumatica."
Brian considered the instructors from last year to be "really good", especially in terms of handling the skill levels in the class, which ranged from minimal programming experience all the way to those who had a lot – like him. "They [the instructors] were very responsive and made sure everyone was keeping up with everything."
And keeping up is essential for getting the most out of the classes; three days of intense training provides mass cloud ERP knowledge to assimilate and documentation to keep track of.
Regarding his Acumatica experience, he says, "My key takeaway about Acumatica's software is that being able to do imports to almost any screen is a really great feature. I'm really looking forward to the upcoming RESTful interfaces. It will be a great benefit for us. We'll be able to attach other processes to it and eliminate some waste."
Acumatica Summit 2018: cloud ERP mecca
Whether you've just started your cloud ERP journey or are continuing it, Acumatica Summit 2018 is the event where you can find everything you need to know about cloud ERP in one place at one time. It offers you the chance to meet our leadership teams in person, grow your cloud ERP community, receive training certification, and so much more.
The "more" includes an abundance of activities in the Music City for you to check out and delicious Southern food to tempt your taste buds. Register for Acumatica Summit 2018 today and expect, like Brian, that returning for the training (and the "more") will be on your agenda for next year… and the year after that.
My next post on another one of our Customers attending Acumatica Summit 2018 is in the works, and I hope you'll check in to see what they have to say. More importantly, I hope to see you at the Summit!