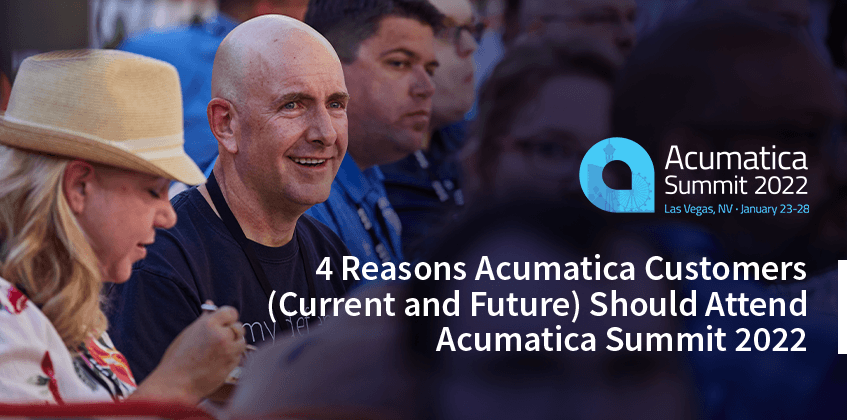 After our hugely successful Summit in July, the Acumatica event team jumped right into the planning for Acumatica Summit 2022, coming January 23 – 28, 2022 at the Wynn Las Vegas. We're excited to get the community back together again so soon, and we want to encourage everyone to sign up for our annual cloud ERP event before our early bird pricing ends on December 17, 2021.
Today, we're focusing on the top four reasons (reasons validated by Acumatica Summit 2021 attendees) current and future customers should attend.
Why Customers Should Attend Acumatica Summit 2022
In a recent post, Acumatica's Sean Chatterjee, VP Partner Sales, explains that Acumatica's success is dependent on the success of our customers. Customer success, he notes, revolves around connection and digital transformation—two things our Summit supplies.
Sean writes, "Our annual cloud ERP Summit is by far the best way to interact in person with members of the Acumatica ecosystem. Every year, partners, customers, developers, and industry analysts intermingle during keynotes, general sessions, breakout sessions, training courses, and social activities.
He also writes, "Strengthening relationships in person, when possible, is essential for growing a connected business's success."
Connection is the first reason customers should attend Acumatica Summit 2022.
1. Make face-to-face connections
Though the pandemic stunted our ability to meet face-to-face, the stringent measures taken by our venue (check out the Wynn's extensive Health & Safety Plan) and the high rates of vaccination across the country have given us back the opportunity to be together again. Over 2,500 attendees—a mixture of customers, developers, partners, industry analysts, and Acumatica team members—enjoyed getting away from the office and mingling with like-minded individuals during Acumatica Summit 2021 and are looking forward to doing it all over again during Acumatica Summit 2022.
Shel Waggener, President, American Asphalt, says, "I'm thrilled not to be stuck in my house and my office anymore. That's why I'm here at Acumatica is to meet other people like me who want to see things change and move forward and not do it over a Zoom camera."
Ellen Langlois, IT Manager, Enterprise Applications, agrees. "The Summit has given us a lot of opportunity to talk to various different , different vendors…just exposure to what's going on in the ecosystem. It's been extremely informative, very educational, and a great networking opportunity."
2. Meet the Acumatica team
A product or service often stands on its own merits but knowing who stands behind the product or service (and why) is a huge endorsement. Developers proud of their work are eager and willing to talk about it and educate users on how to get the most value out of their application. Partners that sell it and the partners that provide third-party applications for Acumatica's cloud ERP software are excited to share why they chose to champion Acumatica's innovative, exciting cloud ERP software.
Says Scott Lyons, CFO, Alpha, "[My] team gets to see the developers and the people who go into the product that they're using on a regular basis. Plus, you get to meet partners and VARs that offer products, which really can help in regards to the implementation you have with Acumatica and how to make it more successful."
3. Leverage Acumatica Cloud ERP
No matter how well a business leverages a cloud ERP solution, there are depths to the solution yet to be discovered. The Summit is the place where customers can dive into Acumatica's comprehensive solution while gathering advice and real-life examples from other customers.
Spohn CFO Sean Barnett says, "Attending Summit's great for meeting new people, getting new ideas, finding out what you don't know about the software, just finding out something new that it will do. And especially all the new stuff coming out. Really excited about that."
4. Get a sneak peek at Acumatica 2022 R1
Every year, Acumatica supplies the Acumatica community with two major releases. The upgrades, improvements, and enhancements come at the behest of the Acumatica community. Members share with us what works and what doesn't. As a company committed to customers and innovation, Acumatica uses the feedback to create a specific, value-filled solution to our customers' real-life concerns.
Summit attendees are some of the first people to get a sneak peek at what the next release will be bringing to the table. Christina Schwark, Quality Assurance Manager, Korpack, gets excited about the new features. "I love the Summit because it makes me feel so excited to get the newest version of Acumatica. They're just very innovative and all the new features just gets me so excited…to go back home and tell everybody the new features that will help everybody save time with their day-to-day tasks."
In addition, Andy Gale, CFO, Liveview Technologies, says that another benefit of attending Summit is "being able to see what's coming down the road in the near future and how to start looking at ways in which to implement that in our business to start fixing other issues that pop up as a result of natural growth."
Love the Summit
After reading and hearing the reasons to attend, we hope Acumatica customers sign up for Acumatica Summit 2022. They'll walk away with new insights into how Acumatica cloud ERP can increase their efficiency and profitability, and we believe they'll love it as much as the customers, who have returned year after year, do.
To learn more about the Summit, check out more customer testimonials and contact the event team at support@acumaticaevents.com. For any questions about our cloud-based ERP solution, contact our team.