Just the other day, I spoke with a company founded in 2004—and they haven't done much to move their business beyond that year. They're running all their services on their own data center. Back in 2004, this business decision would have made a lot of sense. In those years, you'd buy a bunch of hardware, build out a big data center, and then layer on databases and potentially other applications to help with collaboration and integration. This company, over ten years later, was still building and owning their whole stack, while simultaneously building their own products. They hadn't optimized their business for a multicloud world and utilized vendors built on the Cloud to free their team up to focus on what matters most at their company.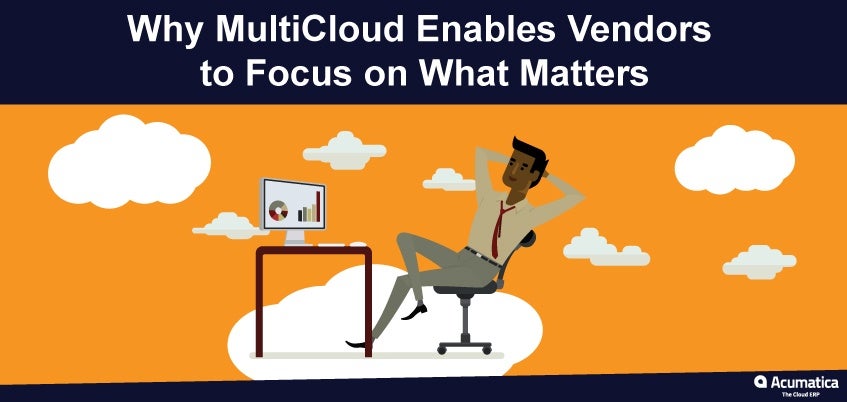 Building on On-Premises vs MultiCloud
Over the past few weeks, we've been spending time in a blog series about the multicloud world. In this new world, if you're starting a company, it makes absolutely zero sense for you to be building out your data centers on-premises. Doing so requires you to have operations people in place, scripting software, billing management, and the list goes on.
Instead, in this new world, you can run your business on vendors built for the multicloud world, such as Amazon, Microsoft, or Google, to name but a few. This Cloud infrastructure replaces the on-premises stack I articulated earlier, and the best part is you don't have to worry about running it—instead you focus on your own business applications and let your vendors run the stack.
Of course, we're doing this here at Acumatica and it's been very advantageous for us. Rather than having to deal with on-premises applications and software, we can instead focus on making the best financial, distribution, service management, and CRM applications available today for Cloud ERP. We're able to look out across this multicloud world and ask, What other things does it make sense for us to integrate and play with that creates a better platform for our customers?
Benefit for Vendors
Instead of being focused on delivery, the multicloud world allows vendors like Acumatica to focus on what matters: feature functionality and the user experience. We're able to leverage best-in-breed applications and work on integrations with other types of products that run in a similar Cloud infrastructure. Our focus is on innovation and true customer needs, rather than how to employ our stack, keep systems up on time, and upgrade our hardware. We're letting other Cloud worlds worry about that.
There's also the benefit of offering disaster recovery and backup. For example, Amazon has so many mirror sites around the world that if you have an outage or an earthquake, you're backed up instead of in trouble.
Benefits for Customers
Some companies are stuck in the past, which trickles down to the customer. For a customer looking for a platform to utilize in the multicloud world, they want to ensure they don't land with a vendor that was built on and is living in the old, on-premises world.
For example, both Intacct and Netsuite are running their own data centers and are stuck back in 2004. As a result, they've got a large portion of their operating expense directly tied into running those data centers, which transfers to the indirect costs you're paying for their financial applications. It greatly reduces the value these vendors bring to your business. Instead, selecting vendors who are built for a multicloud world allows a company of 200 people to do what you used to need 1,000 people to do.
There is so much more to tell you about the amazing benefits Acumatica can provide for your business. The best way to learn more? Register for Acumatica Summit 2017 here.
This is the fifth post in the multicloud series. Part 1 can be found here: Why Businesses Who Embrace the MutliCloud World are Setup for Success. Part 2 is here: Modern Licensing in a MultiCloud World. Part 3 is available here: The"Hyper Converged Hybrid Cloud" and the MultiCloud World. And Part 4 is here: How a MultiCloud World Enables a Truly Mobile Business.