Not many people can say they've attended every single Acumatica Summit starting with the first one in 2011, but Patricia Bennett can! With Acumatica Summit 2018 on the horizon, she's ready to go and explains why she thinks you should be, too.
This post is the second in my series highlighting Acumatica Partners who have consistently returned to our annual cloud ERP event. Check out my first post on Acumatica Partner Kensium and their Summit experiences. Today I look at one of Acumatica's cloud ERP resellers, PC Bennett Solutions. PC Bennett founder and CEO Patricia Bennett's perfect Summit attendance remains intact with her Acumatica Summit 2018 registration.
Speaking of which, are you registered? With the Summit coming January 28-February 2, 2018 in Nashville, Tennessee, you don't want to miss out on our learning, community developing, and entertaining event!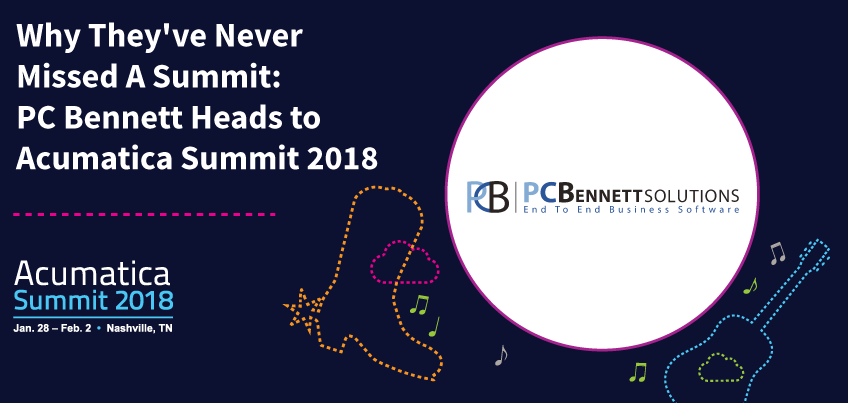 PC Bennett and Acumatica Summit 2018
PC Bennett has been in business since 2002. In 2010, PC Bennett added Acumatica to their practice. They became an exclusive Acumatica Partner in 2014. Patricia strongly believed that she needed to sell her Microsoft-based business and start fresh.
"I felt that since telling my customers for years that the Dynamics product was the best thing since sliced bread, I didn't quite feel right about saying, 'oh, by the way, I have a new best thing.' I saw that it was probably better to sell the Microsoft practice and focus 100% on Acumatica," Patricia says.
This means PC Bennett, recognized on Bob Scott's VAR Stars List for 2016, is 100% team Acumatica, only offering their clients Acumatica's cloud ERP platform as the solution for their business management needs. In fact, Patricia credits solely selling Acumatica as the reason PC Bennet made Inc. 5000 in 2016 and 2017.
The decision to change course was the right one. "Acumatica was exciting. Everybody was happy to work with it. The Microsoft applications were not as fun to work with; we basically had no support from the vendor and the excitement inside of PC Bennett was just not there for that product," Patricia says. "I felt that we were doing a disservice to the customer."
Her commitment to Acumatica's products and platform led her to attend the first Acumatica Summit – and every one thereafter. She has enjoyed watching her company, and Acumatica, grow together; it's hard for her to imagine not being at our premier cloud ERP event.
Meeting up with PC Bennett's fellow Partners is a big attraction for attending our Summits. Patricia says, "A lot of the Partners in this ecosystem have been in this industry forever so even though Acumatica has only been on the scene for ten years, we know each other from being in the industry long before that. It's kind of fun to share what's going on, to ask how are you doing this, and to have an opportunity to really learn from your peers."
Having direct access to Acumatica's leadership team and other team members is always a benefit, though she explains that her location in Washington gives her the ability to interact with our team on a regular basis. However, she does say the Summit offers a more relaxed and fun atmosphere.
Another benefit is having the chance to visit with Acumatica ISVs face-to-face. Patricia says, "It's great to see the ISVs and to have the opportunity to visit and really see who is investing in Acumatica, linking to Acumatica, and creating products for Acumatica. And also, as we're out there trying to sell the product, we know the functionality that people are asking for, and if you can make a match at the Summit, then it's fantastic."
It's also fantastic that PC Bennett invites Customers to the Summit, giving them a first-hand look at everything Acumatica offers. Acumatica Summit 2018 will be their third year in a row inviting Customers, hosting specific sessions just for them, and celebrating their premier product.
An additional inducement for the company's yearly attendance is the opportunity to see where Acumatica is going. For Patricia, true investment in Acumatica's software solution means understanding Acumatica's "vision and mission" and this can happen through our Summits' keynotes, breakouts, hands-on trainings, speakers, and more.
Energize your business (and yourself) at Acumatica Summit 2018
With so many reasons to attend Acumatica Summit 2018, Patricia adds two more. "I think it's invigorating. It gets you jazzed up for the year, you know. And, Nashville is a super cool location. I mean it's called Music City after all!"
Nashville, Tennessee achieved its cool factor by offering amazing visitor attractions, focusing on its music history (you can learn more about its history in the Country Music Hall of Fame and Museum which connects to our venue, the Omni Nashville Hotel), and having a wide variety of eating establishments that provide every Southern food specialty you've ever wanted to try.
With so many reasons to attend, why don't you register for Acumatica Summit 2018 right now? Patricia and her team, as well as all of us at Acumatica, can't wait for the energy that comes with adding to our cloud ERP knowledge and accelerating our mutual success in the cloud. Join us!