The Acumatica user ecosystem is filled with people just like you who are entrusting the success of their businesses to our cloud ERP solution. We take that trust seriously and endeavor to support you with every available resource, which includes our annual cloud ERP event. The benefits of attending Acumatica Summit 2019 are real and Christian Lindberg shares them with us today.
Acumatica Summit 2019 will be the seventh Summit I've attended since joining the Acumatica cloud ERP team. While my focus every year as the VP of Partner Solutions is on the ISV ecosystem, the Acumatica extensions they develop are for you, our end users. I consider you our most critical—and welcomed—of audiences at our Summits and strongly encourage you to register today. If you do, you'll not only benefit from our early bird special, but you will also be taking an important step in moving your business to the next level.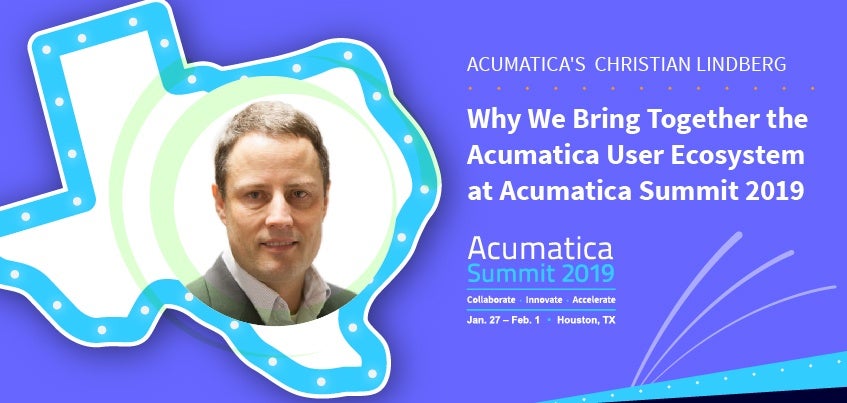 Bringing the Acumatica user ecosystem together at Acumatica Summit 2019
Every year, I'm struck with the sense of community and family that pervades our premier cloud ERP event. It's a unique experience for those who have attended other technology conferences. I've attended many myself, ranging from Microsoft to competitor events such as NetSuite, and they do not offer the same personal connection. I look forward to seeing attendees I've gotten to know from previous Summits as well as meeting those attending for the first time. Our conversations cover topics from the personal to the professional, such as Acumatica's focus on increasing the success of our user ecosystem with the use of cutting-edge technology.
Here at Acumatica, we challenge ourselves to be at the forefront of technological innovations. Think Artificial Intelligence, Machine Learning, Internet of Things (IoT), and so on. These are more than buzzwords. They're technologies that are becoming incorporated into our daily lives. When you ask your Alexa device to play your favorite song, you're experiencing voice recognition technology right in your home.
This is something Acumatica CEO Jon Roskill and VP of Platform Strategy Ajoy Krishnamoorthy touched on during the second day of Acumatica Summit 2018. They demonstrated the Natural User Interface (voice) integration in Alexa on stage and showcased the ability to authenticate and authorize the speaker using the voice profile—all of which is based on Acumatica's work with Alexa for Business from AWS. The cloud has opened a whole new level of resources to our users.
When you attend Acumatica Summit 2019, you'll learn how Acumatica—the only true cloud ERP—takes the latest in cloud innovation and ties it into your daily business management processes. Real-life examples and scenarios are used in our breakouts, training tracks, and in our Keynote Sessions. We make what seems impossible possible. We make it real for you and your business.
Are there challenges to applying and implementing state-of-the-art technology into your business? Yes, absolutely.
I, along with other members of the Acumatica leadership, product, and engineering teams, will dedicate our time at Acumatica Summit 2019 to meeting with you, making ourselves available to answer any questions and address any challenges. These conversations are essential for us to learn about your business needs.
We intend to keep improving our cloud ERP software for you and your business. For me, this includes nurturing our multiple ISV partners who are part of providing the end-to-end solution necessary for your business to succeed. You can also meet our ISV partners firsthand during our EXPO and examine their specialized solutions that integrate with Acumatica cloud ERP. Thanks to their sponsorships every year, our Summits continue to be a success.
For those ISV partners who wish to be a sponsor for Acumatica Summit 2019, more information is forthcoming; be watching in the Partner Portal for updates.
Gain cloud ERP knowledge at Acumatica Summit 2019
To recap, if you attend Acumatica Summit 2019, you'll receive:
Entrance to a close-kit cloud ERP community that is focused on accelerating your success in the cloud
Insight into the latest technology and how using it increases your efficiency, scalability, and profitability
Answers directly from Acumatica's leadership and development teams to any questions you may have about—or solutions for any challenges you may experience with—Acumatica's cloud ERP software
In addition, you'll have the chance to visit the fourth largest city in the U.S., Houston, Texas. Houston was one of the favorite stops my family and I made during our Acumatica Roadtrip 2017. It's a great place—and I'm sure if you visit in January the weather will be somewhat temperate than in July when we were there.
The Summit's venue, the Marriott Marquis Houston, is something to look forward to, as well. It's conveniently located downtown, close to many visitor attractions and restaurants. And I anticipate the Summit's various entertainment events, such as our annual Celebration Party, will top last year's event, which sported three live bands.
I consider Acumatica Summit 2019 a don't-miss opportunity. It's the chance to step away from the office and focus exclusively on utilizing Acumatica's cloud ERP solution to the fullest. If you register, I look forward to sharing Acumatica's innovations with you, innovations that are making our cloud ERP software even better.
If you have any questions right now, contact our team of experts for immediate assistance. They're always available to help.