Constantly changing technology can be a challenge for SMBs trying to remain viable in today's market. SMB Group's new eBook explains why having an adaptable ERP platform with Open APIs is the key to not only surviving but thriving.
For small-to-medium-sized business owners and employees, your focus is often on the myriad of day-to-day details required to run your company. However, there's also this feeling looming in the background that you should be mapping out a strategy for securing longevity. SMB Group, which focuses on technology adoption and trends in the small and medium business (SMB) market, says you should pay attention to that feeling and act on it. And acting on it should include investing in technology, specifically an open, flexible, and cloud-based ERP platform. SMB Group's new eBook, The Cloud as the Platform for Innovation: Putting New Technology to Work for Your Business, dives into how SMBs can innovate and thrive in this rapidly changing market through "capitalizing on technology."
As a sponsor of the eBook, we feel this a great resource for SMBs, and we're making it available to you as a free download. Our recent webinar, Putting New Technology to Work for Your Business, provides even more insight into this topic and is available on-demand right now.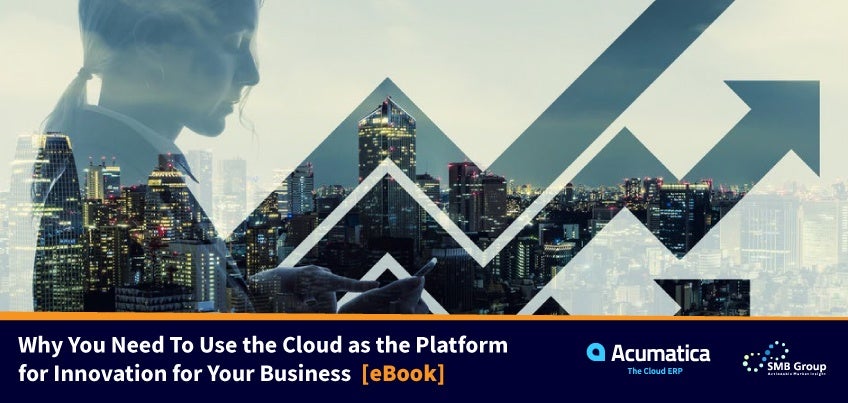 A modern ERP platform is critical to SMB's continued success
From 1965 to 1990, the average time a company lasted on the S&P 500 decreased and is forecasted to keep decreasing. Why are these companies failing (or at least falling behind)? And as an SMB, how can you escape that same fate? SMB Group says technology in the form of a cloud-based ERP platform is the answer.
"Businesses are using technology to create new business models, improve the customer experience, and operate more efficiently," SMB Group writes.
But they also acknowledge that making the decision to invest in digital technology is a big change, one that may not be easy to make. Is it worth it? SMB Group says it is. If you download the eBook, you'll learn:
The top ten SMB challenges to using new technology solutions
How the many benefits of a cloud-based ERP platform overcome these challenges
How true cloud ERP software allows you to adapt to emerging technologies (e.g. artificial intelligence (AI), machine learning (ML), Internet of Things (IoT), and blockchain)
SMB Group describes cloud ERP as the "on-ramp that your business needs for future business innovation."  Essentially, if you choose a modern cloud ERP platform—one that has Open APIs allowing for easy integration with new applications—you're already ahead of the game.
Implementing true cloud ERP software is the direction savvy SMBs are heading and, according to SMB Group, those who have not yet committed, should. One company that SMB Group notes as understanding this is Youngevity. They're a health products distributor that needed to automate its accounting and distribution processes as well as find a consolidated solution that could connect to its Genealogy System. CFO Chris Nelson says in Youngevity's case study, "Acumatica saved us time and money processing over 4,500 orders per day. Since it's cloud-based, Acumatica can support or double and triple digit growth rates."
SMB Group also points to Acumatica customers SHOEBACCA, an online shoe reseller, and Cherrylake, a sustainable-focused landscape company, as two other examples. The companies chose Acumatica to automate, streamline, and integrate their business processes and are now using AI, ML, and IoT technologies to grow—which they did easily and successfully with our open, flexible cloud-based ERP platform. You can read more about SHOEBACCA in their case study and about Cherrylake in this previous post.