If you're anything like us, you can hardly believe 2018 is almost over. And like us, you're probably excited for 2019. Acumatica CEO Jon Roskill reviews the company's top cloud ERP highlights of 2018 and explains how they'll influence Acumatica's plans for the year ahead.
With 2018 coming to an end, the Acumatica team is looking forward to a new year of innovative enhancements to our ground-breaking cloud ERP solution. Before 2019 arrives, however, we feel it's important to review where we've been and gain insight to what we're doing right, how we can improve, and what are the building blocks for the future.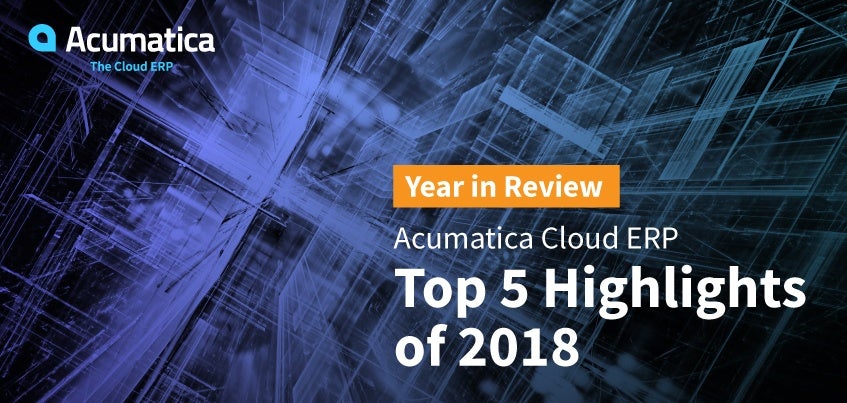 Top 5 highlights of 2018 for Acumatica cloud ERP
We serve SMBs in every industry, and according to IDC, 50% of them are looking to implement a digital transformation strategy by 2019. Acumatica's easy-to-use, customizable cloud ERP software and open ERP platform combined with local  Acumatica VARs to sell our solution, and heavy investment in R&D initiatives enables us to aid these SMBs in their transformational journey.
It's also helped us to perform at the highest level, as evidenced by the following examples:
1. PCMag Best Inventory Management Software
PCMag tested five inventory management software solutions for 2018, and Acumatica was included as one of the best. We received an Editor's Choice Award with our 'Excellent' and 4.5 out of 5 rating.
The review explores the editor's test implementation and cites such benefits as our users' ability to use multiple warehouses intuitively, to easily create sales orders for shipping different items from different warehouses on a single order, to track items/components to a "very granular level", and much more. The review also mentions the availability of Acumatica's robust third-party applications for increased functionality.
Ultimately, the editor found that "Acumatica's intuitive design, enterprise scalability, and flexible pricing model help make Acumatica an excellent choice for enterprise resource planning, general ledger accounting, and inventory management."
2. SIIA CODiE Winner for Best Cloud ERP Solution and Best Manufacturing Solution
We received the SIIA CODiE Award for the Best Cloud and 2018 along with the Best Manufacturing Solution for 2018.
The Software & Information Industry Association (SIIA) CODiE Awards are the" Oscars of Software." Winners are selected by expert judges and industry peers who have overseen a comprehensive evaluation process, including product demonstrations and voting by SIIA members.
Acumatica's Manufacturing Edition allows users to coordinate their manufacturing, inventory management, and accounting processes in real-time through a single solution that integrates with Acumatica's Distribution, Customer Management, Financial Management, and Project Accounting editions. It increases efficiency and cost control as well as adapting and growing with your business.
An end-to-end solution, Acumatica's suite of integrated business management applications provides SMBs with the cloud and mobile technology they need to run their organizations with full visibility and access, anytime, from anywhere. The CODiE Awards acknowledge that our true cloud ERP platform is designed to meet every company's unique requirements.
3. Highest CSAT in Gartner Magic Quadrant for Cloud Core Financials
Every year, Gartner releases their Magic Quadrant research reports comparing vendors on "Completeness of Vision" and "Ability to Execute." We were excited that their 2018 MQ for Cloud Core Financials ranked Acumatica's Financial Management system as a Visionary. Even more exciting was the fact that we were the highest in customer satisfaction among all vendors surveyed.
According to Gartner, Acumatica's users lauded the system's ease of use and how quickly they could begin using our cloud ERP solution with minimal training. Users also noted our GL, AP, and AR ledgers as above-average and that our cloud ERP software met their needs.
4. Highest in Usability in Nucleus Research ERP Technology Value Matrix
Nucleus Research reviewed 22 cloud ERP vendors for their 2018 ERP Tech Value Matrix. All, according to Nucleus Research, are working to increase their functionality, and only eight—including Acumatica—landed in the Leader quadrant.
Of those eight, Acumatica was rated highest in Usability. Analyst Seth Lippincott attributes the rating to our development philosophy, continued service to several industry verticals, and automating of business processes. We also attribute it to our twice-yearly releases that upgrade, improve, and enhance every edition based on user feedback.
Our latest release, Acumatica 2018 R2, focused on three core areas—Cross Industry Applications, Industry Specific Solutions, and the Acumatica ERP platform—and addressed customer satisfaction, usability, and compliance. And new editions, such as our recent Construction Edition, are always on Acumatica's development radar.
5. Accel-KKR funding
In June, we announced that Acumatica partnered with Accel-KKR, securing a $25 million Series C preferred round of funding.
Accel-KKR, a prominent Silicon Valley technology-focused investment firm, and other existing investors will help with our expansion plans. We'll be using the capital and additional resources to further improve our cloud ERP offerings, increasing our users' return on investment and our global reach.
As Accel-KKR Managing Director Greg Williams said in a press release, "With the adoption of SaaS accelerating in the ERP market, we believe Acumatica is well positioned to capture a disproportionate share of the market growth. Our growth equity investment will help the company's operations scale to take advantage of this opportunity."
Grow with Acumatica cloud ERP
The awards, critical acclaim, and funding support we've received in 2018 provide direction for improving our cloud ERP solution for the business leaders, front-line employees, and every team member in-between who rely on our intelligent, scalable technology to handle their daily responsibilities and future growth plans.
We invite you to see what we have in store for 2019 by joining us at Acumatica Summit 2019 in Houston, Texas. We'll be gathering at the Marriott Marquis Houston and helping our customers and partners accelerate their businesses in the cloud with numerous training sessions and networking opportunities, ensuring their lasting, profitable success.
If you have any questions, suggestions, or requests, please reach out to our team today.