Don't let the name of our Acumatica Summit 2018 Women of the Channel Luncheon stop you. It promises to be a fun and inspirational event for both female and male attendees. However, space is limited, so you're going to want to sign up right away!
Acumatica Summit 2018 – coming January 28-February 2, 2018 in Nashville, Tennessee – offers our Acumatica community an array of cloud ERP breakouts, training tracks, and keynotes along with meals and entertainment. Today, we're highlighting one particular event, the Women of the Channel Luncheon.
First, though, are you registered? If not, take a moment and register for Acumatica Summit 2018 – it's truly time well spent. You'll leave knowing that you've set your business on the path for accelerating growth in the cloud and benefitted from establishing personal and professional relationships with your peers in the cloud ERP community.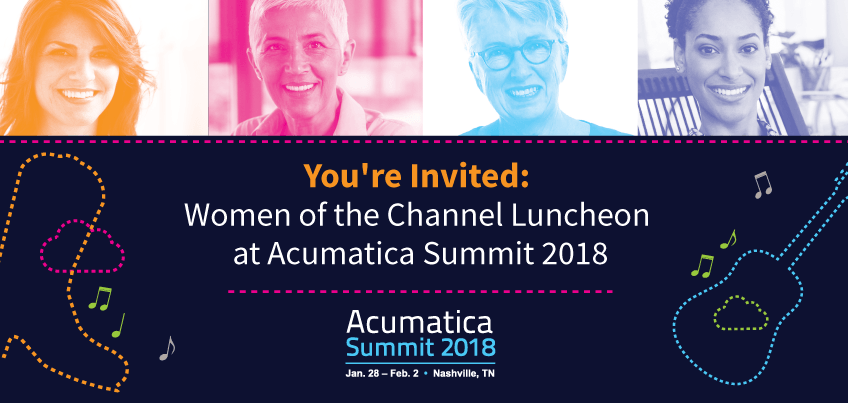 Why you should attend the Women of the Channel Luncheon
There are some great reasons to attend the Acumatica Summit 2018 Women of the Channel Luncheon. Although it's an optional event, women (and men) in our Acumatica Value Added Reseller (VAR) community will find value in attending.
Here are the pertinent details:
Event: Women of the Channel Luncheon
Title: Encourage Networking. Smart Leadership. Motivate Others.
Date: January 29, 2018
Time: 12-1pm local time in Nashville
Location: Half Note (space within Kitchen Note)
Max: 40 people
We designed the Women of the Channel Luncheon to be an inspirational event for female channel and IT attendees with examples of other women making a significant impact on the industry today. But, as we mentioned, it's not limited to women; men in our VAR community are very welcome to attend. Every attendee of this luncheon will benefit from the guest speaker, Rebecca Wettemann.
Rebecca, VP and founding partner of Nucleus Research, is considered an expert on the financial analysis of technology and is the author of many ROI case studies and reports. She will focus on the challenges, trends, and opportunities in today's technology arena.
The luncheon also provides attendees with dedicated time to network with their peers and to interact with the visionary women (and men) in our Acumatica VAR community. With our annual MVP Program nomination period open, this is also a perfect opportunity to think about who may personify the qualities of the Most Valuable Professional in our community.
Acumatica Summit 2018 set to inspire every attendee
Acumatica Summit 2018 offers inspiration to our Customers, Partners, and Developers, through such events as the Women of the Channel Luncheon and through speakers like Rebecca. If you're ready to be inspired, to collaborate with your peers, to receive valuable certification trainings, and much more, then you need to register for Acumatica Summit 2018.
And, for anyone who follows our blogs, you can't miss that we believe this year's location and venue are top notch. All that Music City has to offer in way of its prolific activities and exceptional dining options offset the Summit's intense cloud ERP trainings, breakouts, and speakers.
We don't want you to miss out on our once-a-year premier event and hope you'll sign up today!