Fastest-growing Cloud ERP platform fuels worldwide expansion
San Diego, CA., January 31, 2017 — Acumatica, the fastest-growing cloud ERP company, today announced that leading Romanian ERP provider Senior Software has become an Acumatica strategic OEM partner. This agreement represents another significant regional OEM taking Acumatica to their customer base, and puts yet another pin on the map of Acumatica's worldwide expansion.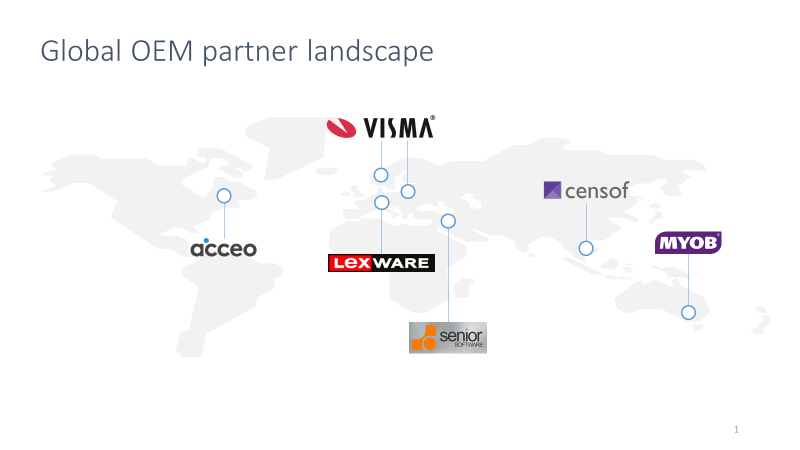 "This partnership gives Senior Software the ability to provide midmarket customers with a state-of-the-art cloud offering that will drive adoption in key vertical markets," said Acumatica CEO Jon Roskill.  "Senior Software now has exclusive rights to develop, customize and adapt Acumatica ERP for specific markets and industries in Romania, as well as the opportunity to provide it to customers in Poland, Bulgaria, Republic of Moldova, Hungary, Ukraine and Serbia."
Senior Software CEO Daniel Toma said: "We are very excited about releasing SeniorXRP, powered by Acumatica, to our customers who have been waiting for just this kind of advanced web and mobile solution to manage their businesses. Our enhanced ERP knowledge and software development experience and Acumatica development framework empowers us to create solutions based on specific requirements for every industry or client, regardless of its complexity."
Increasing demand from ERP vendors across the globe for modern Cloud and mobile ERP solutions has spurred rapid adoption of the Acumatica platform.  The company, in concert with The York Group, is now in discussions to sign new strategic OEM partnerships in Western Europe, Latin America, and Asia Pacific.
About Senior Software
Senior Software provides IT solutions in-country and abroad, with customers in distribution, manufacturing, retail, services, FMCG, construction materials, pharmaceuticals, equipment and more. Specialized solutions for sales and marketing, management, manufacturing and logistics, reporting and data analysis use the latest Microsoft technologies and internationally tested platforms to offer customers modern solutions on a variety of devices. Senior Software applications have a modular structure with both SaaS and On-premises versions, as well as flexible licensing policies to control costs.  http://www.seniorsoftware.ro/en/
 About Acumatica
Acumatica provides cloud-based business management software that enables small and mid-size companies to accelerate their businesses.  Built on cloud and mobile technology and a unique customer-centric licensing model, Acumatica delivers a suite of fully integrated business management applications, such as Financials, Distribution, CRM, and Project Accounting, on a robust and flexible platform. For more information, visit www.acumatica.com.